With our sights set on squeezing four national parks into this whirlwind trip, Death Valley proved to be a whole lot of epic bundled into a hot, dry and unforgiveingly windy package.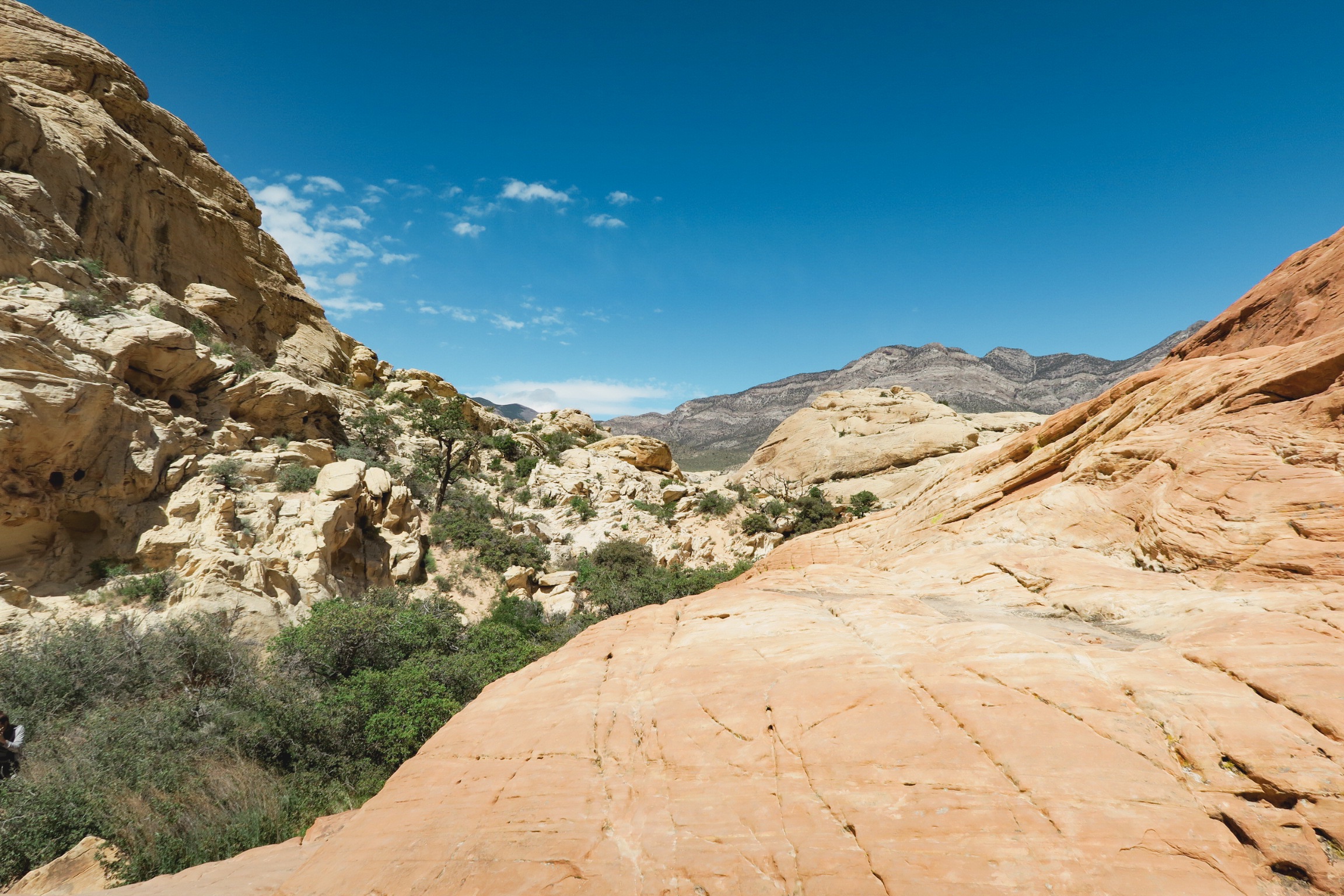 Leaving Vegas tired yet oddly rejuvenated (thank YOU, Magic Mike), we made a pit stop at Red Rock Canyon on the way to Death Valley, a mere 30 minutes from The Strip. The scenic drive itself is spectacular, but gung-ho as we were, we spent a couple hours on the Calico Tanks Trail, climbing the yellow and red sandstone and exploring the canyon.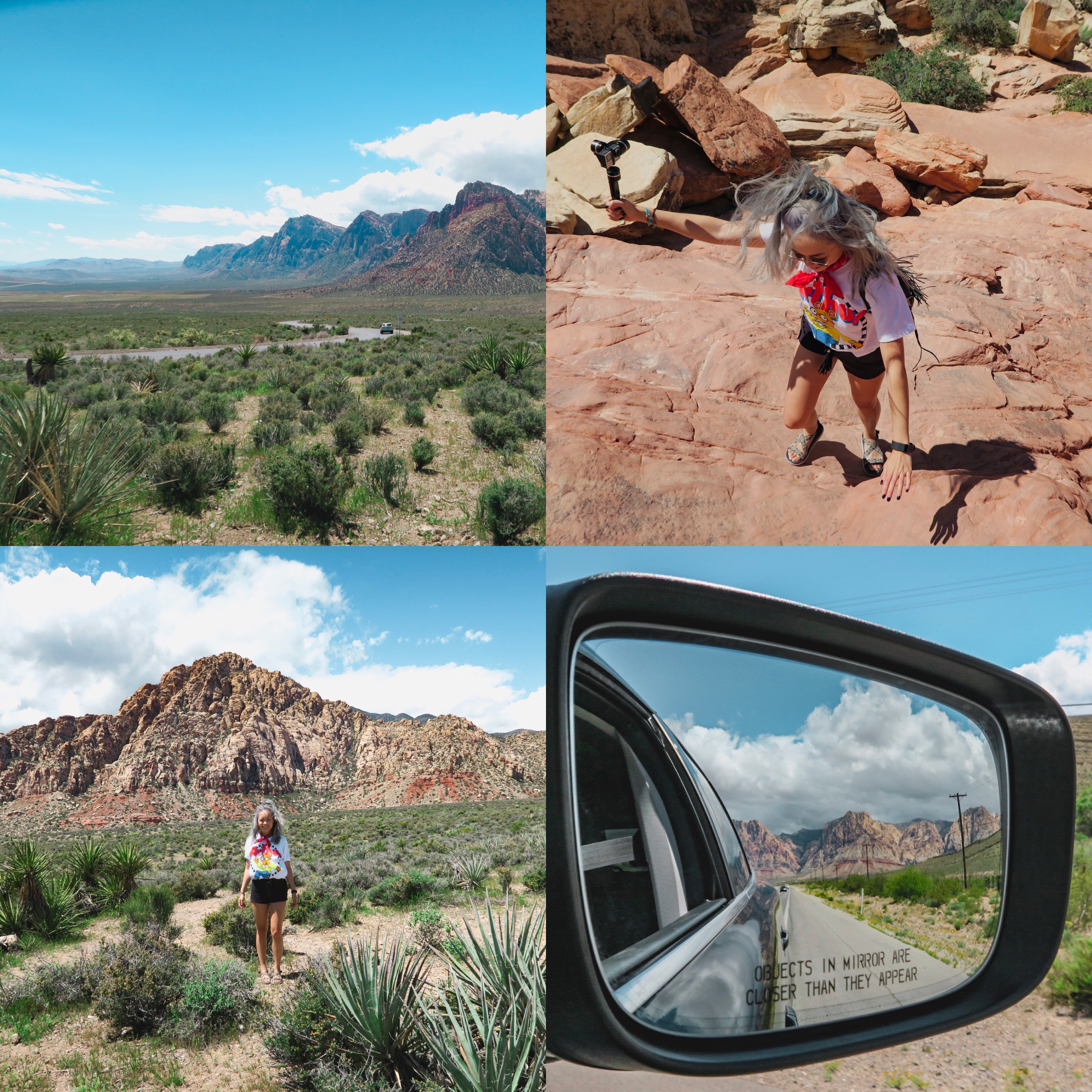 There is a $7 entry fee/car and a toilet at the beginning of the track – 2.5 mile round trip
The track is dog friendly and like we did, you may encounter some legends singing the Arthur theme song to you as you cross paths hehe 🙂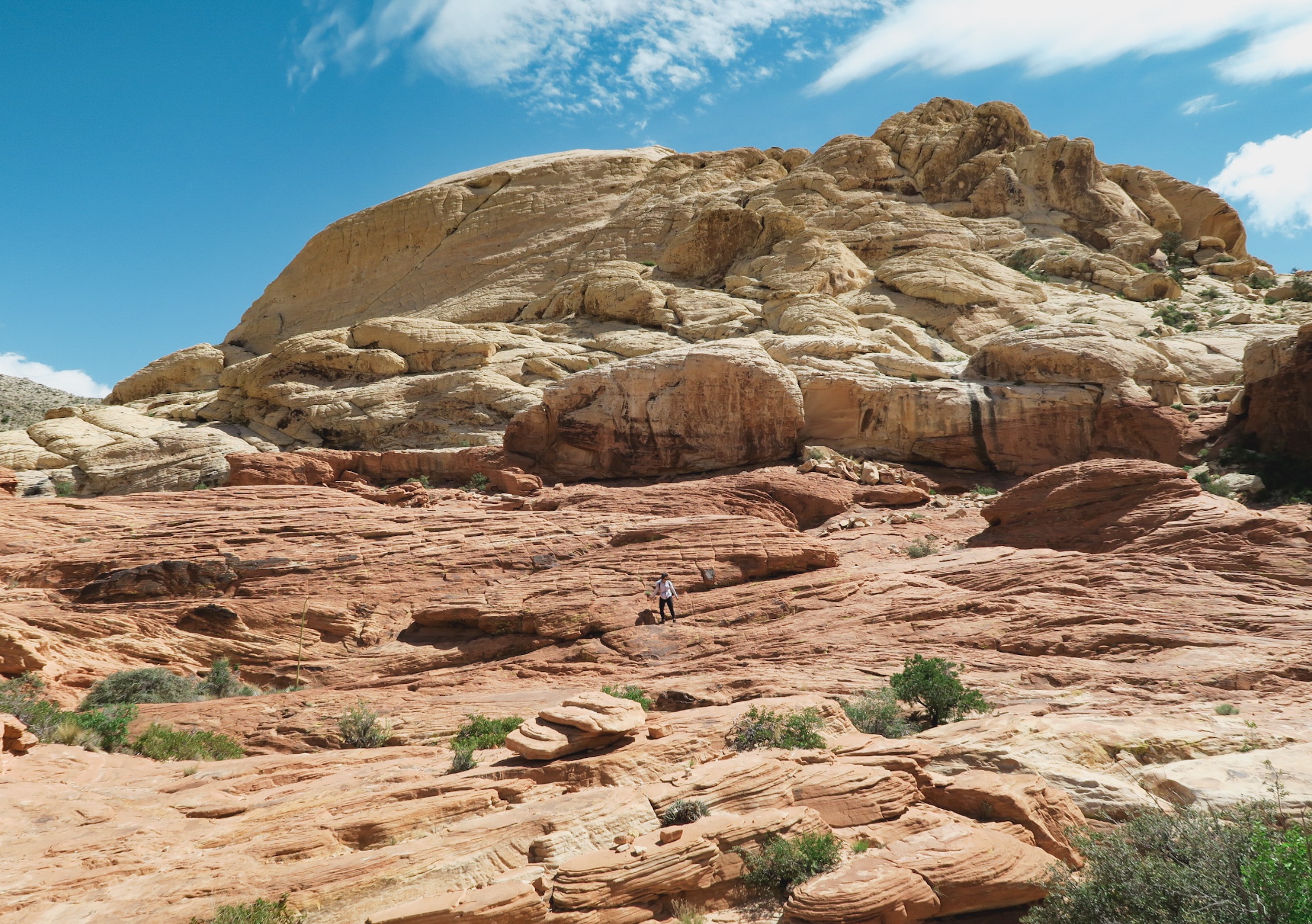 Joo casually scaling cliffs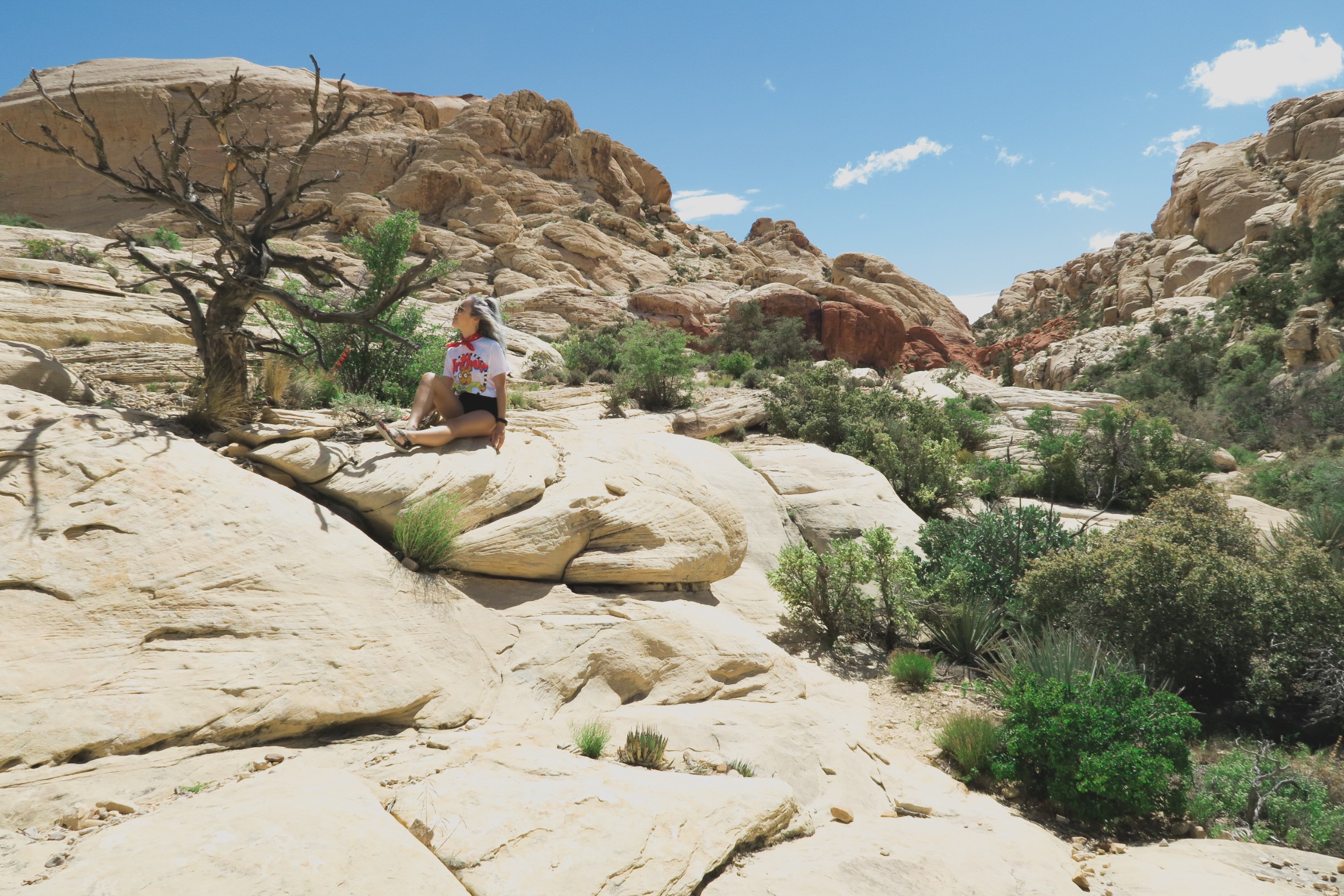 Look at all the shade I'm getting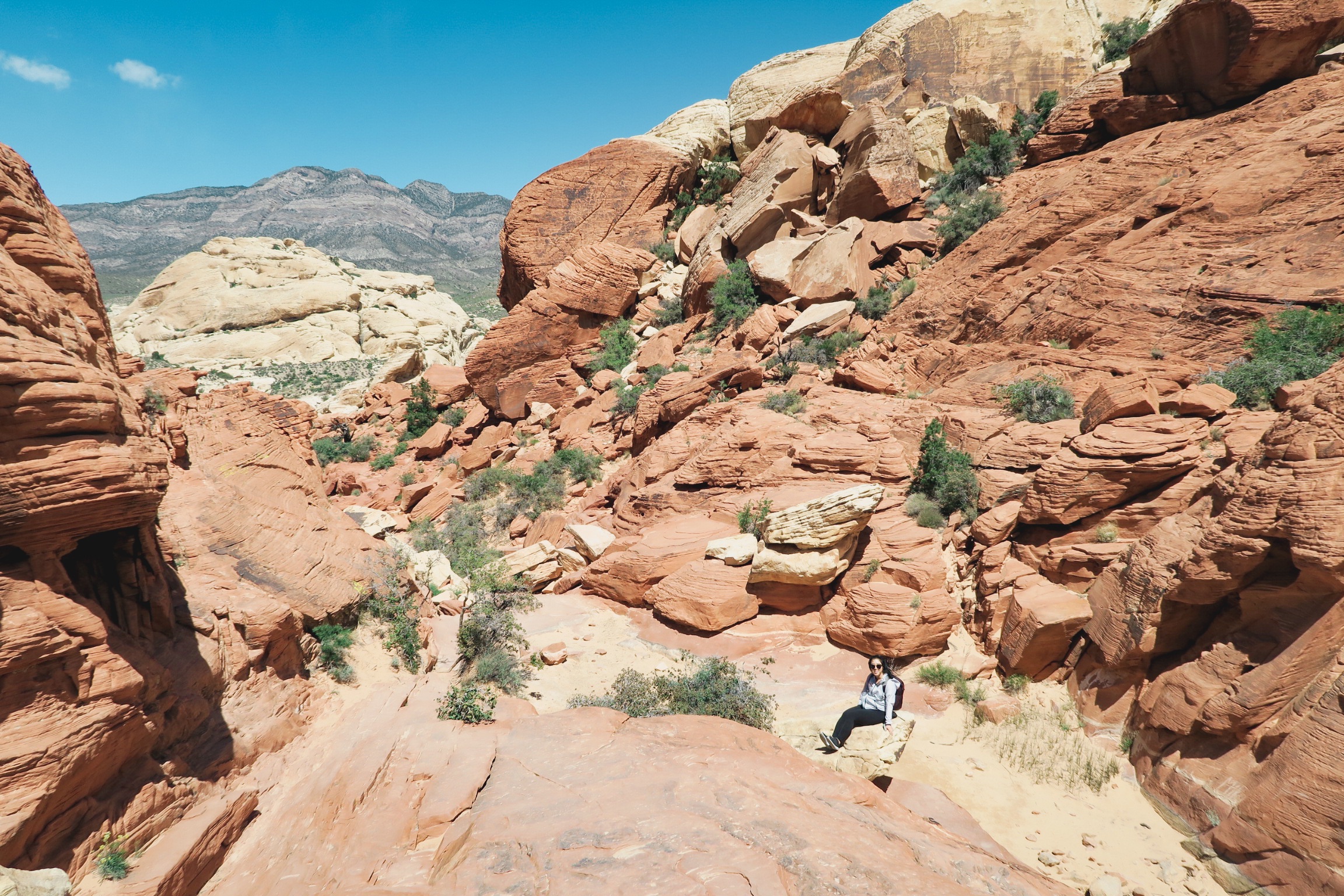 Close to midday we began the 2 hour drive to Death Valley and made a (winding) beeline to Dante's View.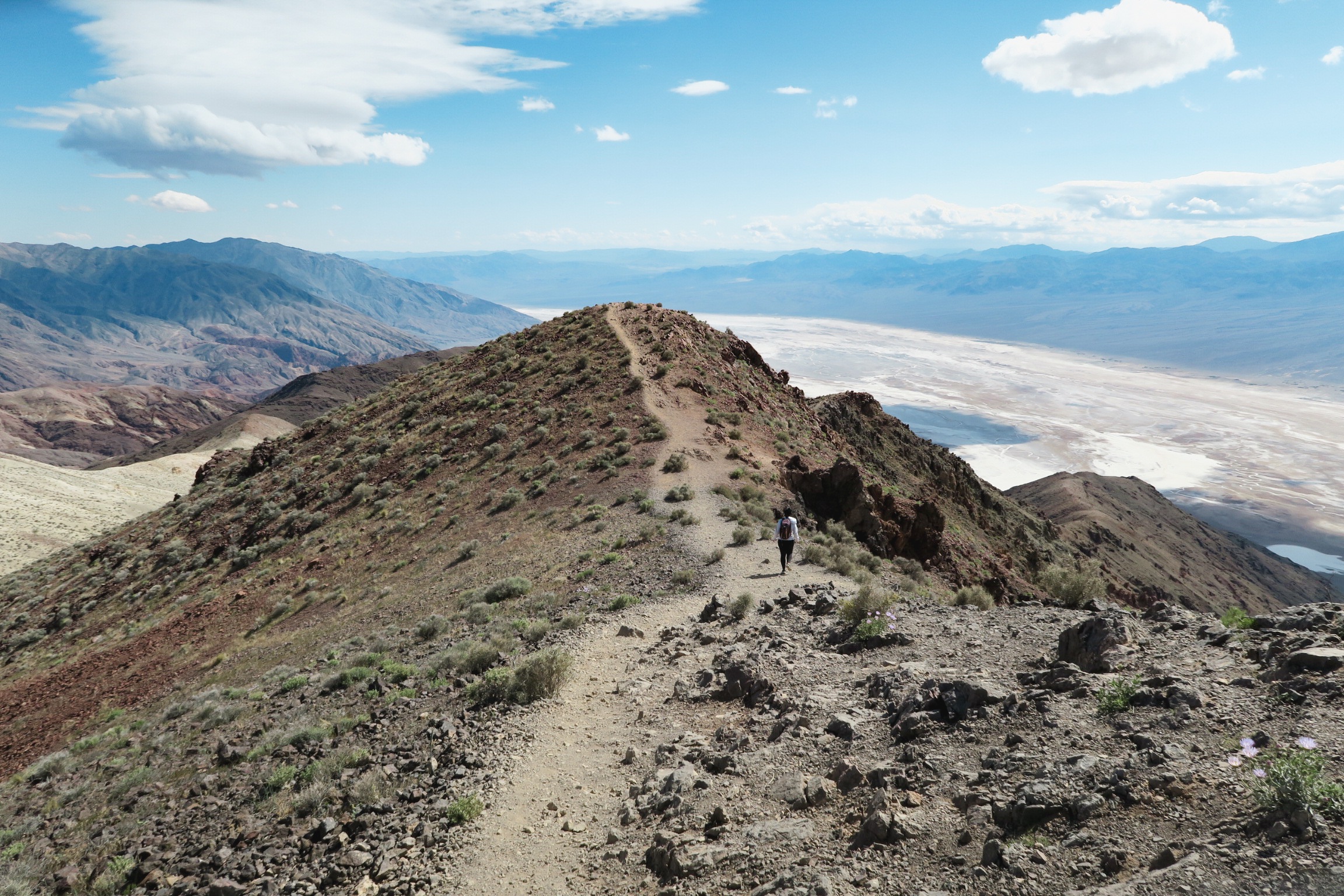 You'll have to ask Joo what it's like down that jagged edge to the right!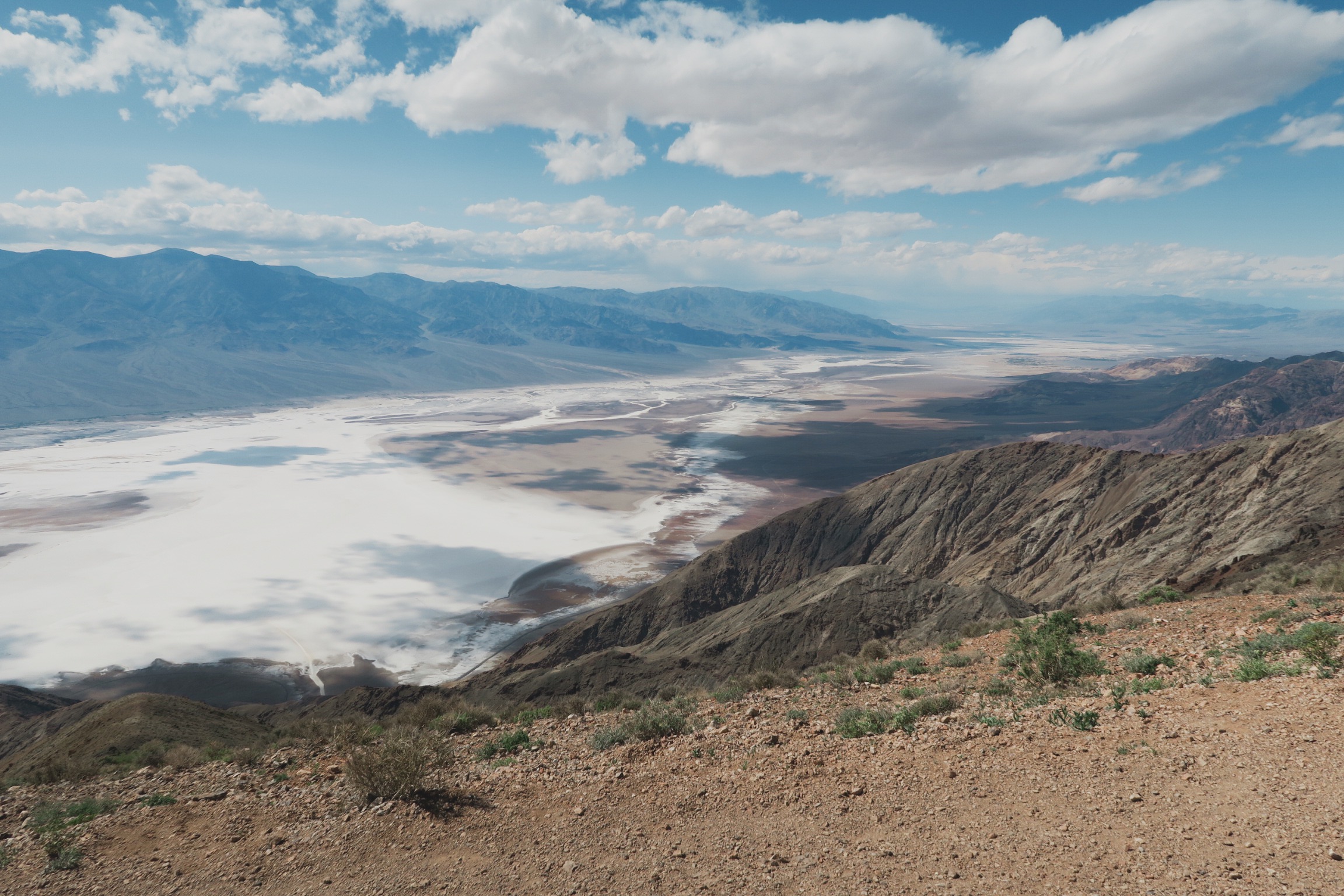 The wind had really picked up by then which made being on a cliff edge much more exciting 🙂 You can see the salt flats at the bottom of the valley, the lowest point in North America at 282ft/85m below sea level.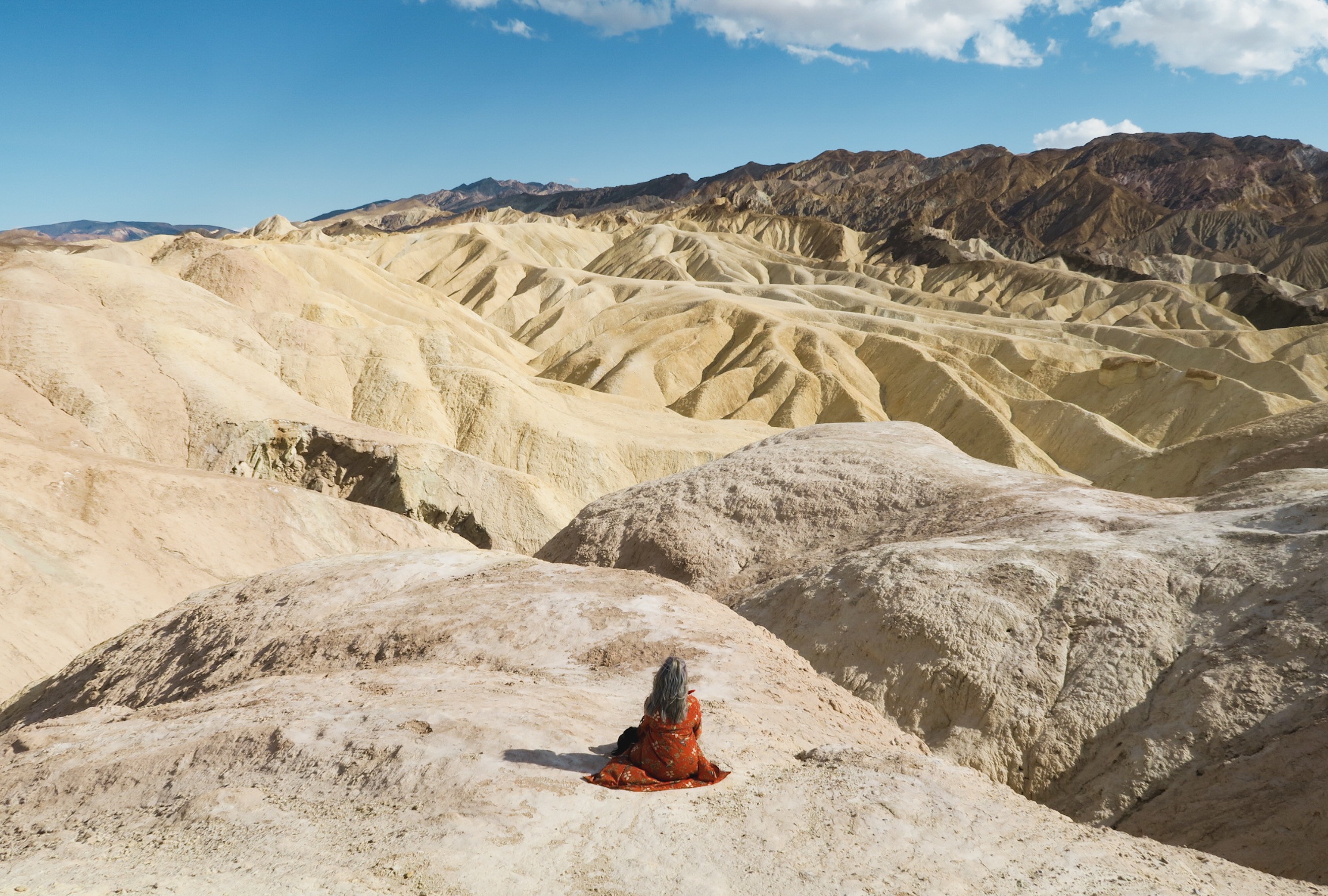 As the late afternoon sun set in, we headed to Zabriskie Point, a lookout with views over hilly badlands and ravines. By this time, the wind was at full force, blowing stabby sand and gravel into our legs and eyes. Not to be deterred, we headed down to Badwater Basin to visit the salt flats, and again enjoyed the stabbing feeling of salt grazing our bare skin. Not convinced it is truly composed of salt, Joo even went the extra mile to taste it. The ultimate salt bae (you'll see in the video to come lol).
We then headed towards our accommodation in Stovepipe Wells Village, baffled by what looked like a sandstorm ahead of us in the distant. Unluckily for us, it was originating from the Mesquite Flat Sand Dunes, our next pit stop.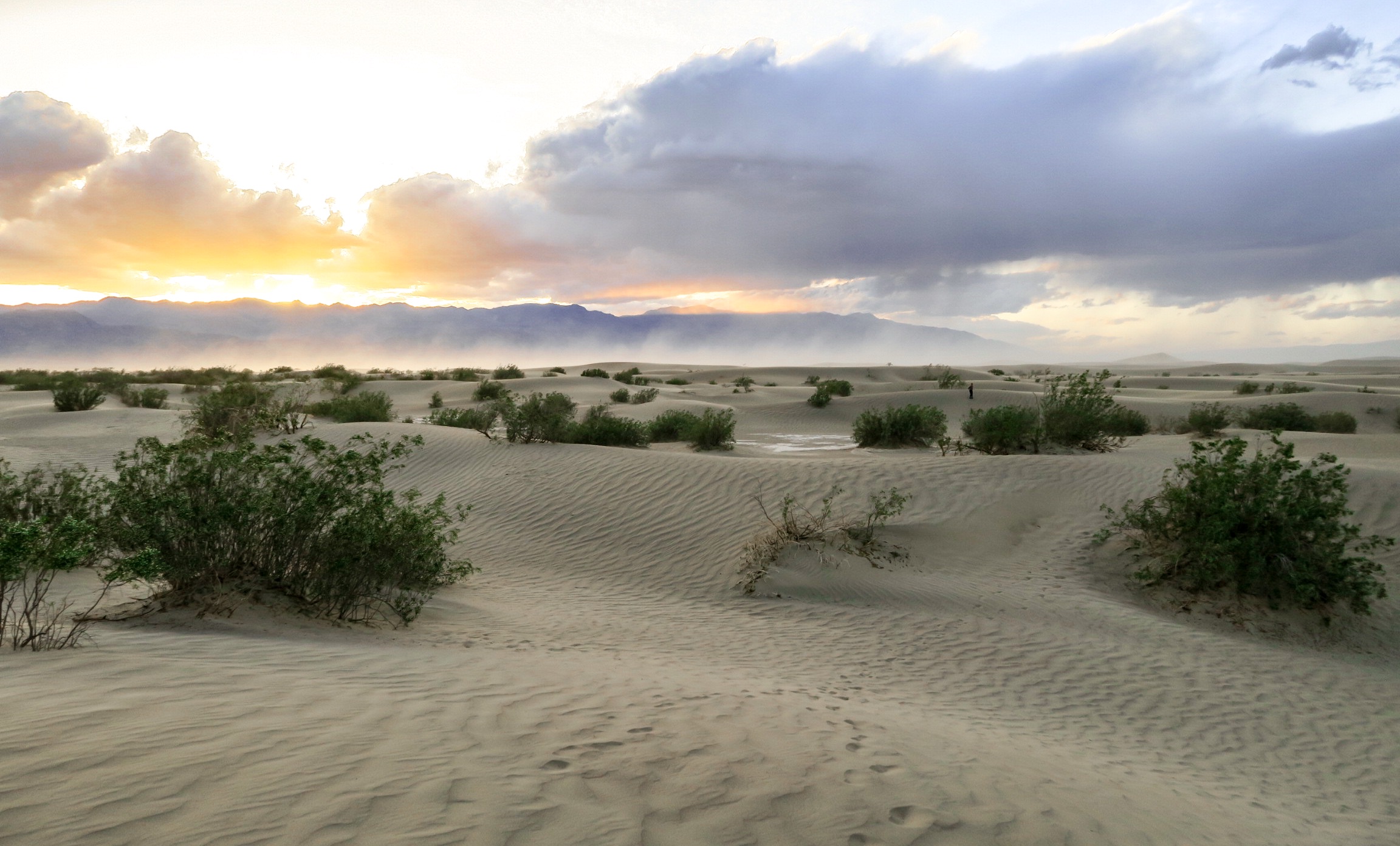 Nevertheless, it made for some epic sunset shots and an all-natural prophy paste and clean in one visit.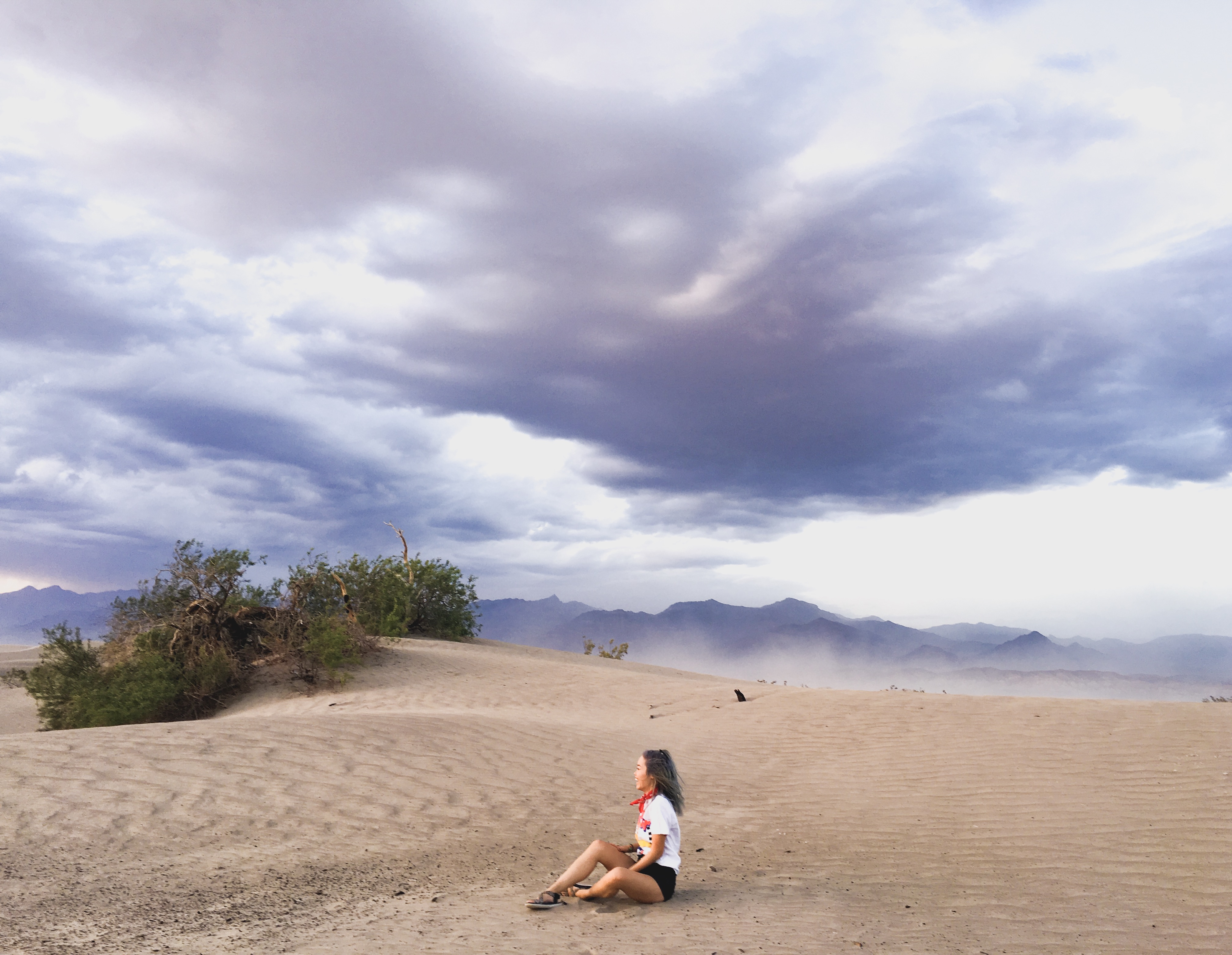 We ended up visiting the sand dunes the following evening as well when it was calmer and Bing was alive (a recurring theme of this trip). It really is as beautiful as it looks, with the feeling of being in the Sahara desert but amongst a backdrop of rugged mountains.
The next morning we were up before the crack of dawn to hike the Gower Gulch Loop Track in Golden Canyon.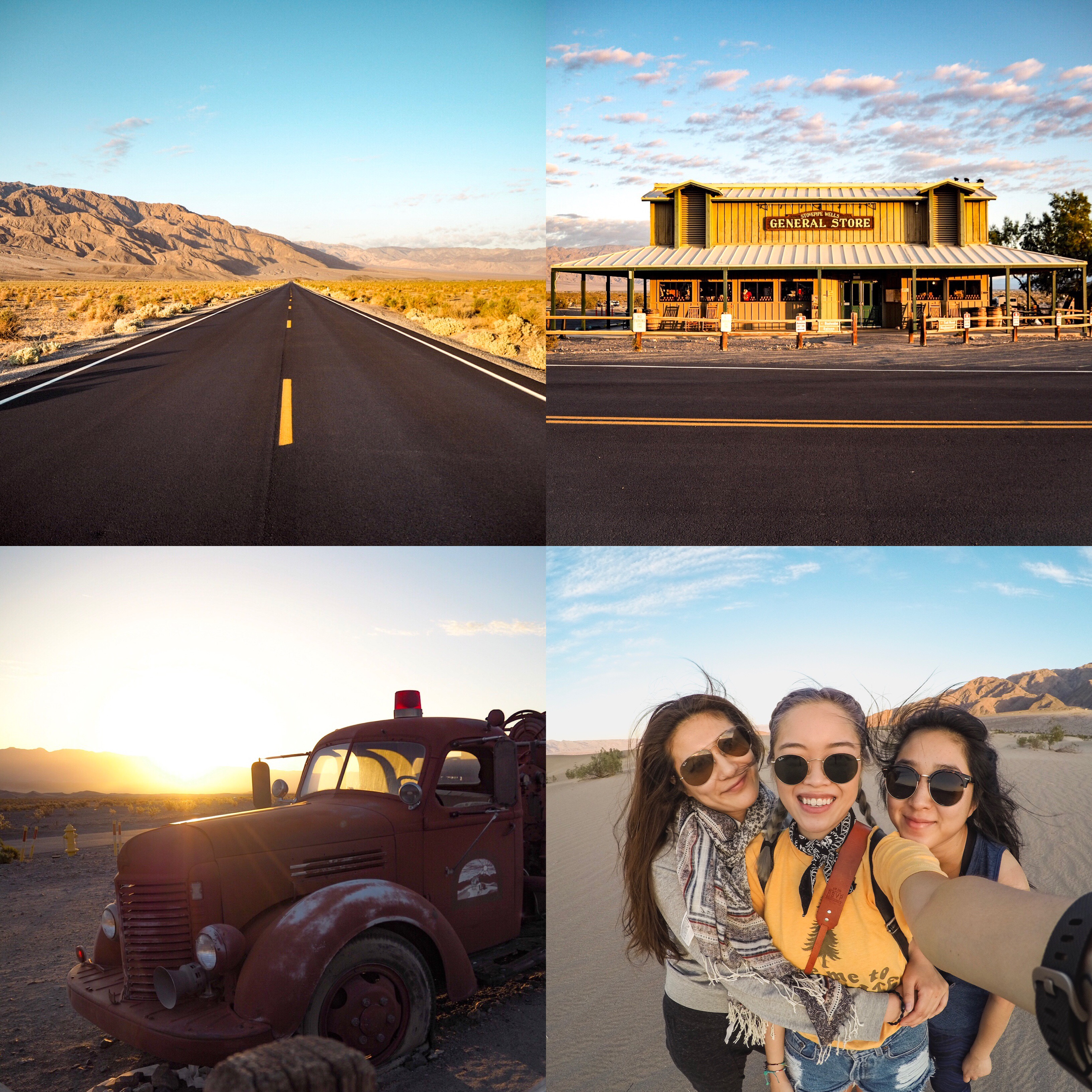 Above: the sunrise drive from Stovepipe Wells Village to the Golden Canyon parking lot
Due to extreme heat warnings, it is not advisable to hike past 10am. We were happy chappies up until about 9.30am when the sun had risen high enough to allow for no shade from the surrounding hills.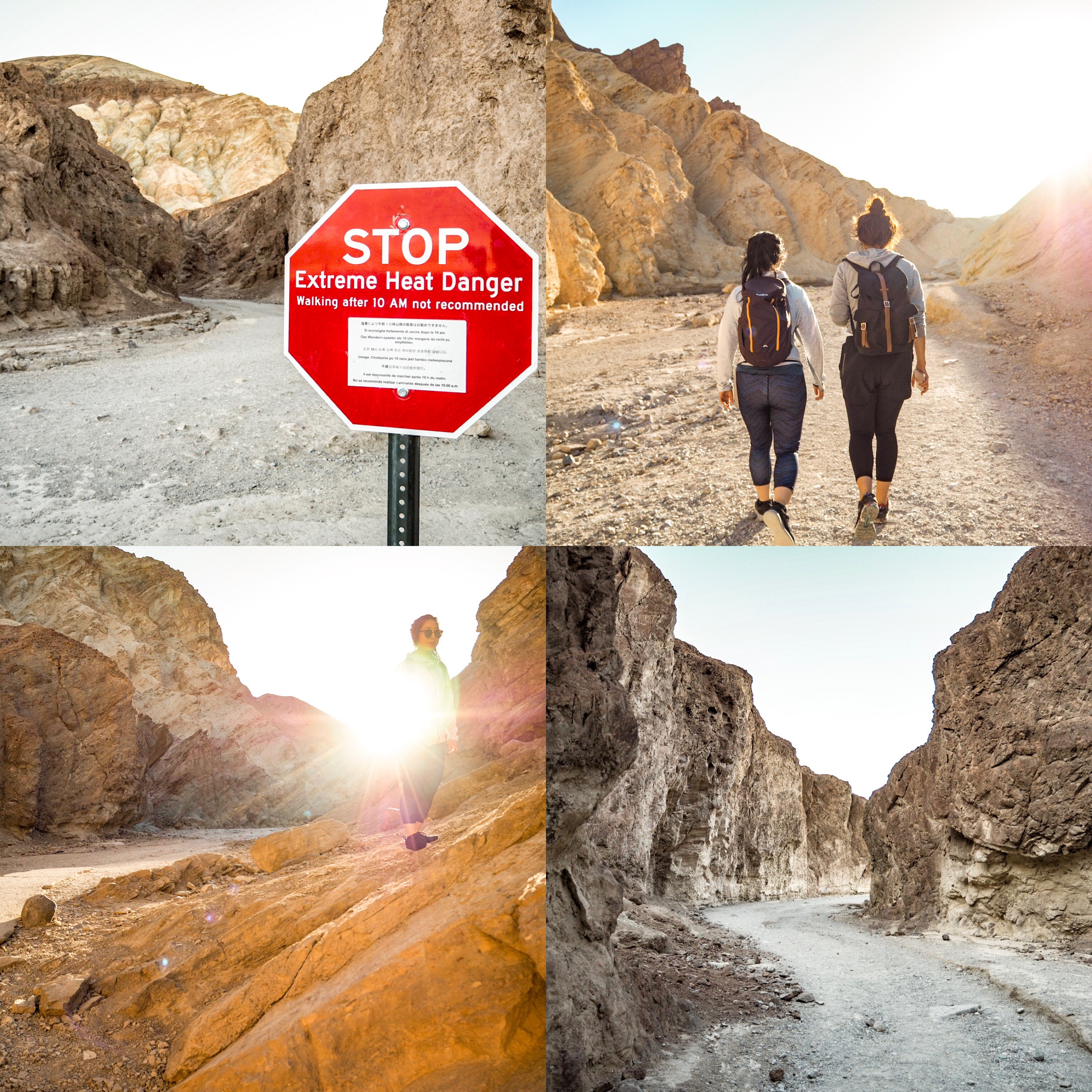 The 4 mile track took about 3 hours, climbing 1 mile in Golden Canyon before taking the right trail at marker #10.
This steeper part of the climb takes you alongside Manly Beacon with magnificent panoramic views over the badlands before descending into Gower Gulch.
There is an option to turn left onto the Badlands Trail to hike up to Zabriskie Point, or follow right down the Gower Gulch Loop Track. There are plenty of narrower tracks to explore in the badlands area but avoid the abandoned mine sites.
The track opens back up alongside Badwater Road before reaching the car park
We then headed to Artist's Drive, stuck my head out of the rental's skylight, and snapped some pictures of Artist's Palette and the scenic route.
Next up was Natural Bridge Canyon and a short hike up to the bridge/arch which you can climb!
We also checked out Devil's Golf Course, comprising of sharp, crystal-like/jagged salt pans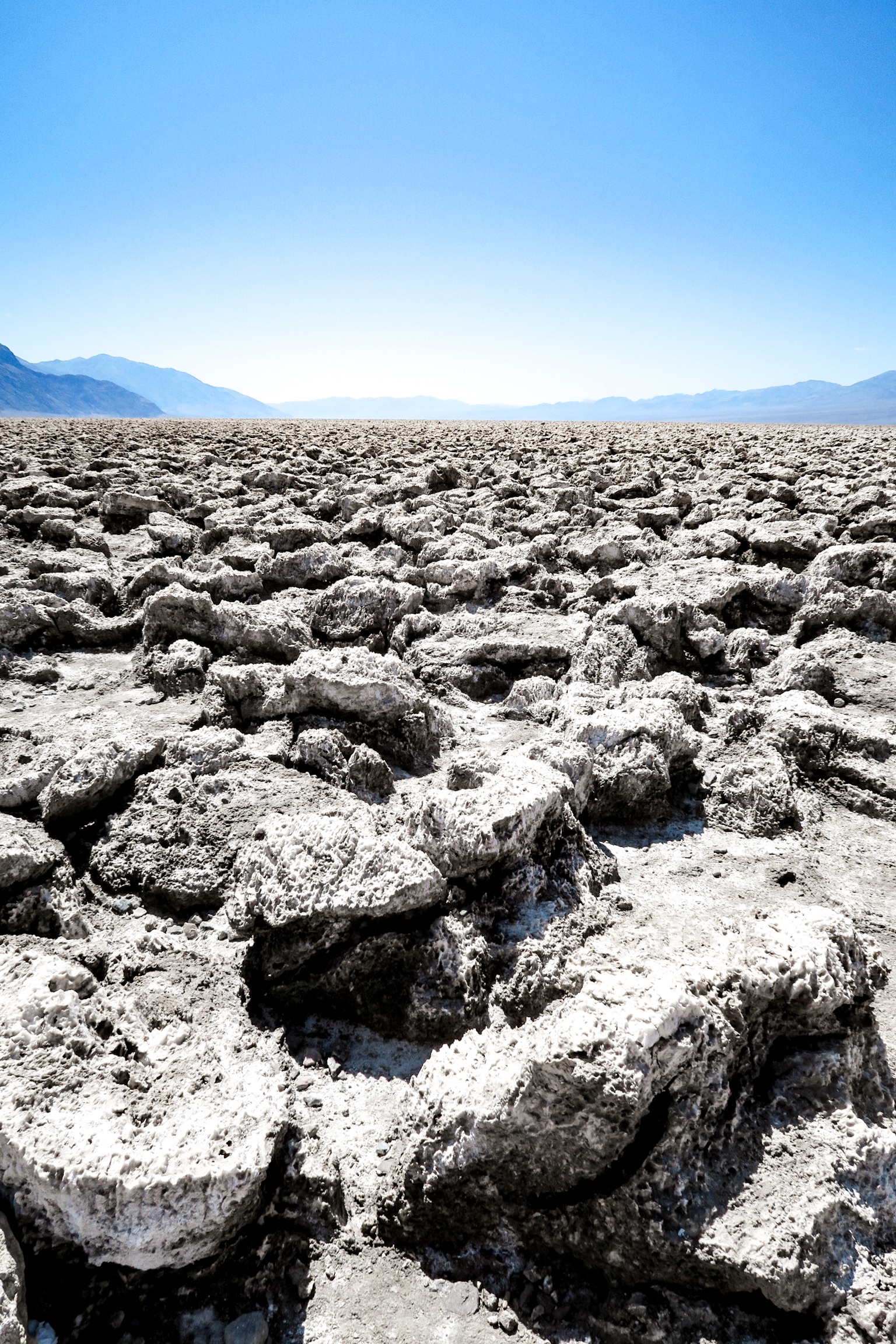 After a quick stop to refuel and check out the visitor centre at Furnace Creek Village, we decided to pay a visit to one of the ghost towns in the area, Rhyolite.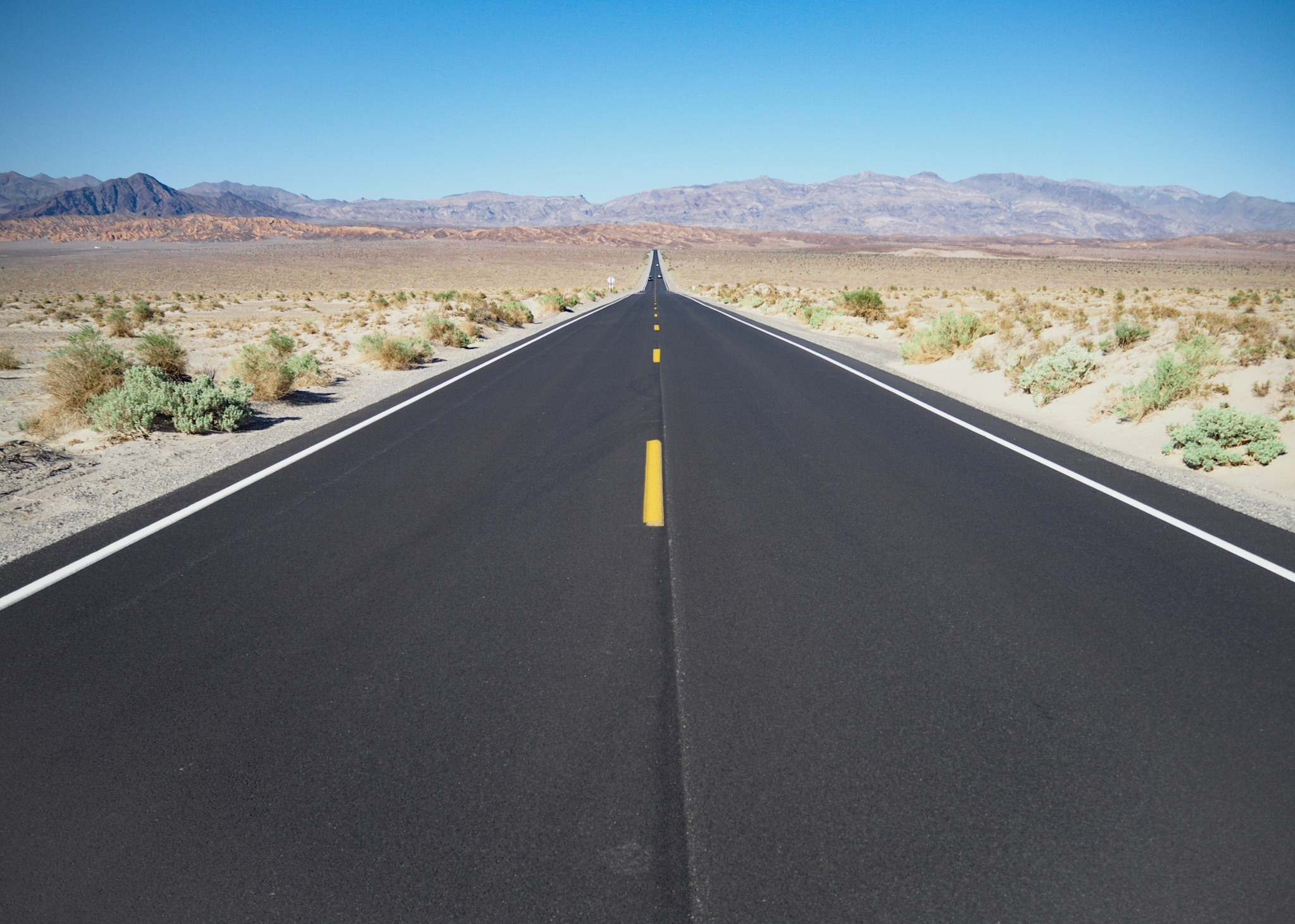 Above: the road leaving Stovepipe Wells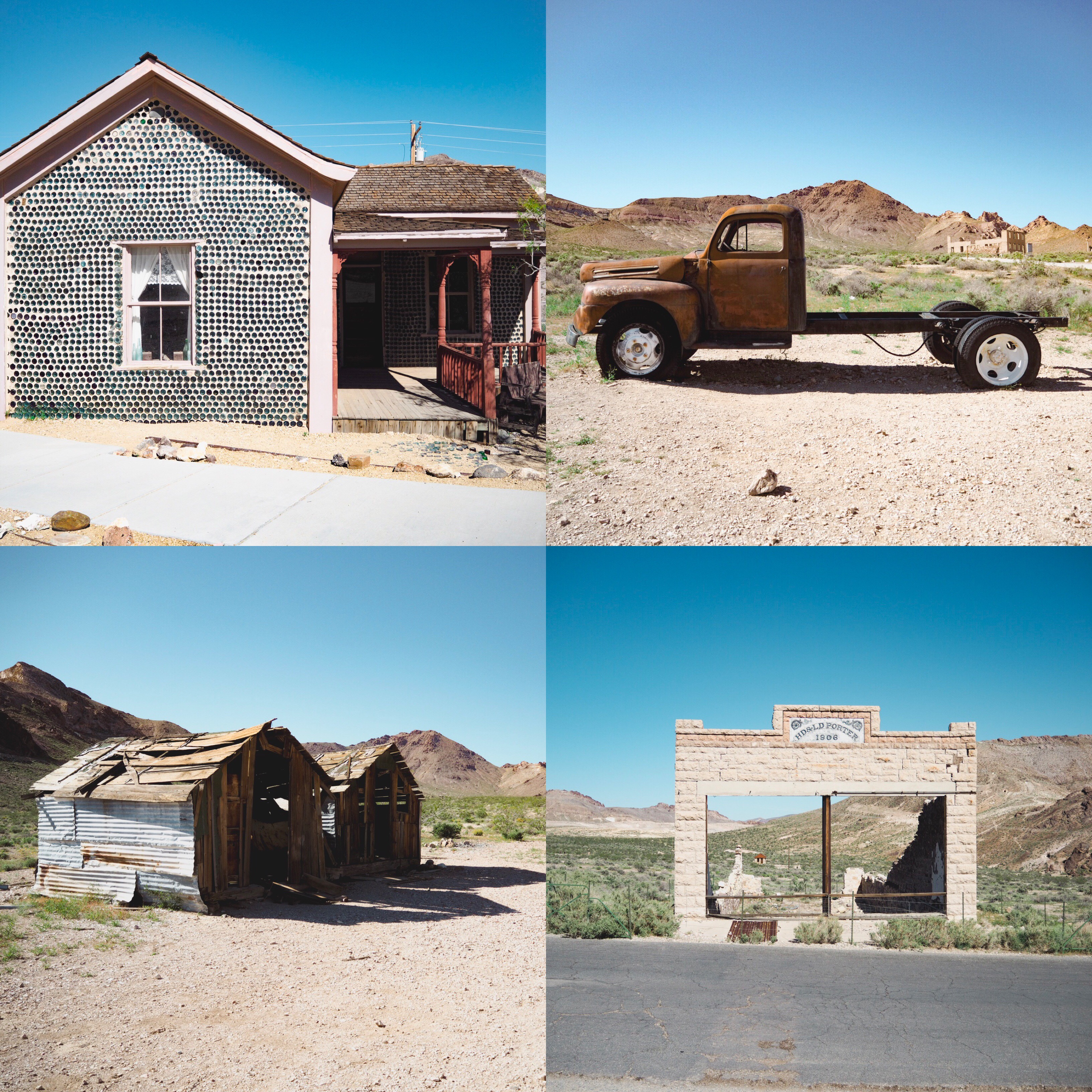 Rhyolite: a house made out of glass bottles; once a population of 10,000, including 2 dentists 🙂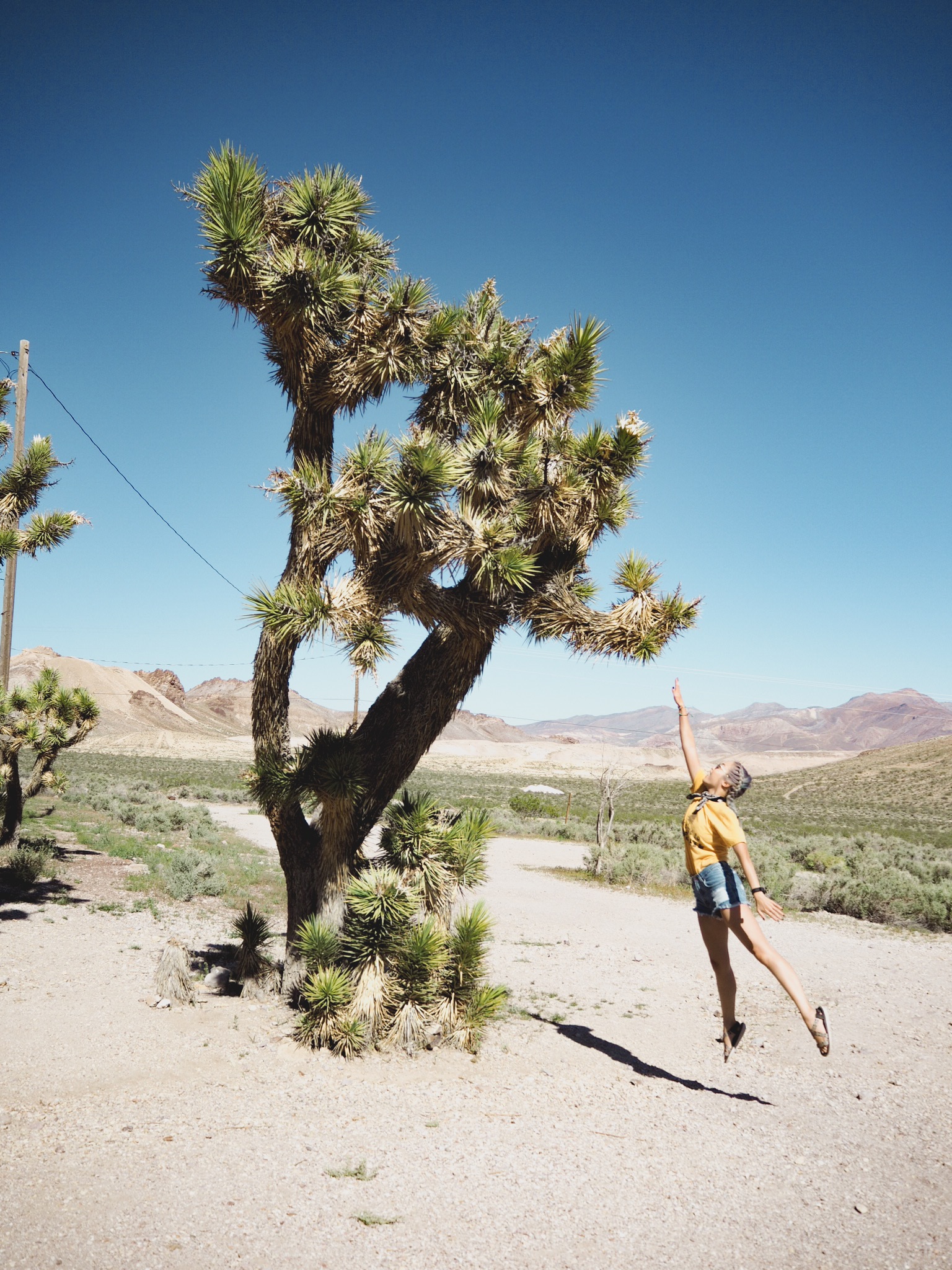 The variety of landscapes within this national park is what makes it so interesting to explore, and the lack of road lamps and minimal lodging areas make for dark and clear starry night skies – only to be rivalled by the night we had at Hawai'i Volcanoes National Park. (More posts coming soon!)
If you're still reading this, I salute you. This was an extremely photo-heavy post and I hope your phone/computer didn't freak out whilst trying to load them all hehe. Next up – Palm Desert and Coachella!