After months of drooling over drone footage, I went ahead and purchased the Phantom 4 plus a spare battery from the Apple website. Being a complete novice to flying UAV's, DJI's latest release has been surprisingly easy to work with.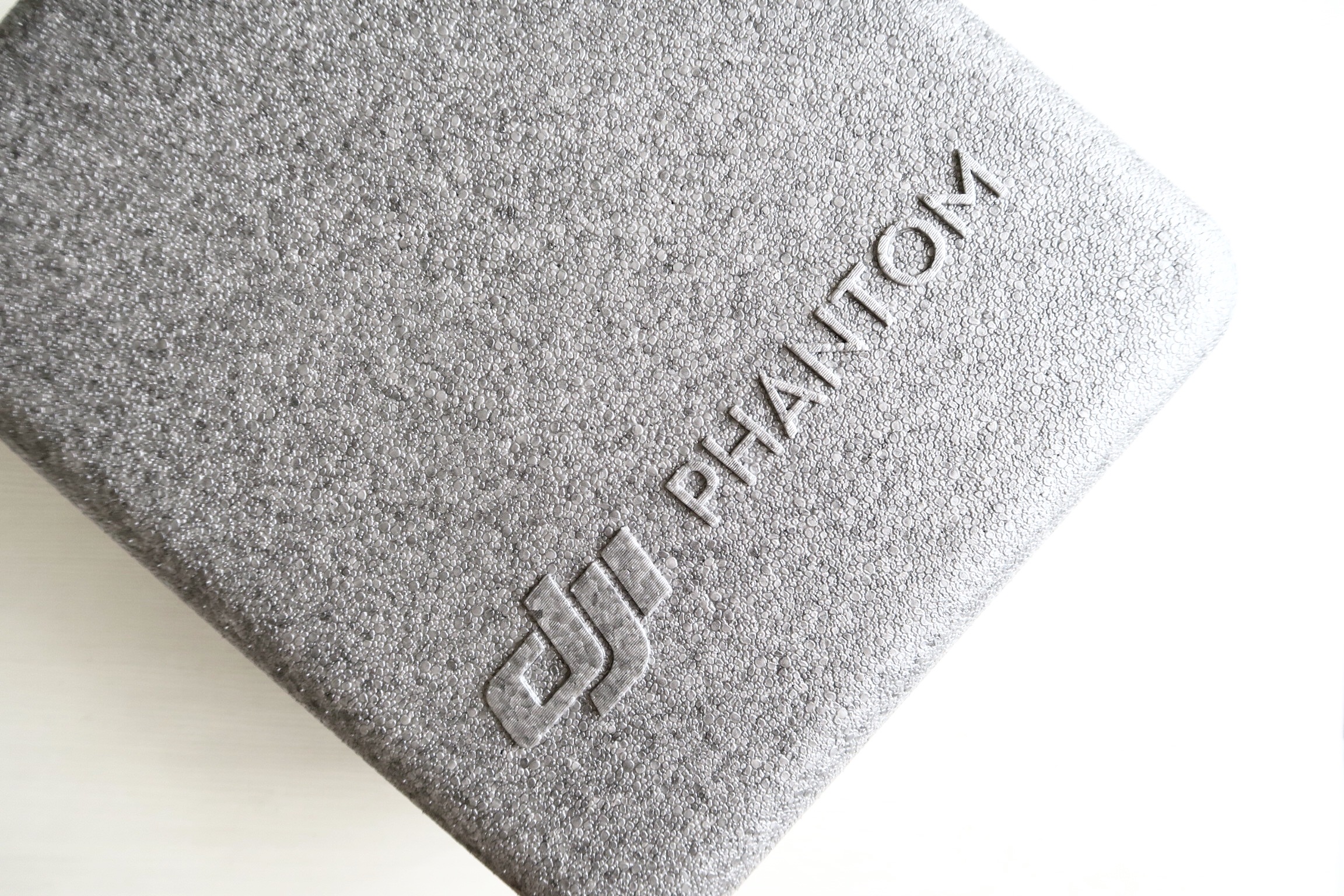 Set up:
To open the grey polystyrene box, simply rotate the metal latch 90 degrees. Next, charge up the batteries, download the DJI GO app onto your device, then follow the quick start guide for assembly. After attaching the rotor blades and turning on the drone and controller, remember to plug a USB cord between the controller and your device (phone or tablet) when you launch the DJI GO app or else a 'disconnected' message will show up.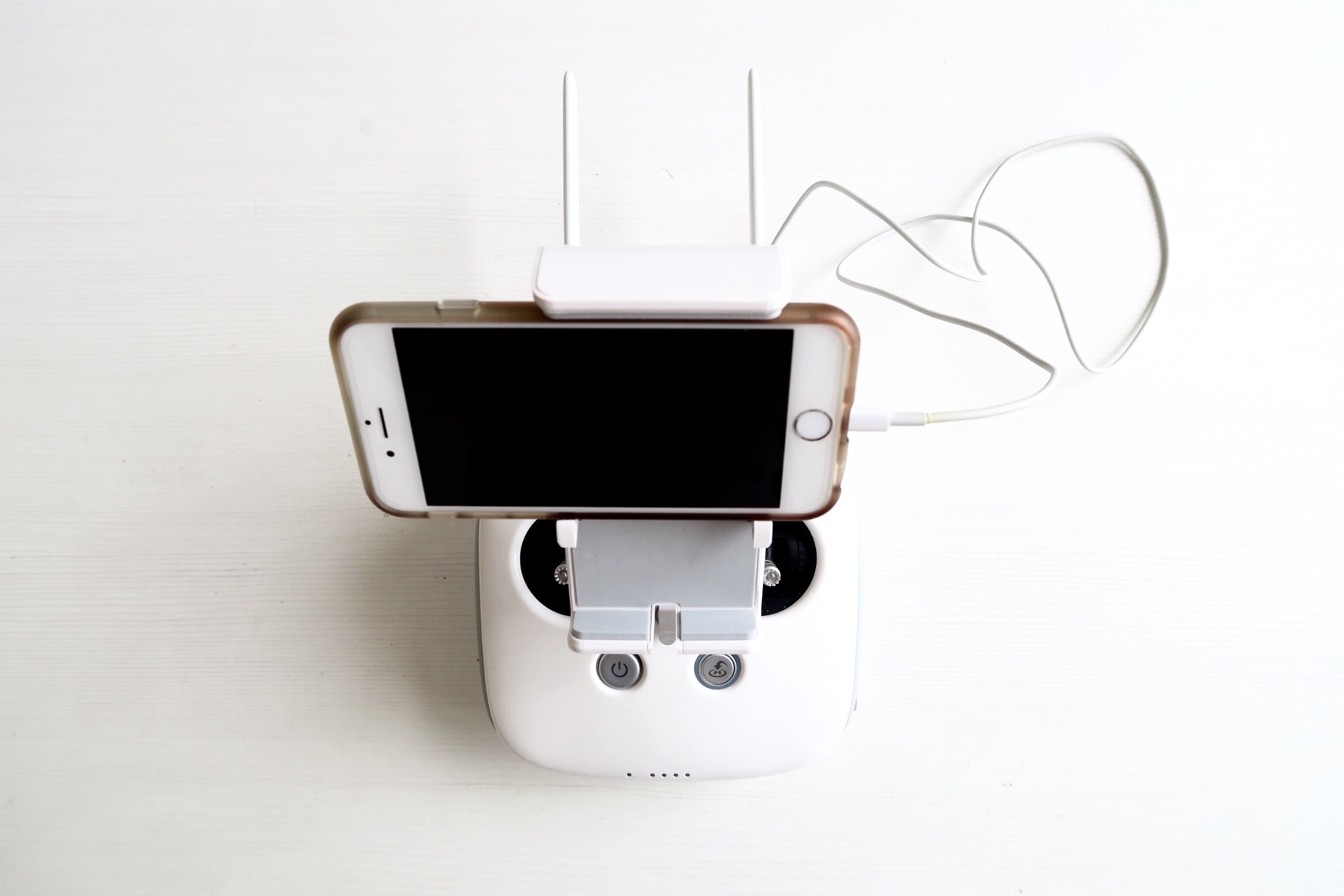 I opted to use an iPhone 6s due to the portability factor and honestly found no problem using a smaller screen. The only problem when watching footage outside is glare from the sun.
First flight:
The beginner mode on the app is very restrictive and I would recommend turning it off. My preferred return-to-home altitude, max flight altitude and max distance settings are listed below in the DJI GO app section. DO NOT try to calibrate the drone indoors or in covered areas as walls, ceilings and trees may interfere with the process. Remove any other electronic devices from immediate proximity as this may also interfere with calibration. For the first flight, set the drone camera facing forward away from you so there is no confusion when using the joysticks. The drone will fly in the direction you move the right hand side (RHS) joystick.
Tap the automatic takeoff icon on your device (square with arrow pointing up) and/or use the LHS joystick to manually fly the drone up. The LHS joystick controls movement in the vertical plane: up, down, and rotation of the drone to change it's flight direction. The RHS joystick allows the drone to fly forward, backward, and towards the right or left. Although most people prefer to look at the device's screen when flying the drone, I will glance up every now and then to make sure it isn't near any obstacles especially when flying the drone backwards or when the camera is pointed at the ground.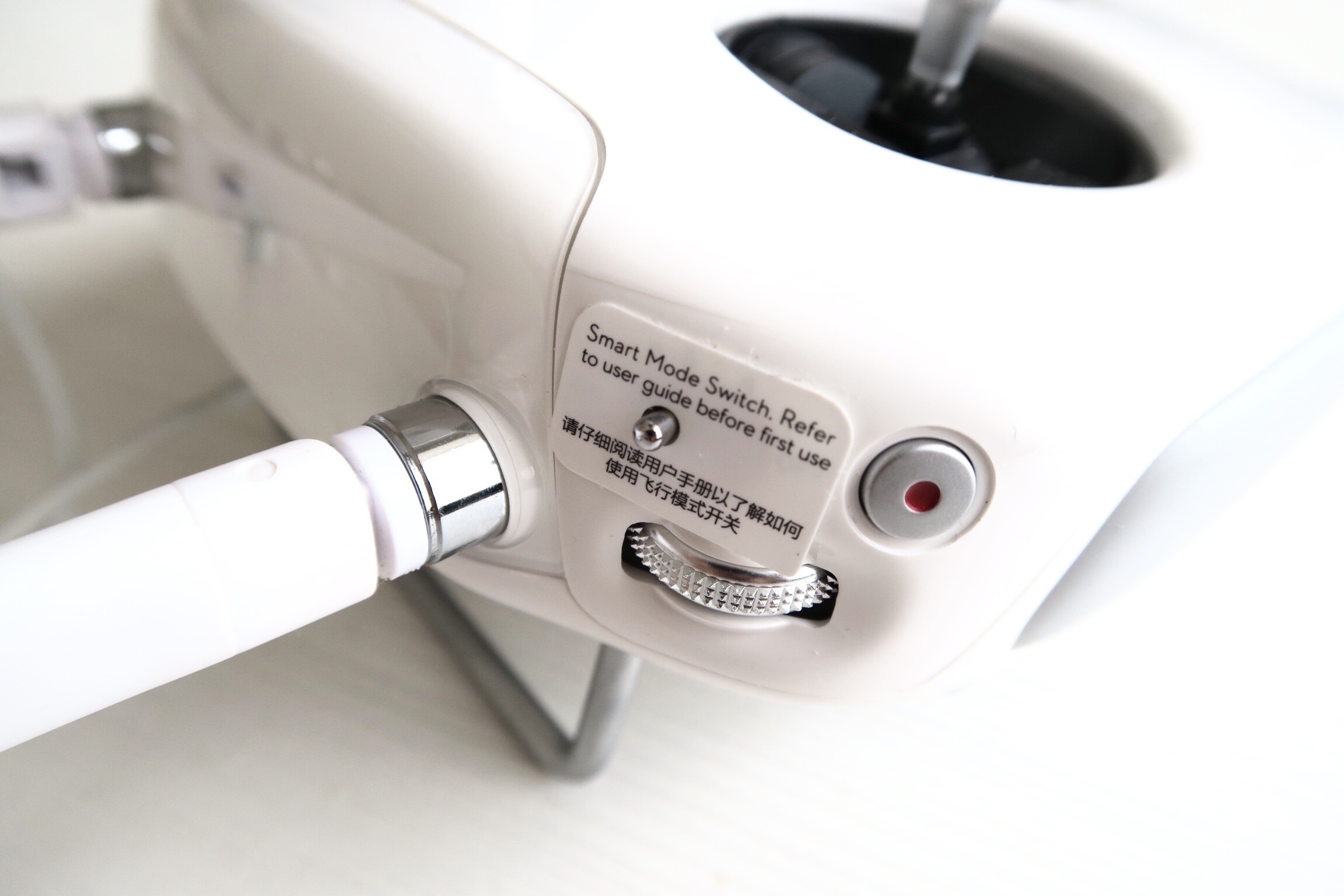 To change the camera angle there is a scrolling button on the top left of the controller (default). With practise, you can get some professional looking shots with a slow pan up or down as you fly the drone forward. To avoid rotor blades in the shot (e.g. in windy conditions), my tip is to pan the camera down towards the ground slightly. I use the return to home icon (circle with a H and curved arrow pointing down) every flight and will turn off automatic landing if I am on an uneven or moving surface. If the controller loses signal of the drone (e.g. in hazy conditions or around a mountain), immediately press the return to home icon. Remember to press record on your device when you want to take a picture or a video.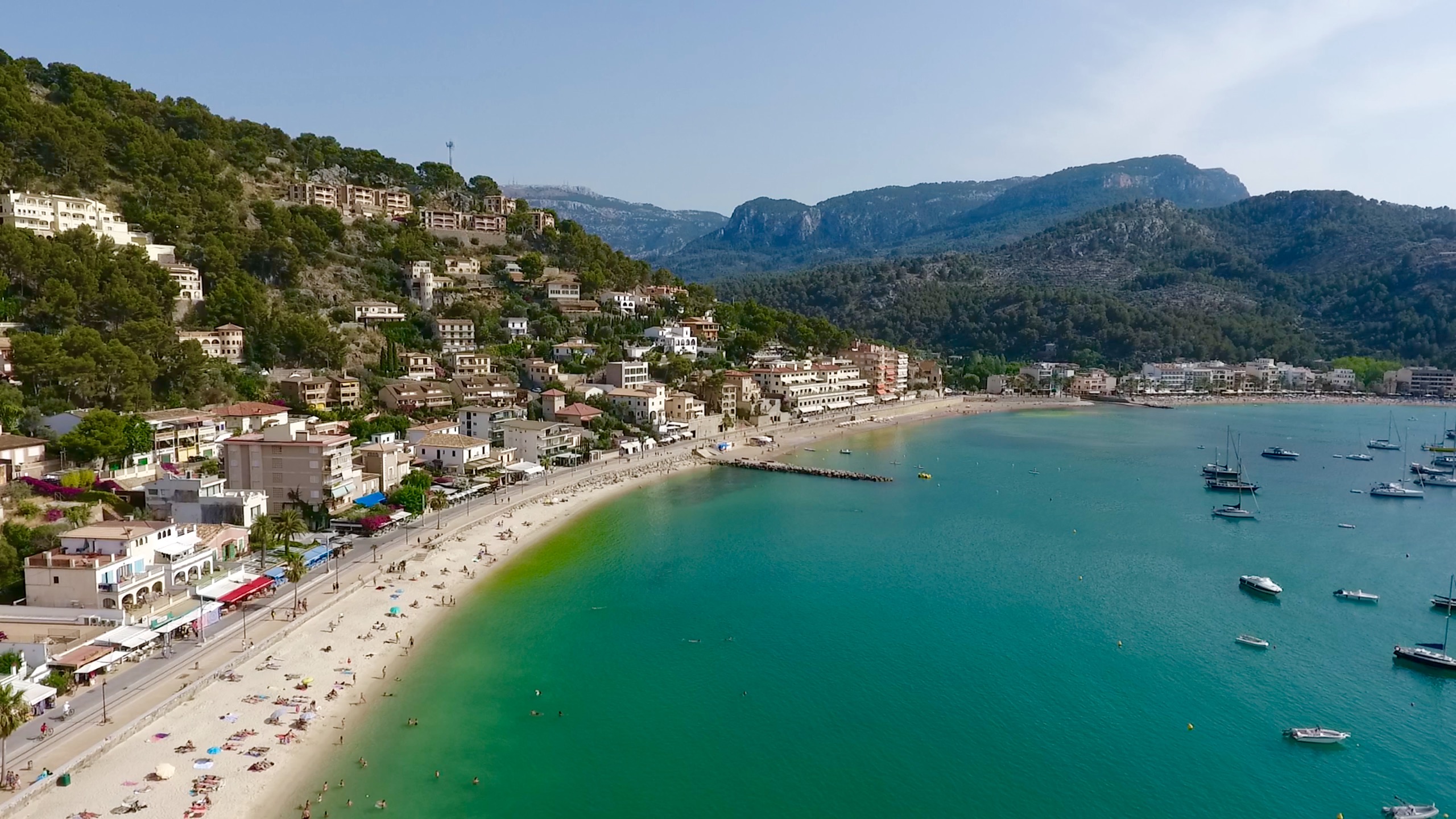 Above: Port de Soller, Mallorca
DJI GO app settings:
Video settings: (I only take video footage and screen shot for photos as needed)
Video size: 1080p 60fps; NTSC (same as on my Canon G7X and Go Pro Hero 4 Silver as I combine footage from all 3 cameras. I also like to slow the footage down in post and found my phone could not handle 120fps footage whereas anything below 60fps looked slightly choppy, especially when flying low)
Video format: MP4
White balance: Auto
Style: None
Colour: None/default (the same goes for the G7X and Go Pro – I don't choose flat profiles as I like to immediately transfer footage onto my phone to review or upload. I colour grade in post Rec 709)
Main controller settings:
Return-to-home altitude: 50m (I find 30m is too low when trees are around)
Max flight altitude: 300m (country regulations permitting)
Max distance: 2000m (visibility/obstacles permitting e.g. on a mountain flying down a valley)
Visual navigation settings (enable all of the below):
Turn on forward obstacle sensing, enable horizontal obstacle avoidance, enable backward flying
Gimbal settings:
I have needed to do a gimbal auto calibration once after 3 months of use
All other settings I have left unchanged/default.
To circle around a subject, turn on tracking mode, use the RHS joystick and push it to the left or right continuously.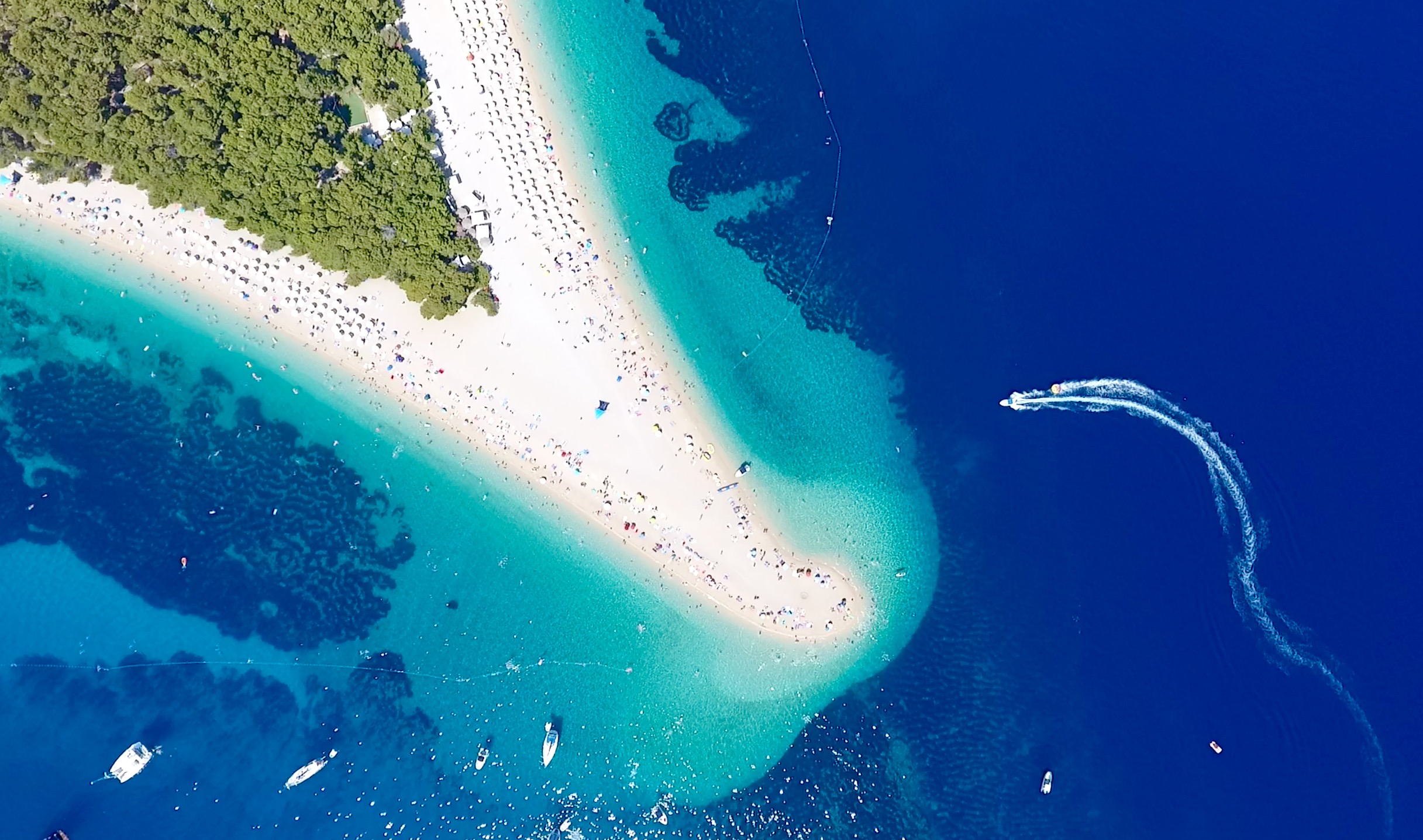 Above: Bol, Croatia
What happens when a drone crashes?
Even an anchored/docked boat moves so have a friend hold the legs of the drone off the side of the boat for take off (auto or manual). Manually land the drone into someone's hands. I have crashed the drone once during automatic take off from an anchored sail boat – the wind blew it into the boom and it proceeded to fall down the stairs into the inside compartment of the boat. The battery flew out of the main casing and one of the rotor blades chipped (see below). Having not packed any extra rotor blades I continued to use the chipped one for the rest of the trip and am still using it (10 flights later) with no problems. These Phantom 4 drones are very sturdy!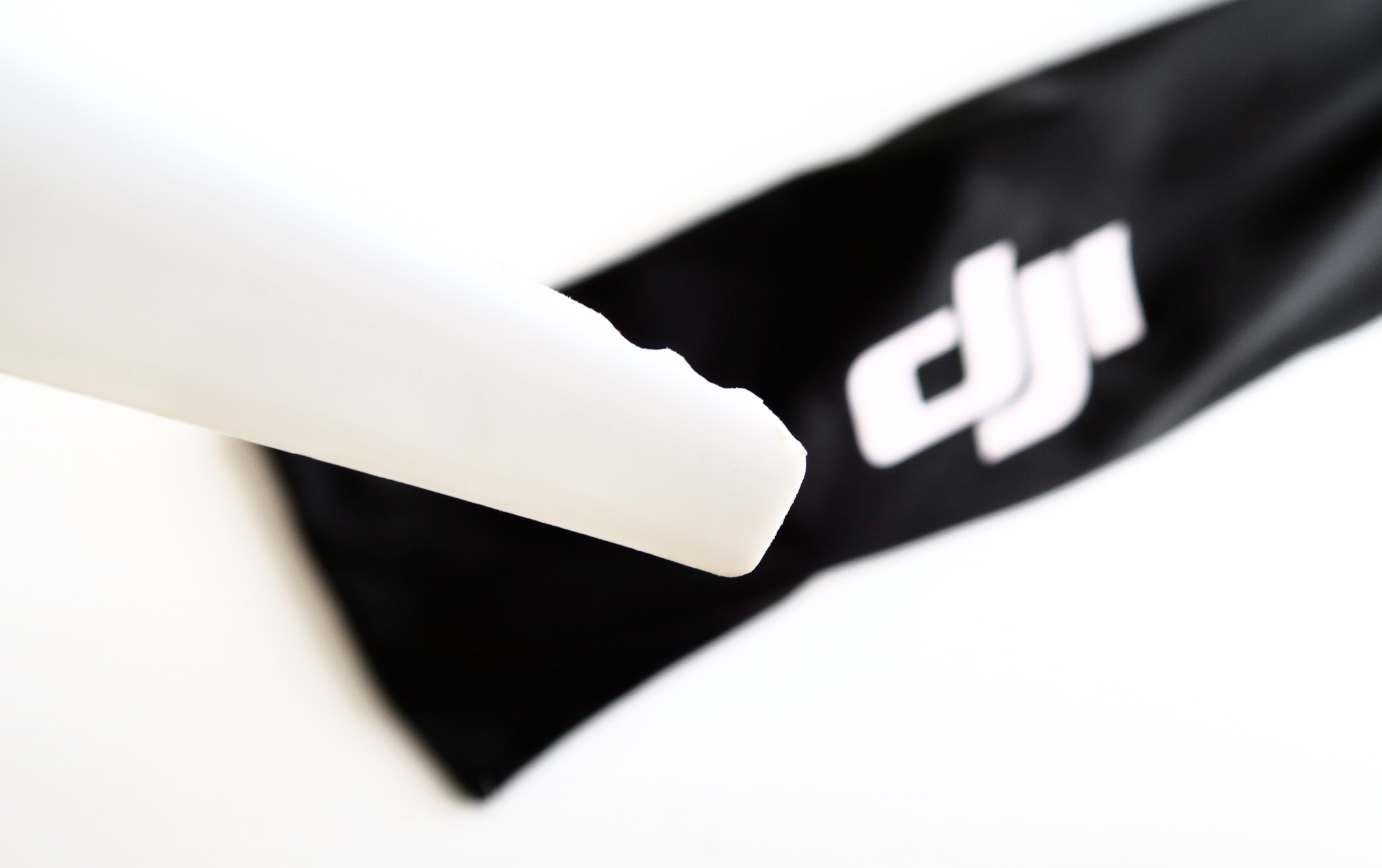 Battery and controller life:
Charging one battery: 1 hour
Battery flight time: just over 20 minutes for a single flight or 3 flight sessions (short 5-8 minute flights) before the low battery warning prevented flying
Charging controller: 3-4 hours – does not need to be charged out of the box, I only needed to charge it 3 months after unboxing
One time, whilst filming on a battery's last legs, the recorded video footage was shuddery/blacking out when reviewing it on my computer and connected device. However, after doing the latest firmware upgrade the footage was miraculously fixed and usable! Here is a handy post I used to do the firmware upgrade. http://www.drone-world.com/how-to-update-phantom-4-firmware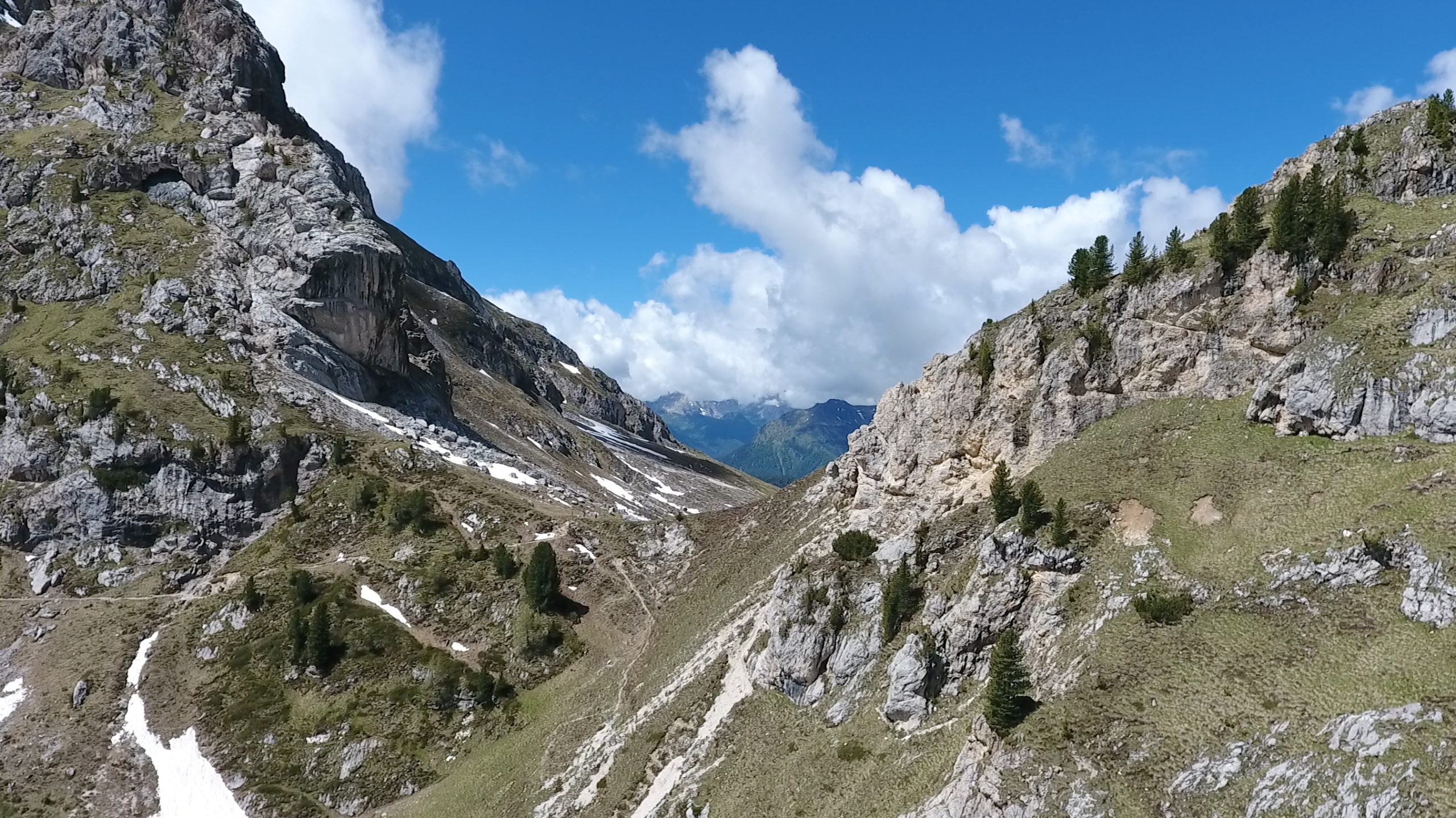 Above: Passo Giau track, Italian Dolomites
Suitable flying conditions:
The Phantom 4 is very robust and I have largely flown it in less than ideal, windy conditions. The two times it struggled were 1) in the Dubai desert where it was windy and very hazy, and 2) in the Dolomite mountains amongst the clouds where the wind strength was enough to blow a beanie off. In both  situations the rotor blades were visible in shot and there were sporadic shakes in the footage. Never fly the drone in wet weather (even lightly spitting) to prevent damage to/explosion of the battery.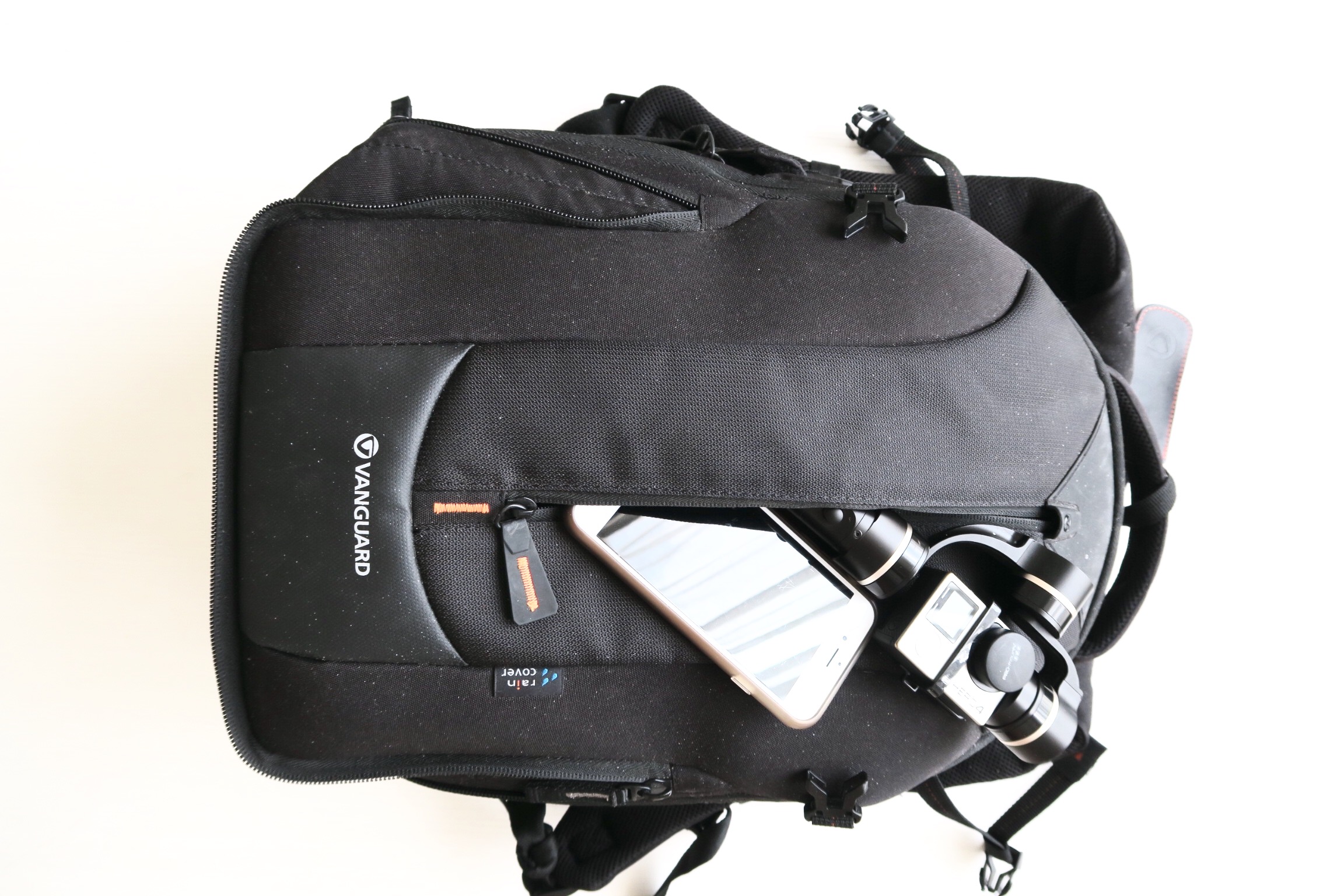 Travelling with a drone:
When I travel or go hiking I carry the Phantom 4 in this backpack which is a comfortable, low profile, normal looking backpack with heaps of padded and interchangeable velcro-lined compartments. The weight is not a problem during 8-9 hour hikes and the backpack comes with a rain cover. The clip between the front straps are a fantastic touch as it stops any chaffing around the arm pits for smaller builds.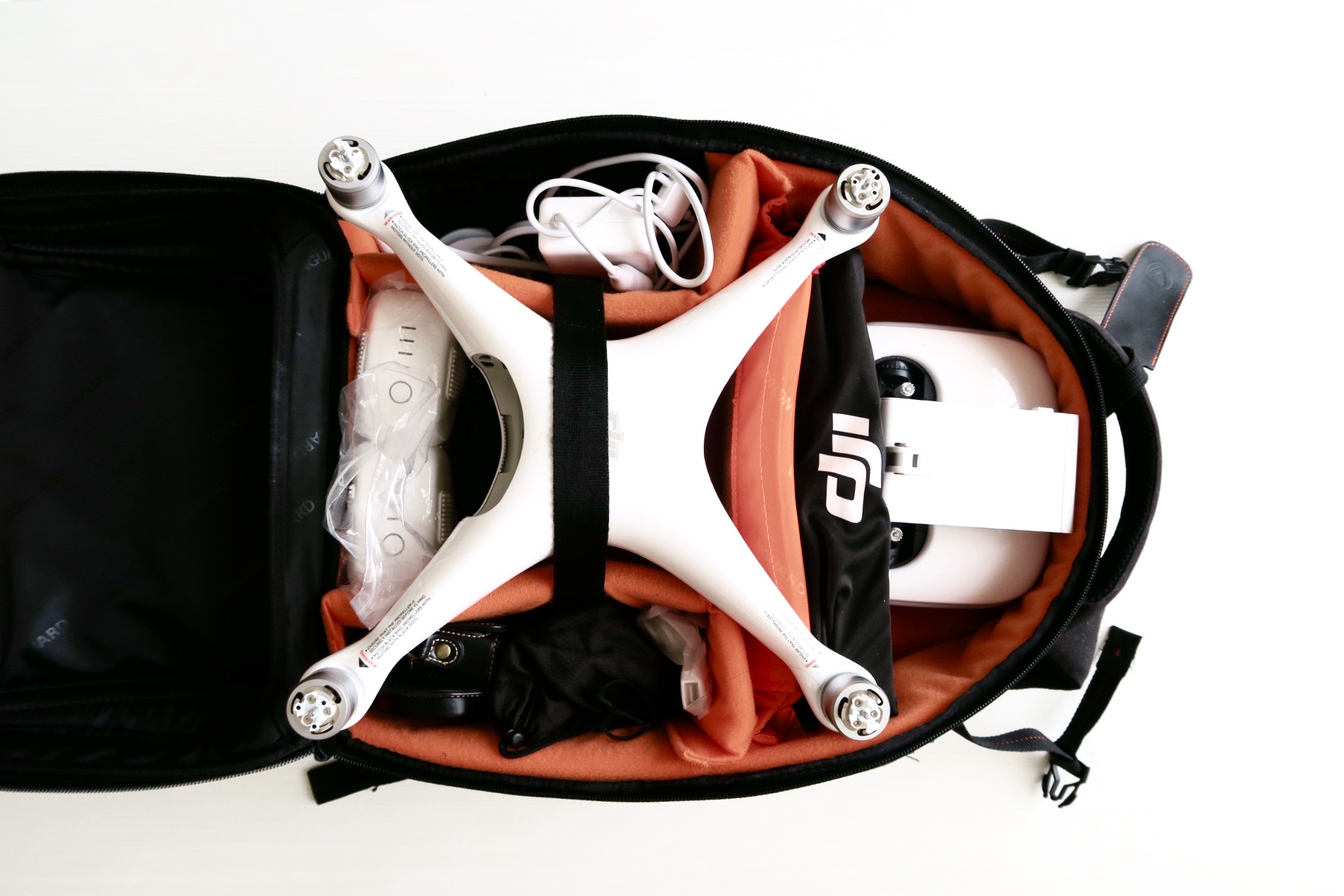 Layout:
Go Pro on the Feiyu-Tech G4S Gimbal and iPhone 6s in the outside vertical zip pocket
Drone body, 2 batteries, controller and rotor blades in the main central compartments
Canon g7x and spare Canon/Go Pro/phone batteries, chargers and usb cord left side compartment
Drone chargers (when travelling) or a water bottle right side compartment
Extra camera accessories e.g. Go Pro accessories, Knekt Dome and laptop are either checked in or carried in a separate tote bag. This backpack is the same as mine but with an additional pocket that fits a 15 inch laptop as needed. When flying on an airplane, all lithium batteries should be in carry on luggage. Drone batteries should be less than 30% charged, taken out of the drone body and placed in separate plastic bags to prevent fire/an explosion.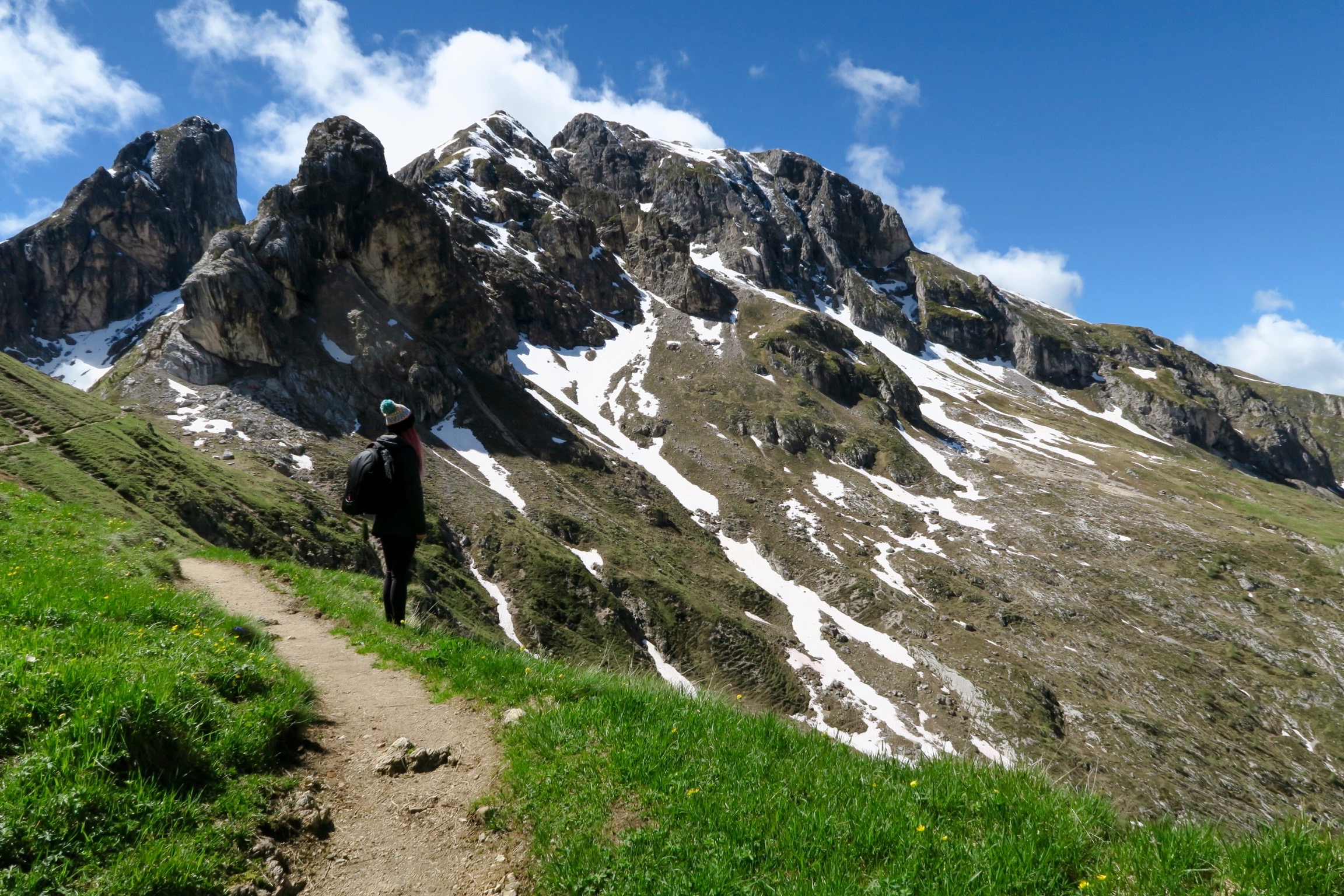 Above: Carrying the Vanguard Up-Rise II 45 backpack with rain cover
Flying restrictions: In Mallorca and Croatia, a couple of tourists and locals at the more accessible and populated beaches advised me that if police are nearby they may snap your rotor blades (a second reason to pack extra blades) and fine you heavily. As a general rule of thumb, always ask a lifeguard/tour guide/authoritative person for permission, or stick to isolated areas and fly safely.
To see some drone footage you can check out my most recent youtube/vimeo videos 🙂