Here are the accessories and settings I use with the Hero 4 Silver after much experimentation over the last couple of years. I love the silver edition for its LCD screen which I use every time to frame a shot and in playback. Having said that, if it were to break in the future, I would upgrade to the Black edition as the maximum frame rate of 60fps for the Silver is a bit limiting to me in post production (oh I do love a good slo-mo!).
Accessories:
3-Way Mount – plastic camera grip, extension arm and tripod. I have used it in water a fair bit and there is light rusting on the metal screws that can be cleaned off. Clean off any sand or salt water around the screws before unscrewing and adjusting the mount where possible or else the sand can 'lock' into the screw  making it very difficult (without breaking the plastic) to unscrew it later.
Head Strap + QuickClip – great for point of view (POV) shots as the camera sees what you see. The chesty is limited in that respect unless you turn and move your body. Doubles as a wrist mount (detach the band that goes along the top of your head) and provides a hands-free means to carry around your Go Pro until you need to use it (wear it around your neck or wrist e.g. at a waterpark as some do not allow monopods or extension sticks). I don't use the quick clip as I find it less secure than the head strap and less versatile (both in positioning on the forehead and extra uses).
The Handler + The Tool – floating hand grip + thumb screw wrench and bottle opener. The former is great hand grip both in and out of the water, helping to stabilise the camera and avoid fingers in shots, the latter a useful keychain accessory. The 'Floaty Backdoor' is annoying as it covers the LCD screen (the key feature of the Hero 4 Silver).
Dual Battery Charger + Battery – a must buy as I find one battery will last me half a day if I am shooting often.
Standard Housing – a spare one that I attach to the Knekt Dome permanently to prevent disturbing the dome's O-ring which provides the seal against water leakage into the dome.
Suction Cup Mount – to mount your Go Pro on any solid, clean surface e.g. great for car POV shots.
Bag Pack (5 pack) – or any spare dust bags/jewellery pouches to keep accessories/bits and bobs organised.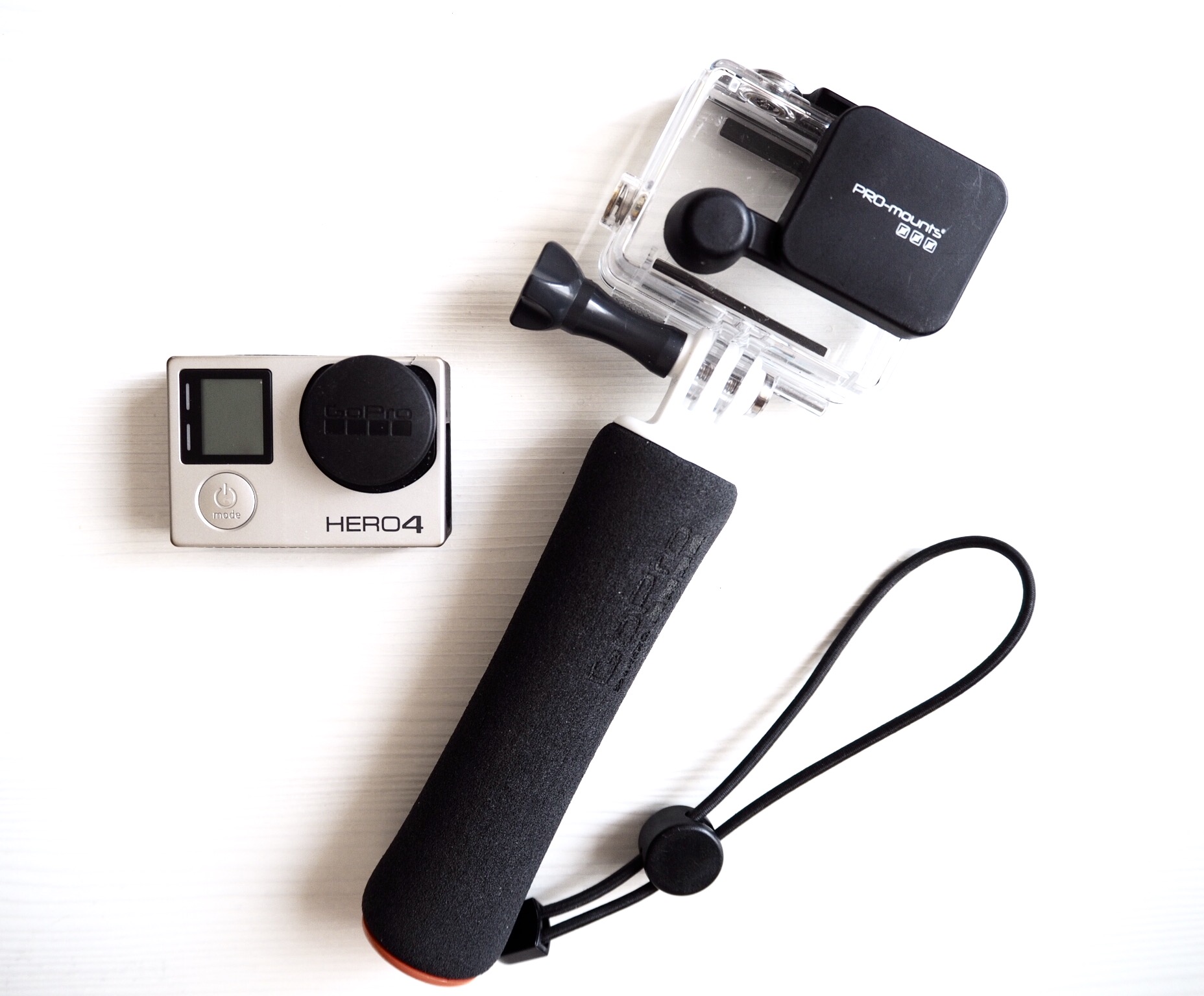 Protective Lens and Covers – to avoid scratches on the lens or standard housing lens window. I have both the Go Pro and PRO-mounts brand (the latter comes with a micro-fibre cleaning cloth and the square lens cap for the standard housing lens window fits more snugly than the Go Pro version). I purchased the PRO-mounts protective lens and covers duty-free at Dubai International Airport.
Shop Go Pro accessories and mounts here.
Filming Tips:
Check the lens window and wipe away water droplets frequently when shooting in/around water as droplets can ruin a shot or make footage unusable.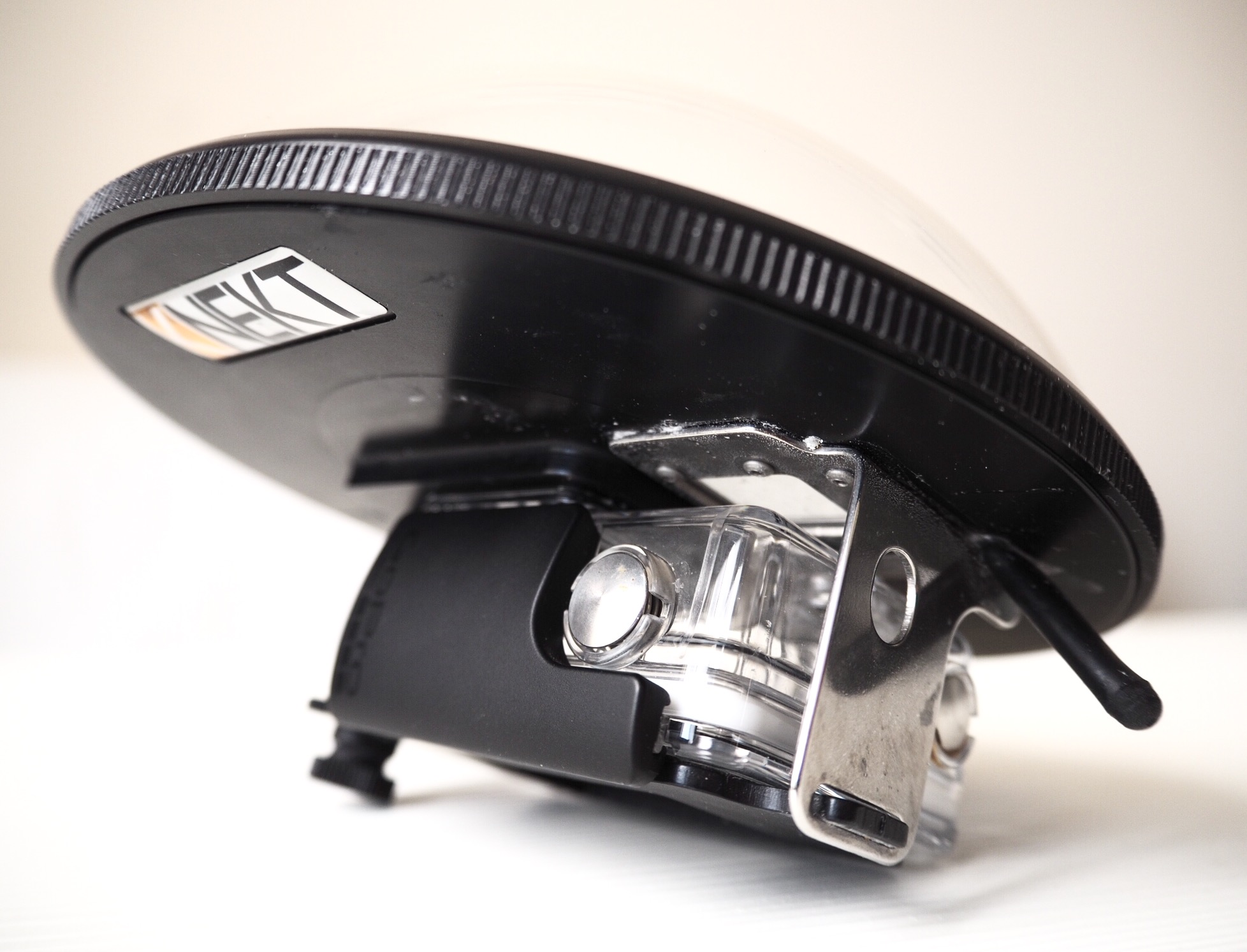 Knekt KSD6 Dome Port – pushes water away from the Go Pro lens to create half under and half over the water shots (see below). It also increases the field of view >30% (which was particularly useful for capturing the full length of whale sharks at close proximity), and produces cleaner, clearer images. It is attached to the standard housing lens window and can be used with any monopod, extension pole or trigger. Tip: make sure you wipe the dome with the cloth provided prior to every use or else residual dust particles will cause water droplets to stick to the dome sphere and distort the image. Also rinse with tap water after using it in the pool or salt water and wipe dry to prevent corrosion and rusting.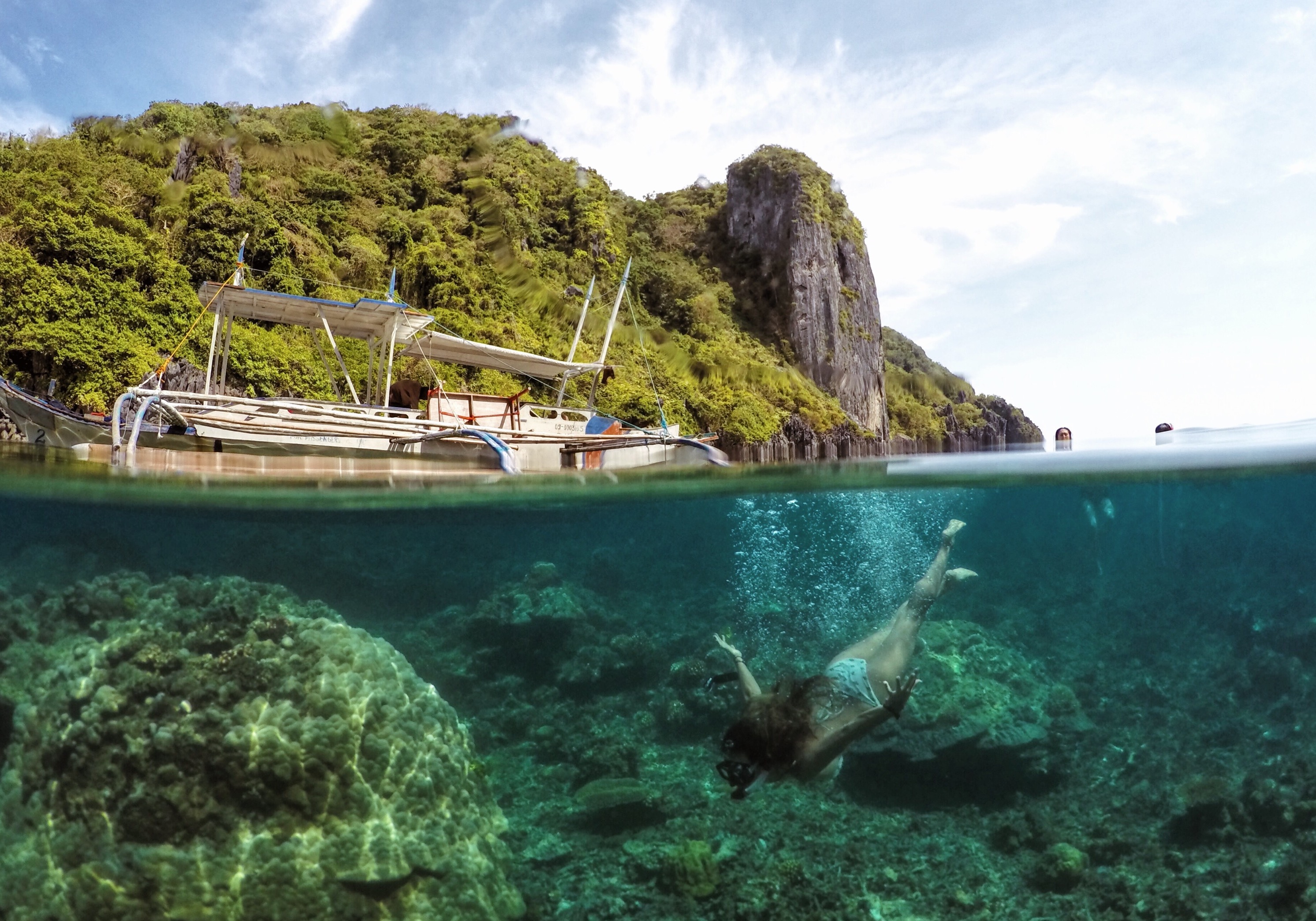 Above: Free diving at Simizu Island, El Nido, Philippines
Feiyu Tech G4S Gimbal – a 3-axis handheld stabilising gimbal, perfect for achieving smooth, more professional looking video footage. Comes with an excellent protective/padded case that I put other camera bits in when travelling.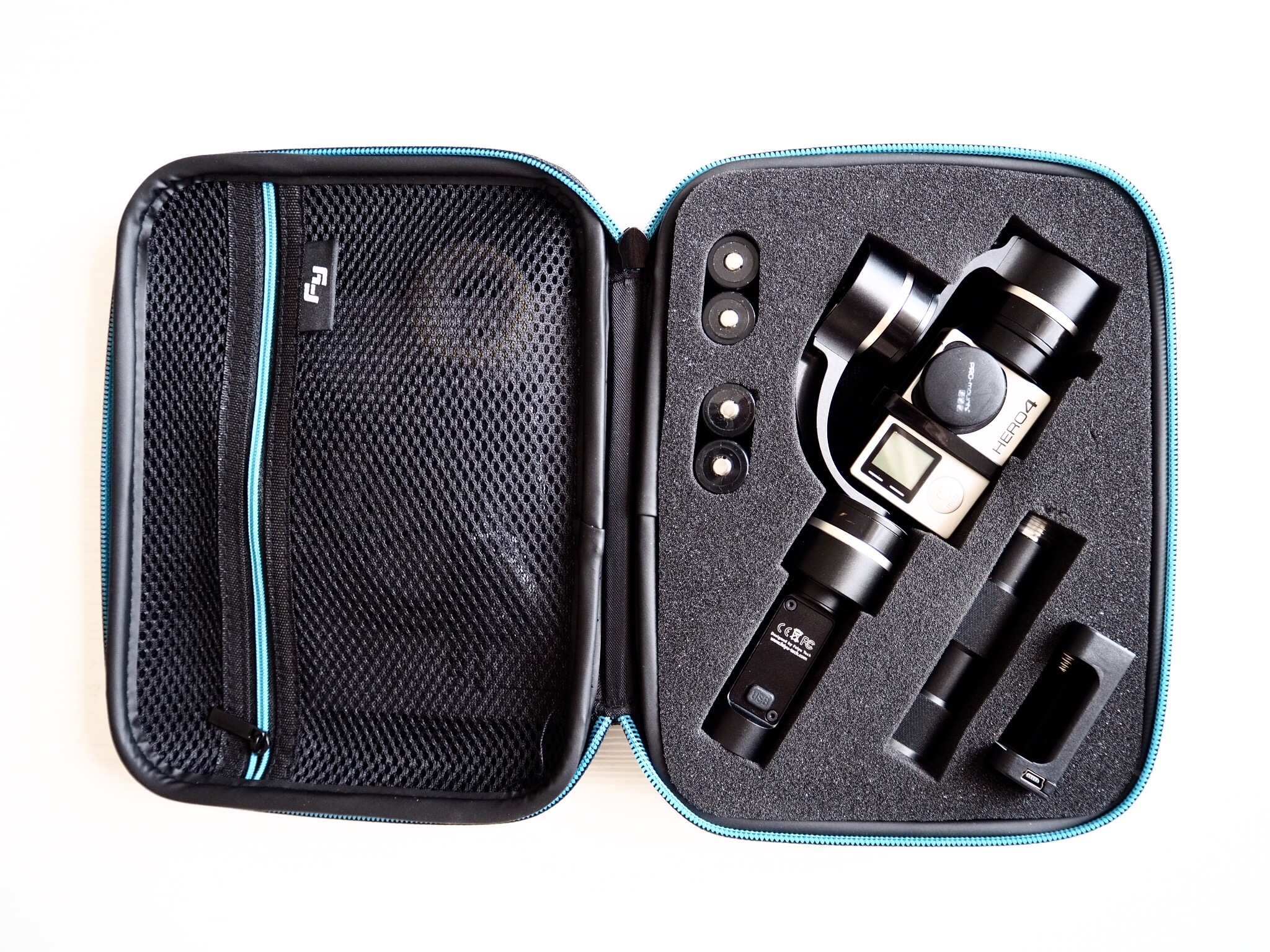 SD card – I currently use 64GB SanDisk Extreme PRO UHS Speed Class 3 micro SD cards for the Go Pro and DJI Phantom 4 Drone. They are suitable for 4K recording and have faster read speeds (data transfer rate). They come in a 128GB size and soon, 256GB. I have also used 32GB Strontium NITRO PLUS UHS Speed Class 3 micro SD cards and continue to use them in my Canon G7X and Olympus E-PL7.
Go Pro Settings:
Video Mode:
Resolution: 1080
Frames Per Second: 60
Field of View: wide for selfies/filming myself walking, medium for landscapes and filming other people
Low Light: OFF
Spot Meter: OFF
Protune: ON – White Balance: 5500K, Colour: GoPro Colour, ISO Limit: 400, Sharpness: Low, EV Compensation: 0
Under settings, video format: NTSC
Single Mode: 
Megapixels: 12MP/Wide for selfies and some landscapes, but I usually prefer the Canon G7X or Olympus E-PL7 for photos
Spot Meter: OFF
Protune: ON – White Balance: 5500K, Colour: GoPro Colour, ISO Limit: 400, Sharpness: High, EV Compensation: 0
Burst Mode: I use this for dome shots
Rate: 10 Photos/3 Seconds (this should be increased to 30 Photos/3 or 6 seconds (despite cluttering up my iPhone gallery) to ensure you get a good shot as the water movement is variable and I usually only get ~2 good shots at the 10 Photos/3 Seconds rate).
Megapixels: 12MP/Wide
Spot Meter: OFF
Protune: ON – White Balance: 5500K, Colour: GoPro Colour, ISO Limit: 400, Sharpness: High, EV Compensation: 0
I don't often film or take photos with the Go Pro at night/in darker indoor settings (I prefer to use the Canon or Olympus) and I stick to the Go Pro Colour setting so that I can immediately transfer footage to my phone for review and upload (the phone will not take RAW files). Sharpness is low in video mode for more of a cinematic look. If you want to see the dome, gimbal, go pro (and drone) in action, check out the video below 🙂