With its towering cliffs, bubbling river, abundance of wildlife and colourful foliage, autumn is the perfect time to visit Springdale and explore Zion National Park. The milder temperatures meant hiking was less a struggle (despite the clambering necessary), and we were lucky to be amongst the 2017 Plein Air Art Invitational week that showcases 24 acclaimed artists painting throughout the park.
In this blog post, I will take you through the incredibly scenic trails we hiked during our two-and-a-half-day stay, as well as provide information about getting to and around the park, accomodation options, and extra tips and tidbits.
Angel's Landing | 4 hours (Shuttle Stop 6 – The Grotto)
Perhaps the most famous hike in Zion National Park, the Angel's Landing trail has it all – tough climbs, awesome effort-to-view pay offs, vertigo inducing cliff edges, and a semi-dangerous portion at the end, marked by chains for you to hang off as you cross the narrow cliffs. The trail begins alongside the beautiful Virgin River, and climbs steadily through a series of switchbacks until you reach the chained portion. As there was no wind, the hike felt quite safe and is well marked – as are all of the other trails. Take care of your footing along cliff edges, especially in areas where loose rock/scree are present.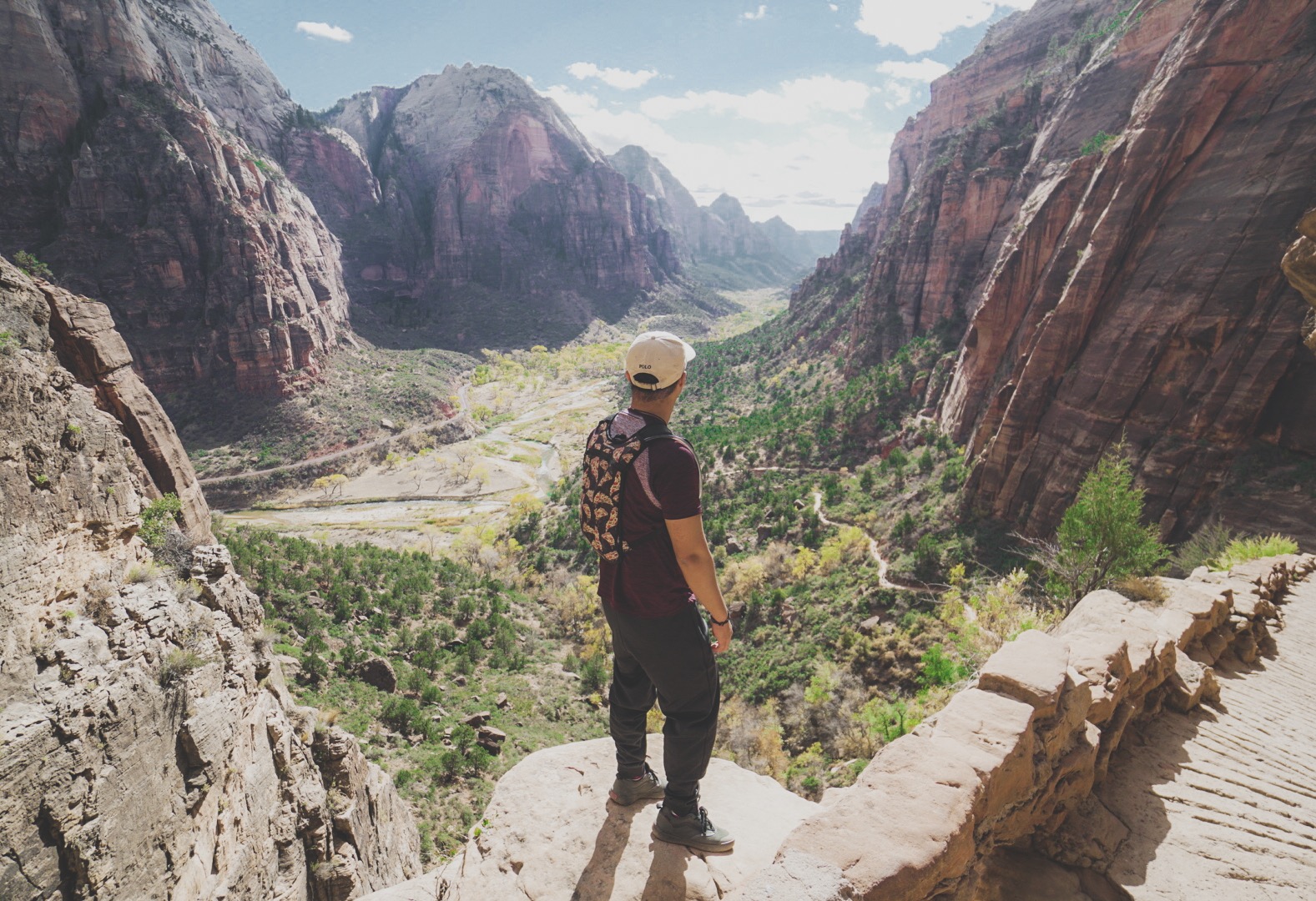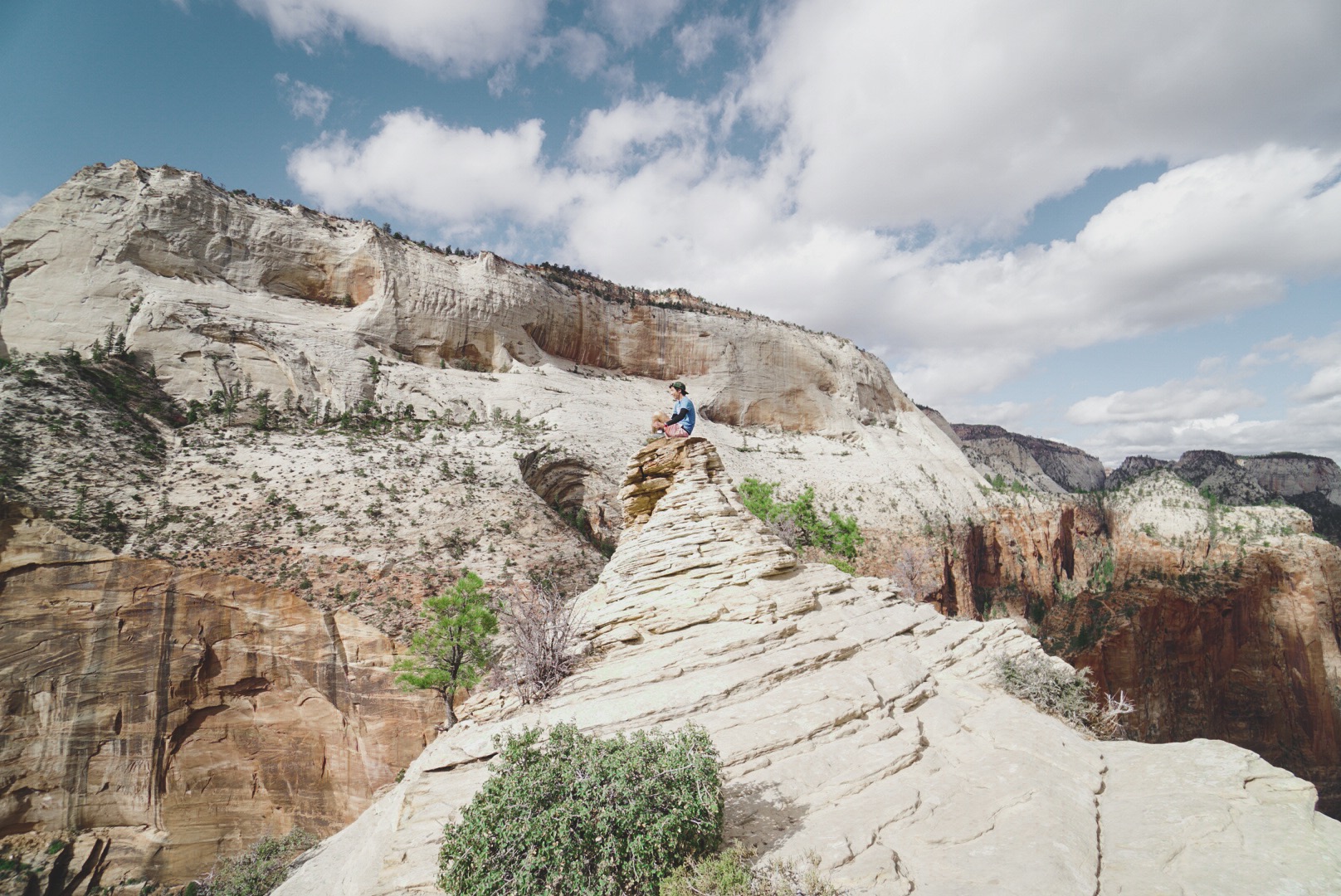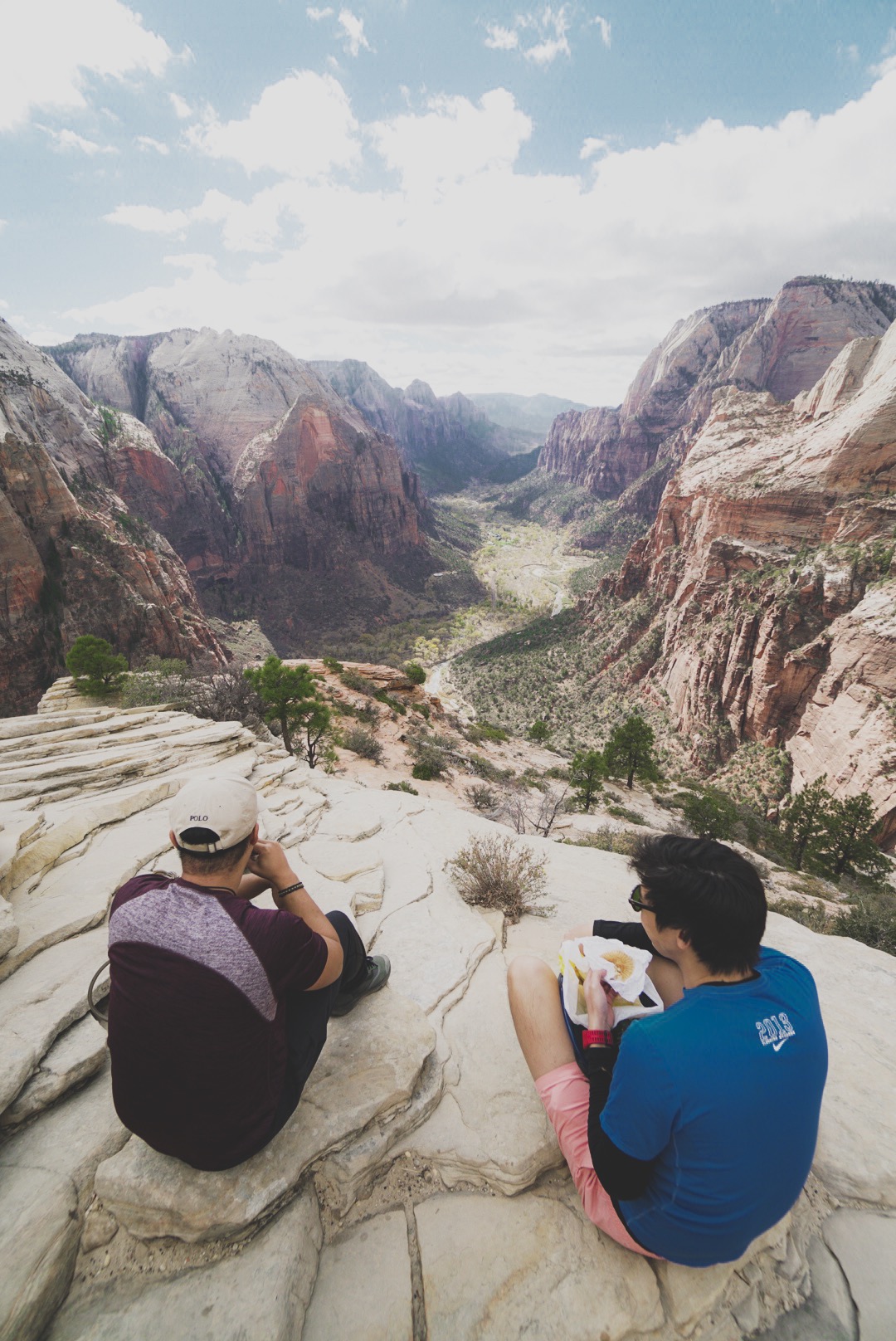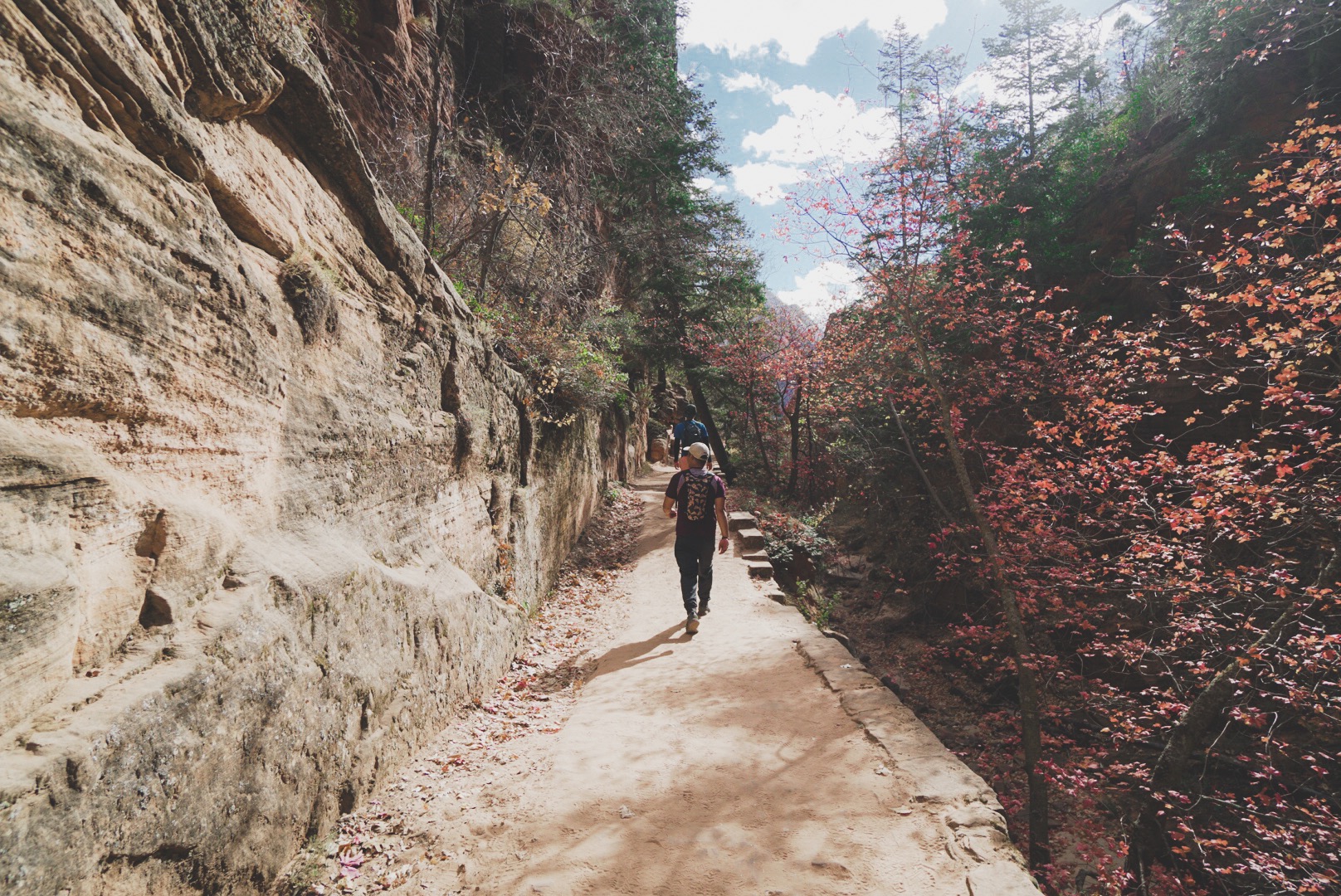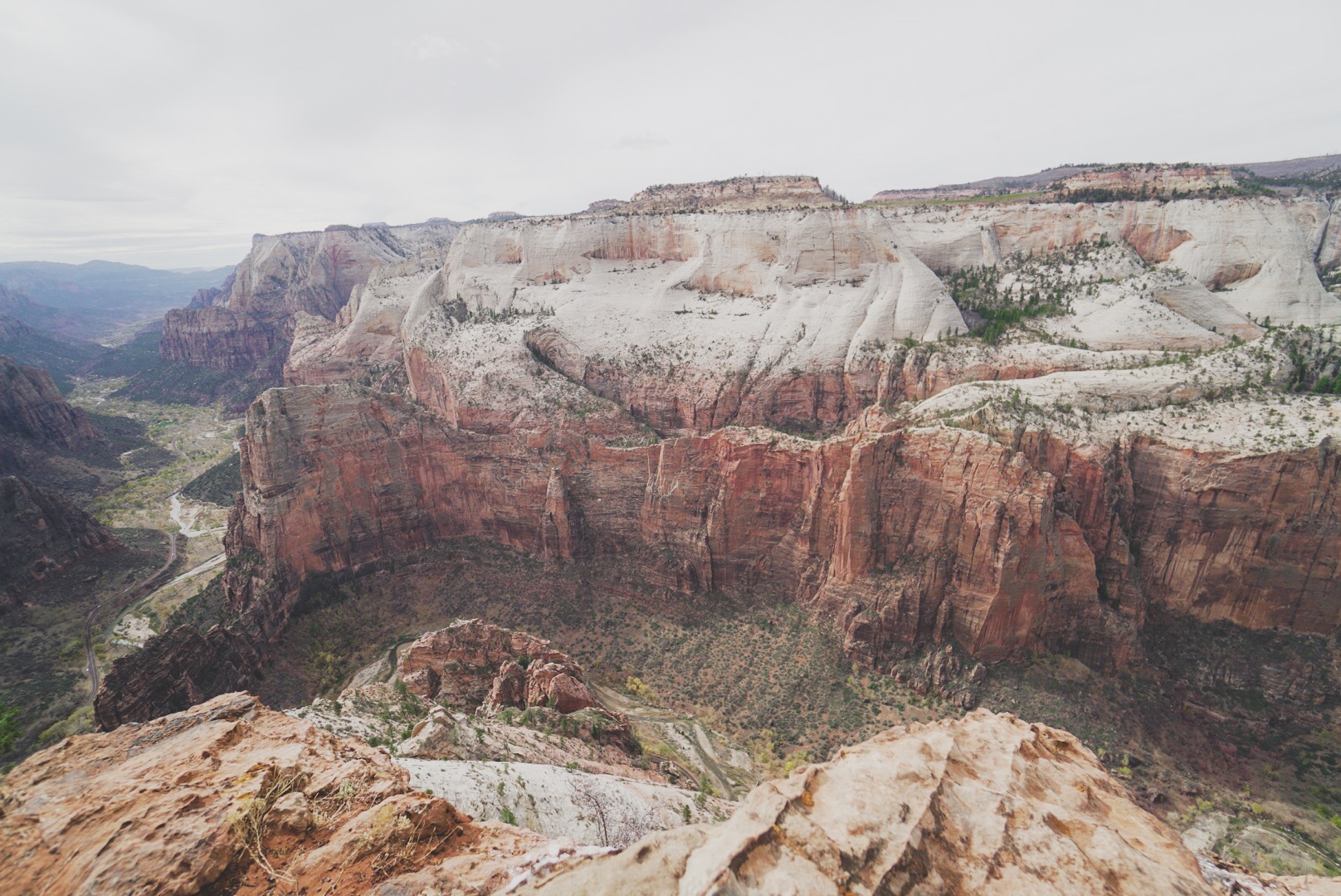 A view of the scramble from right to left along the thin ledge to Angel's Landing
Observation Point + Weeping Rock | 5-6 hours (Shuttle Stop 7 – Weeping Rock)
A level up from Angel's Landing, the picturesque journey to Observation Point takes you alongside varying landscapes before a long uphill ascent to the plateau. From slot canyons to mountain passes and exposed ridge lines, this trail offers spectacular views of Zion Canyon the whole way up, and for us, a satisfying look back at the Angel's Landing trail we completed the day before. We were also accompanied by chipmunks, deer, ravens, and big horned sheep along the way.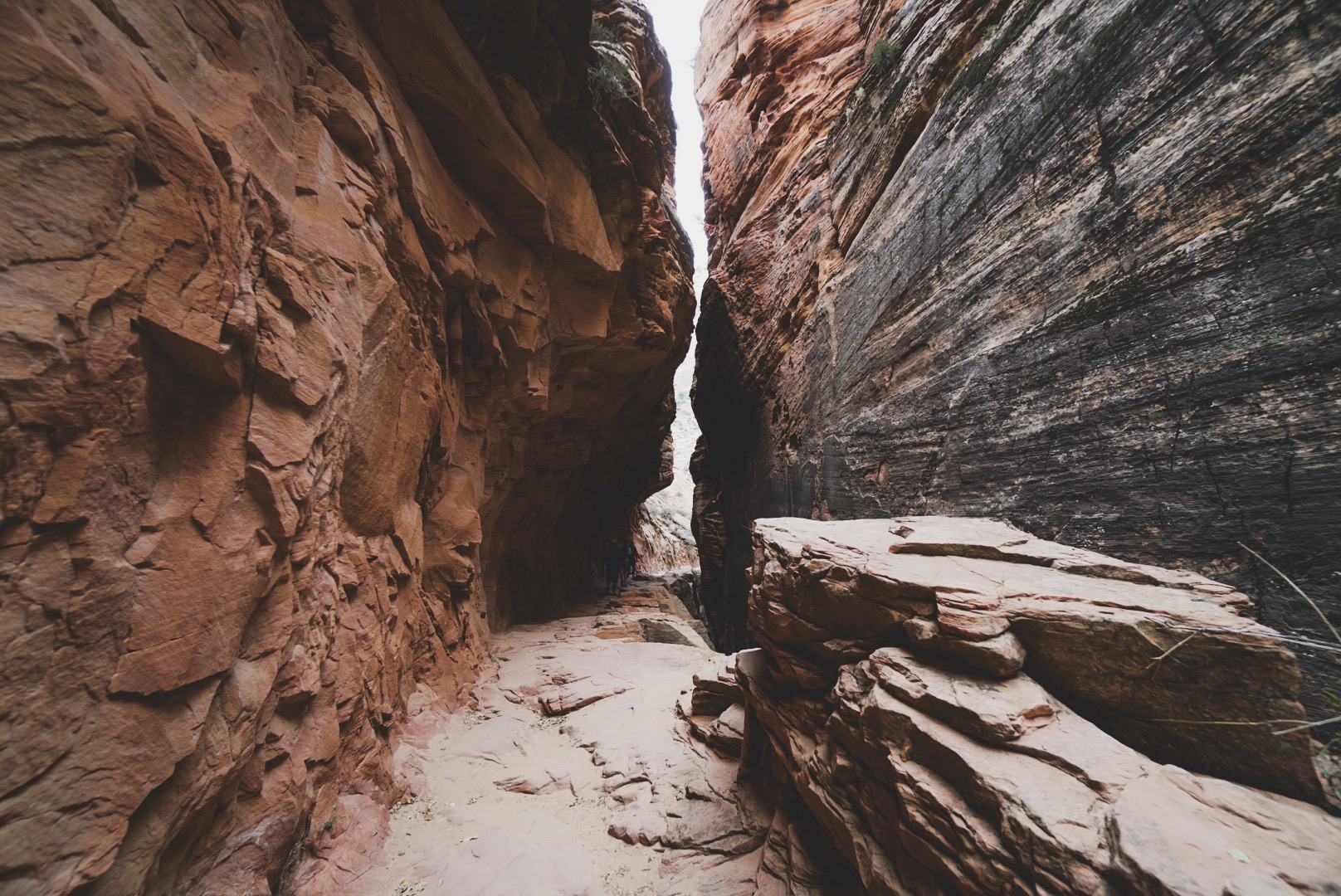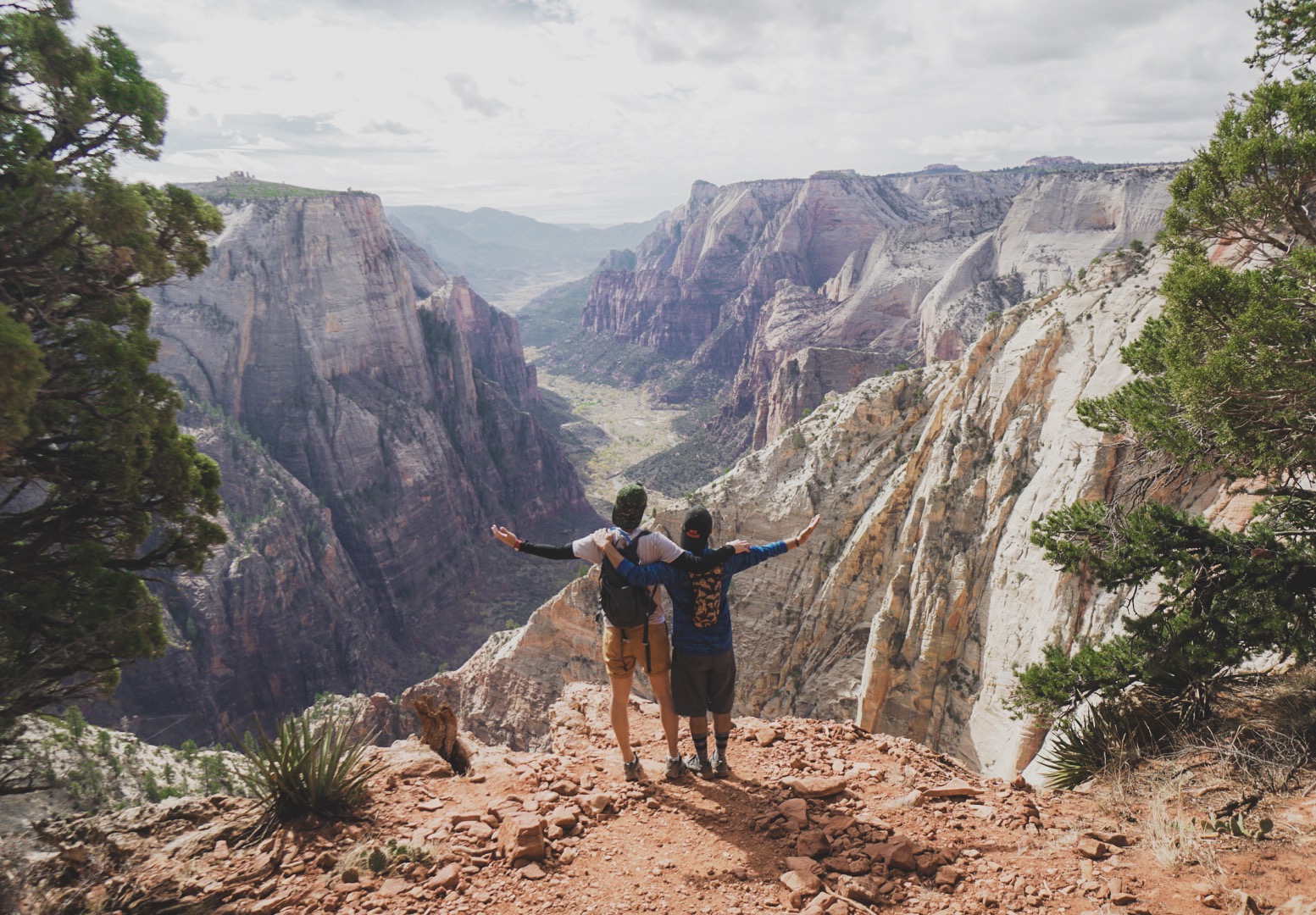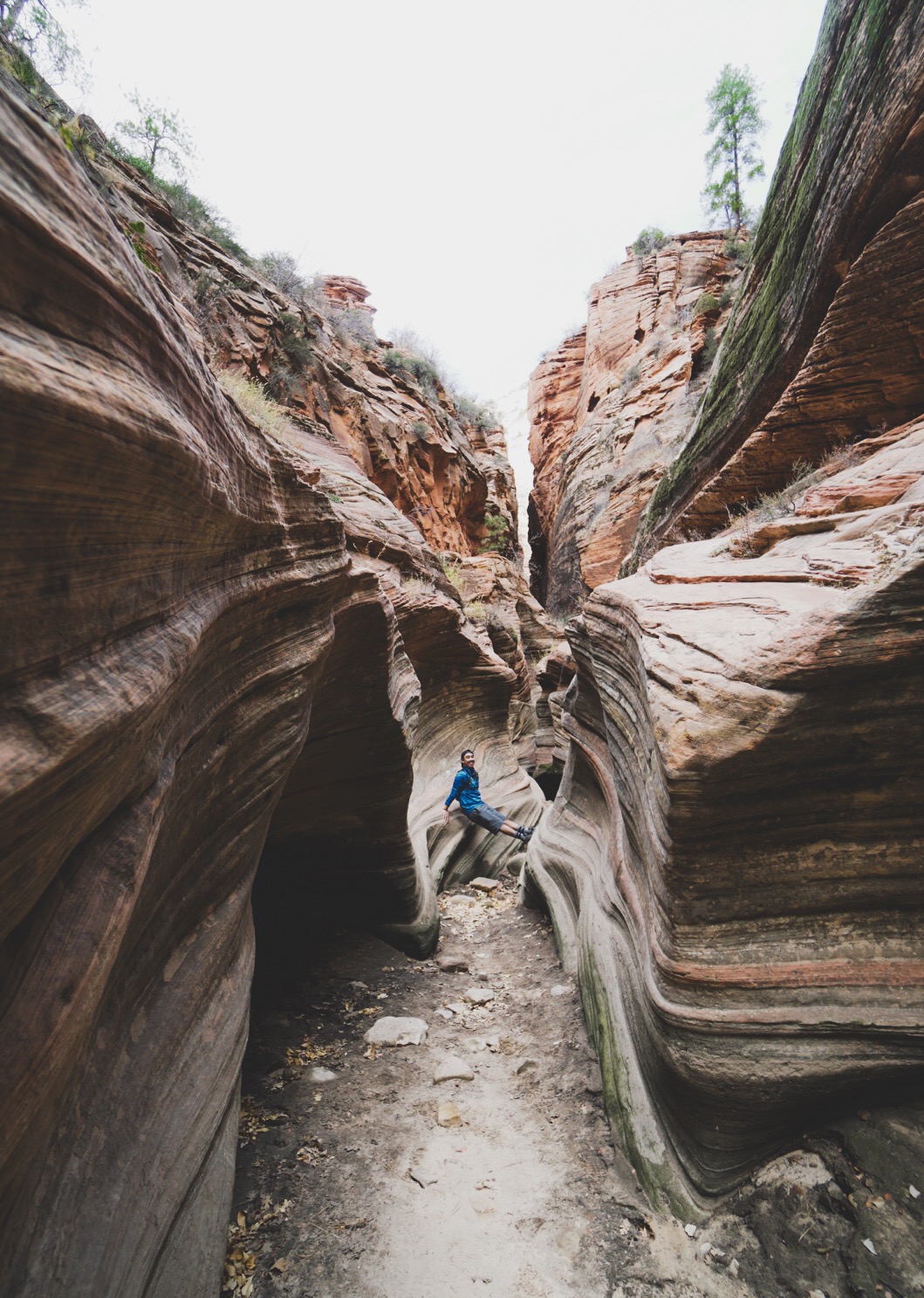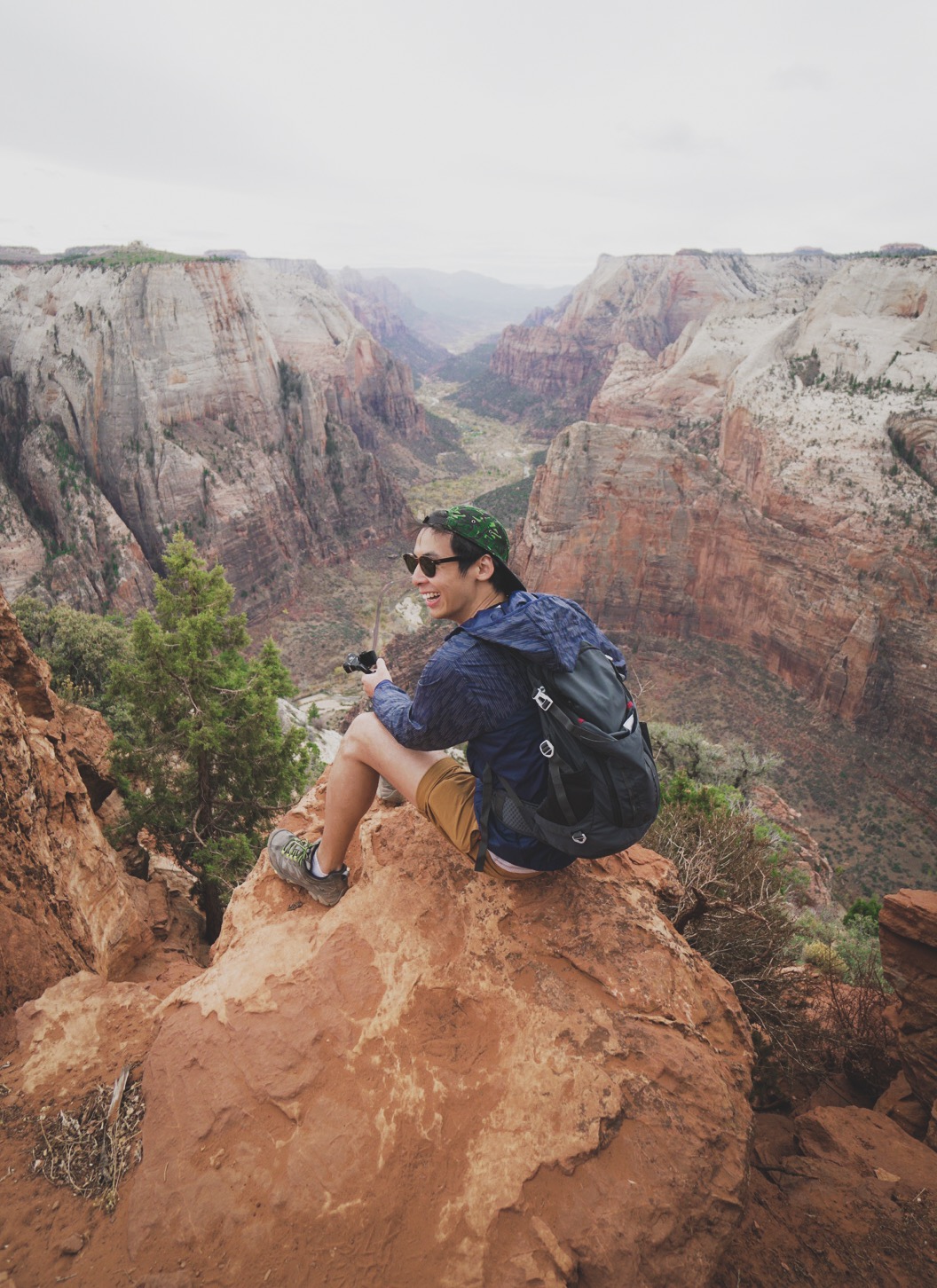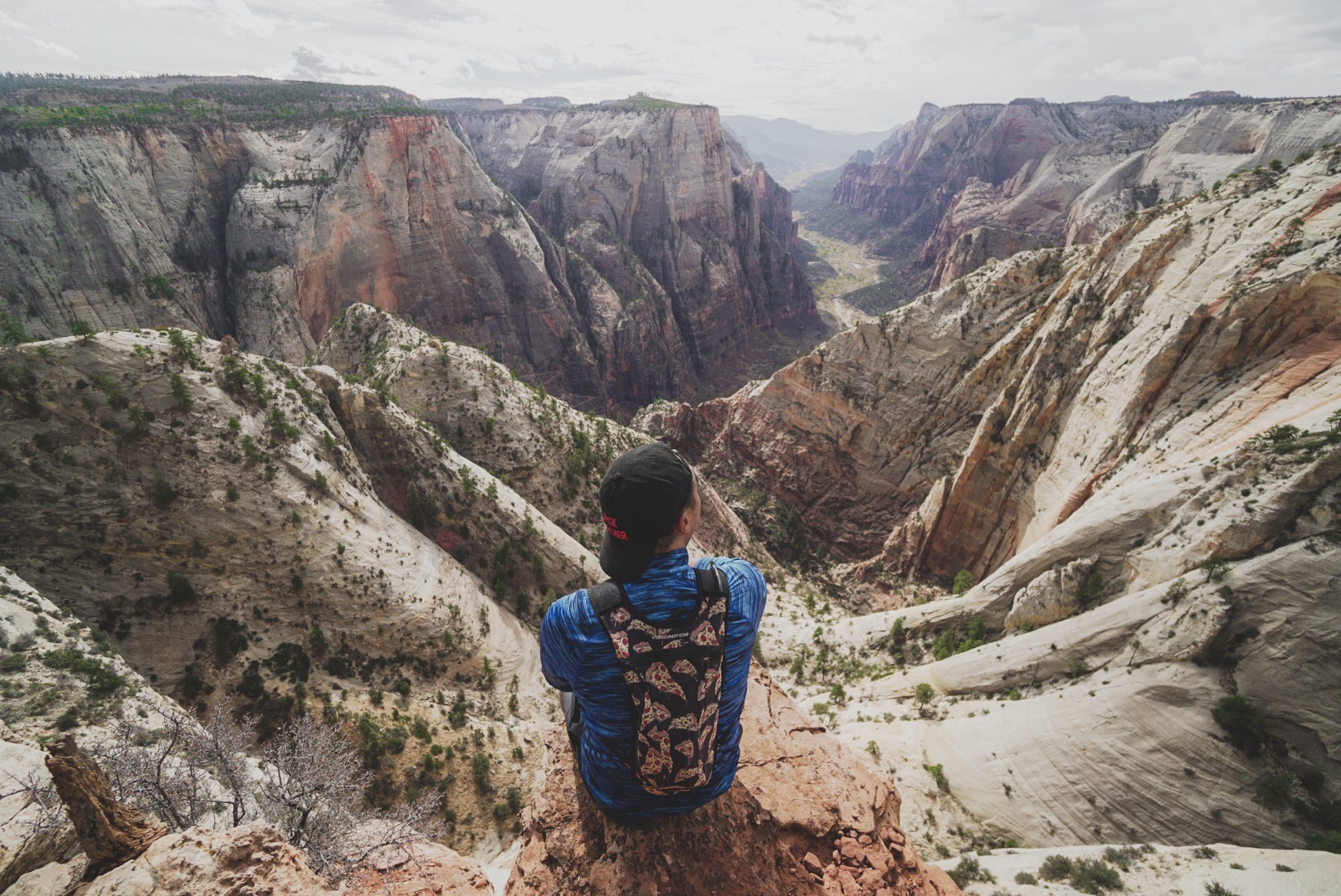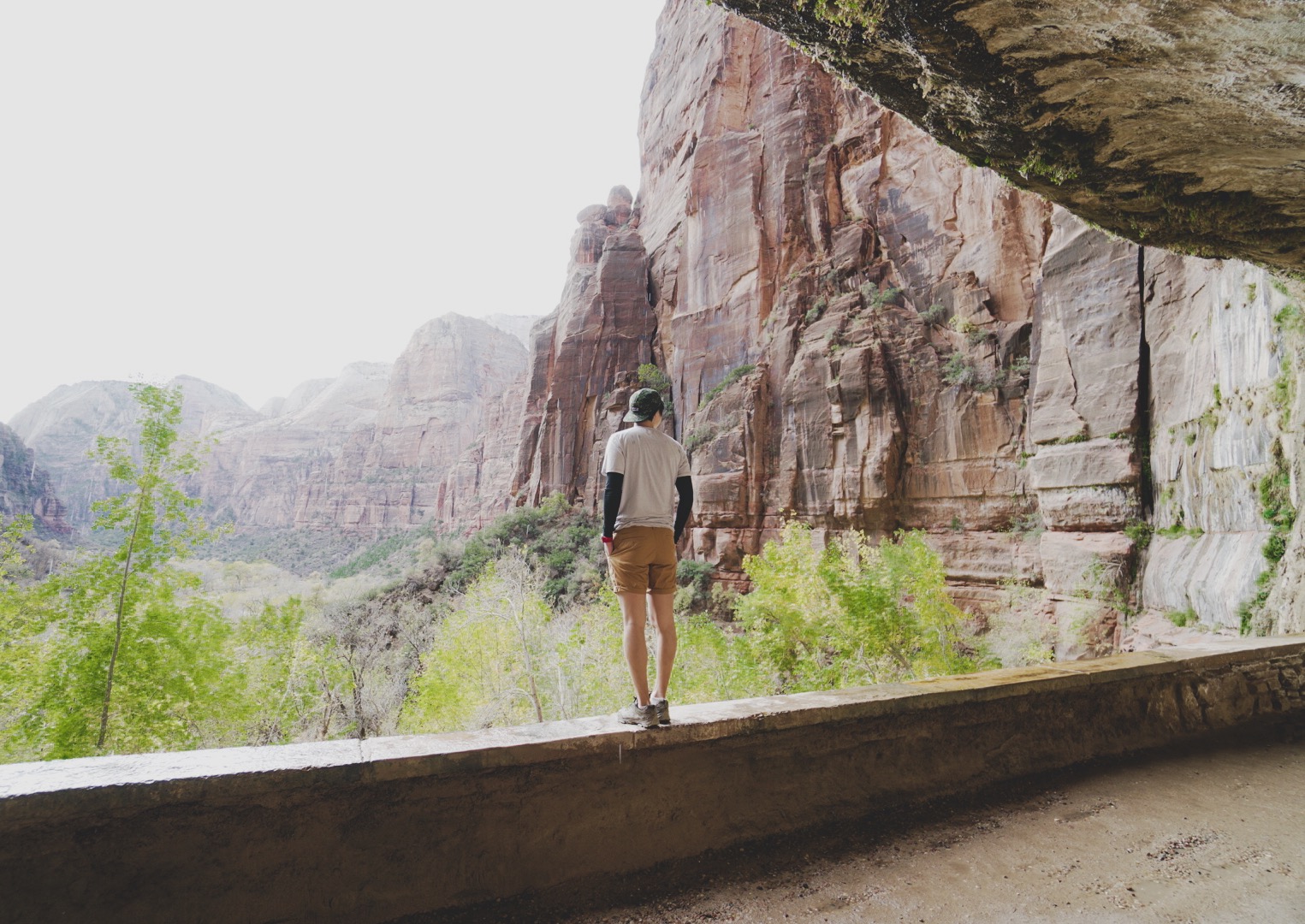 After returning via the same track, we made a pit stop at Weeping Rock (above), before checking out the Zion Lodge store (shuttle stop 5), and Zion Museum (shuttle stop 2).
Watchman Trail | 2 hours (Shuttle Stop 1 – Zion Canyon Visitor Centre)
We began the Watchman Trail at 4pm, a short but sweet hike to catch the sunset with Watchman Spire as the backdrop. There is a short loop track at the summit that takes you to the edge of the cliff for some beautiful views over the valley, and for us, some sick sunset shots.
Emerald Pools Trail | 2 hours (Shuttle Stop 6 – The Grotto)
During our visit, access to the Emerald Pools trail from shuttle stop 5 was closed so we began at The Grotto, heading back along the Virgin River on a peaceful morning stroll to the pools. Before embarking on the Pa'rus Trail, we made a pit stop at shuttle stop 4 – Court of the Patriarchs
Riverside Walk | 1 hour (Shuttle Stop 9 – Temple of Sinawava)
This well paved flat trail takes you to the beginning of The Narrows hike, the other infamous trail at Zion National Park and one of the world's best slot canyon hikes. On it's own, it was my least favourite of all the walks we did (and quite crowded), so you could give this one a miss unless you're headed into The Narrows.
Pa'rus Trail | 1 hour (Shuttle Stop 3 – Canyon Junction)
This well paved bike and walking trail was an unexpected gem as we strolled back to Zion Canyon Visitor Centre along the valley floor. With many opportunities to access the river and spot some mini waterfalls and wild turkey, it was a perfect way to end our visit before leaving the park via Zion – Mount Carmel Highway Scenic Drive, and out at the east entrance.
We spent three nights in Springdale which was just enough for an intro and taster of Zion, but an extra night would have been ideal to complete other trails including the Canyon Overlook Trail, The Narrows and the Kolob Canyons section. Not to worry though, we will be back for sure!
Getting to and around the park
Zion National Park is an easy 3 hour drive east from Las Vegas McCarran International Airport. There are 3 entrances to the park:
The main entrance, which is the south entrance via Springdale, the best town to stay in if you are looking for great hotel accomodations within a 3 minute drive to the park gates.
The east entrance via an awesome and epic drive through tunnels and mountains. This is also the way to enter/exit if you are going to/from Bryce Canyon National Park, a 2 hour drive northeast.
The west entrance, which takes you to the Kolob Canyons section of Zion National Park.
Free shuttles leave the Zion Canyon Visitor Centre to the Temple of Sinawava every 10 minutes. They typically operate between 7.30am – 7.30pm, with the journey taking ~40 minutes. After entering the south park gates from Springdale and paying the $30/wk fee per car (or $10 pp/bicycle), there are various lots behind the Zion Canyon Visitor Centre to park your car before jumping on a shuttle. Zion Canyon Scenic Drive is closed to private vehicles beyond shuttle stop 3 (turn off to the east entrance), with the exception of visitors staying at Zion Lodge, located at shuttle stop 5.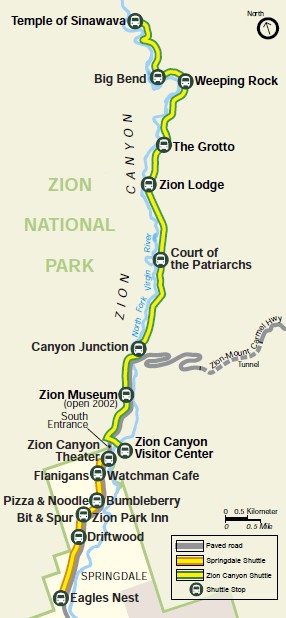 Zion Canyon Shuttle stop map – from the nps website
Accomodation, shopping and restaurant options
Almost any accomodation you pick in Springdale will offer amazing views of the towering cliffs at Zion Canyon and an all-inclusive, hot buffet breakfast. We stayed at La Quinta Inn & Suites at Zion Park/Springdale for three nights, hiking by day and checking out some shops and restaurants by night. There are a handful of art galleries, souvenir, jewellery and outdoors stores to check out, as well as a good selection of cafe's and restaurants for dinner. The Zion National Park merch is different at Zion Lodge and Zion Canyon Visitor Centre for those interested in picking up t-shirts, pins and patches 🙂
Taken just steps outside our hotel room
There is also the option to stay at the South and Watchman Campgrounds with both tent and electric campsites. These may be booked 6 months in advance as spots are filled every night during the reservation season. For more information, click here.
Tips and what to bring hiking
Water bottle/bladder – more in the summer months, lunch/snacks, headlamp/torch, camera and a map. A map will be provided to you as you enter the park gates, as well as access to a wealth of information and resources at the Zion Canyon Visitor Centre. Here, you can also fill your water bottles, use the restrooms, do some shopping and spot the deer grazing nearby. There are restrooms available at each shuttle stop, and some excellent picnic areas if you want to take it easy, sit back and absorb the immense beauty of this national park.
Check out my video below for some highlights of our trip to Utah, including scenes from Zion National Park, Bryce Canyon National Park, White Pocket and South Coyote Buttes. Whether you're here to hike, paint, or disconnect from the world, Zion National Park is the place to escape to 🙂
P.S. signal is available but weak, so your best bet is the hotel wifi.