Perhaps the most fascinating gem of the Cyclades Islands, Milos has one of the most varied and dramatic landscapes in Greece whilst retaining a quiet and traditional feel, unspoilt by tourism. Whilst it is hard to pick a favourite island during this whirlwind tour, Milos ticked all the boxes for me and I'll show you why!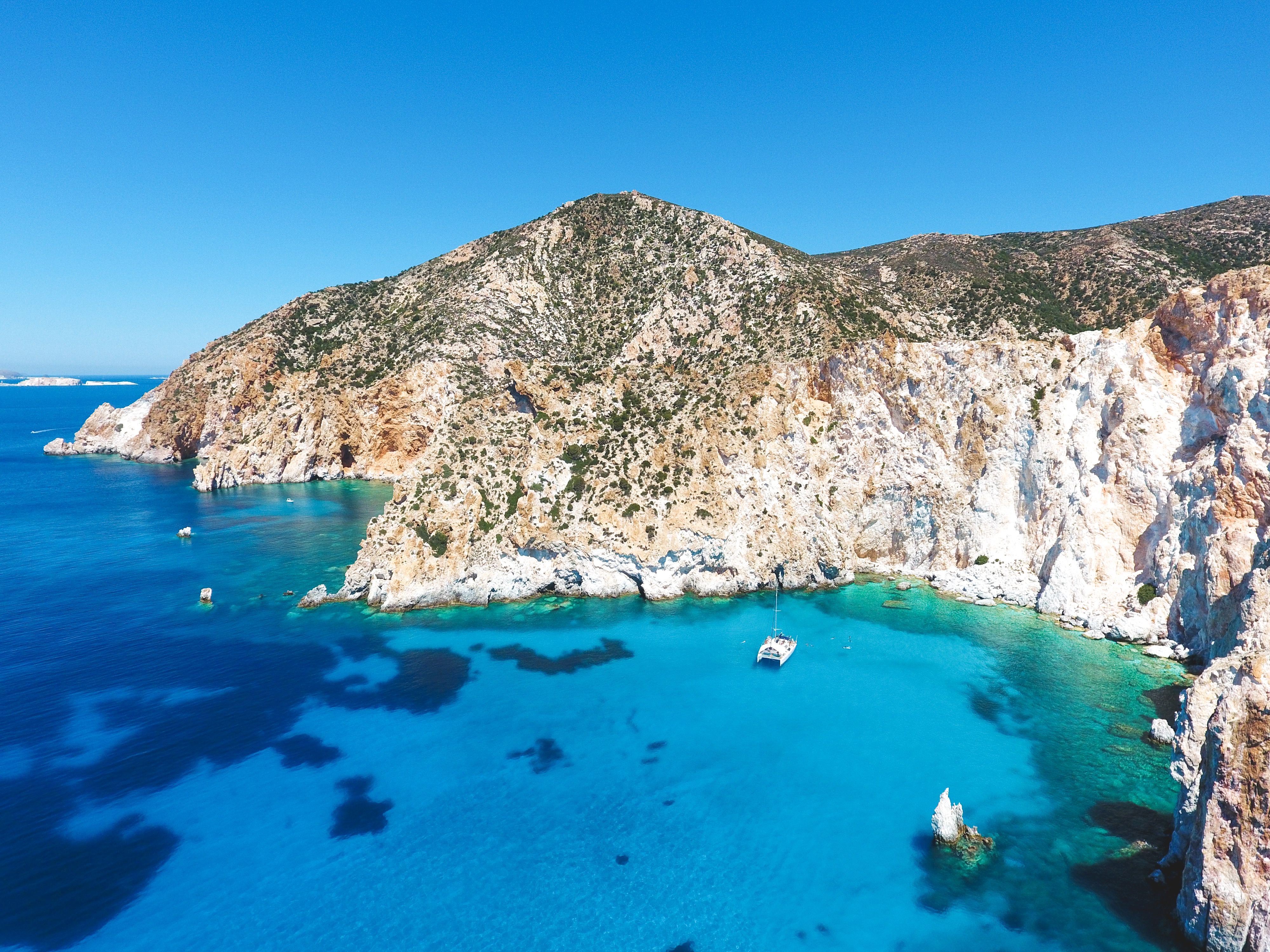 Above: the incredible lagoon at Poliegos
Beaches:
Sarakiniko
Known for its lunar landscape, Sarakiniko is Greece's most unique beach, made up of sprawling white rock, perfect for cliff jumping, hiking and sunbathing without the pesky sand. With white cliffs, caves, a sheltered beach and endless ocean, we easily spent 4 mornings/afternoons there climbing rocks, swimming, relaxing and taking pictures. It is well worth exploring the caves next to the small stretch of sandy beach, even if it is to take a break from the sun as there is no shelter!
Getting there:
Public busses depart 2 hourly during the peak summer season from Adamas town for 1.80 euro, starting at 11am (the last bus leaves Sarakiniko at 7.10pm). On cruise ship days, expect the beach to be very busy from 9.30am onwards. Alternatively, you can get there by car/quad/scooter and park at the top. The road is good and it takes 5-10 minutes to walk down to the beach.
Note: On busy days there is a food truck parked at the entrance selling fresh fruit juices, ice cream, simple sandwiches and Greek salad. On the very windy and rough sea days, the food truck will not be there.
Papafragkas
Another gem on the northeast side of the island is Papafragkas, two narrow sandy beaches surrounded by rocky cliffs with incredible views. One has a slightly sketchy climb down and on calm days, you can swim through a cave opening to a blue grotto on your left, about halfway out towards the sea. The other beach is on ground level and has plenty of rocky areas to lay out on. You can take the bus heading out to Pollonia to reach Papafragkas.
Tsigrado and Firaplaka 
The two south side beaches lie side by side (served by the same bus stop), separated by cliffs and separate parking areas. Tsigrado has some amazing cliff and ocean views from the top, and to access the beach, there are a series of ropes and ladders to climb down. The water is crystal clear and these beaches are a popular area for kayakers/cave explorers.
Firaplaka on the other hand is a wide flat sandy beach, great for families and for throwing a ball around.
Firopotamos
Situated north of Plaka is the picturesque village of Firopotamos, home to a fishing port and beach. There are some ruins – a window to the sea, cliff views, a church, cute fishing boats and amazing turquoise waters. This village is not accessible by bus.
Access to most of these beaches requires a fair amount of walking/climbing down, but something I consider to be part of the fun and lends itself to great views 🙂
Milos Adventures – full day sail trip to Poliegos and around the Milos coastline
A must-do when visiting Milos is to spend a day on a sail boat and seeing it from the ocean. The coastline features multicoloured cliff faces of volcanic rock, traditional seaside towns (only accessible by boat) with white houses and multicoloured windows and doors, hole-in-the-wall caves and some of the clearest, most amazing waters to swim in.
Above: Can you spot the bride and groom?!
Milos Adventures offers a full day 11 hour sail trip covering the perimeter of the island and also a stop at Poliegos – my favourite swimming spot during this Greece trip!
We made several swim stops at the most amazing places, the guides were super informative regarding the geology and history of the island, and the feast they cooked for us during a long 'lunch' (almost dinner) break was delicious, featuring chicken, bacon and octopus salads, zucchini balls, salmon pasta, tomato and feta sandwiches and vegetable fritters.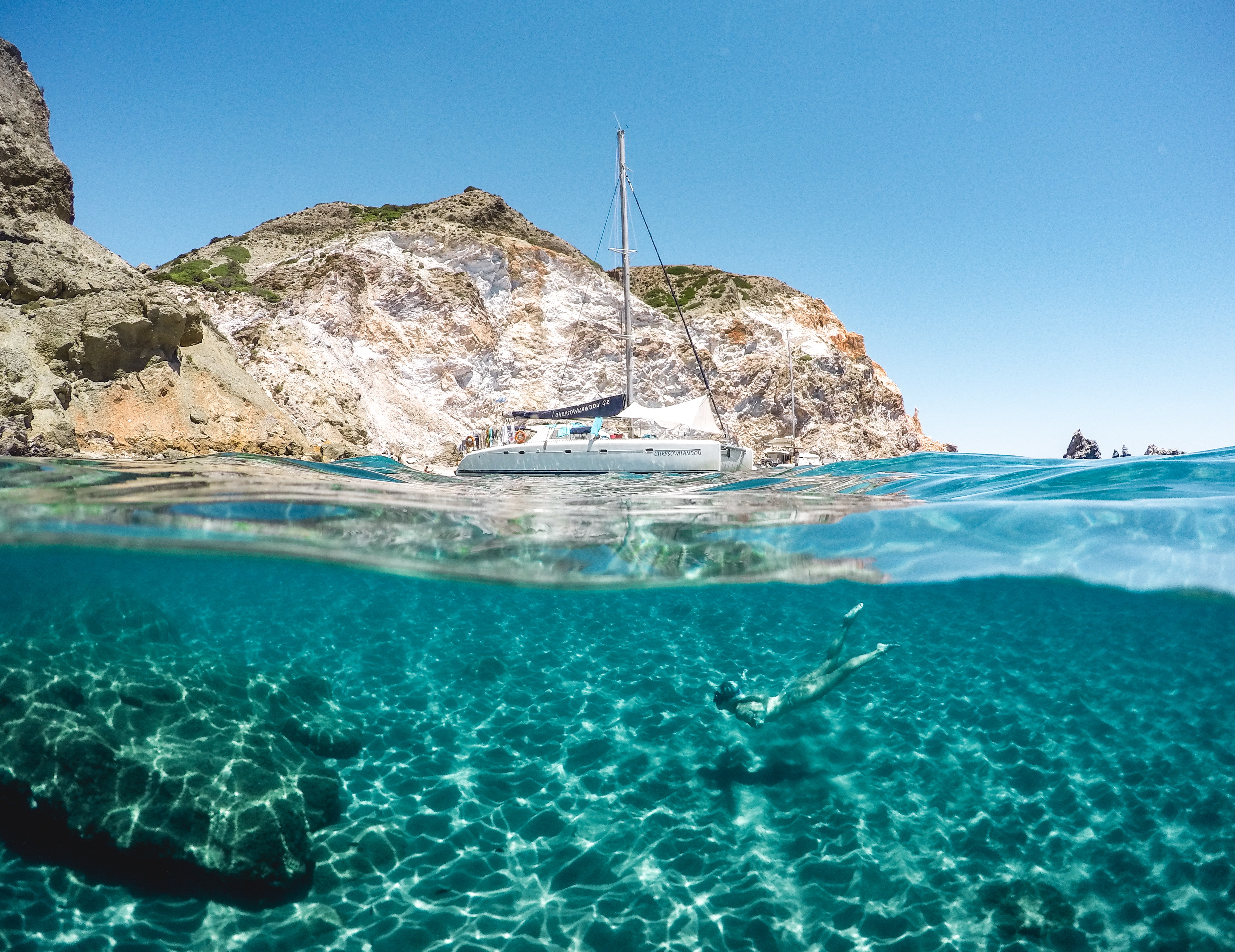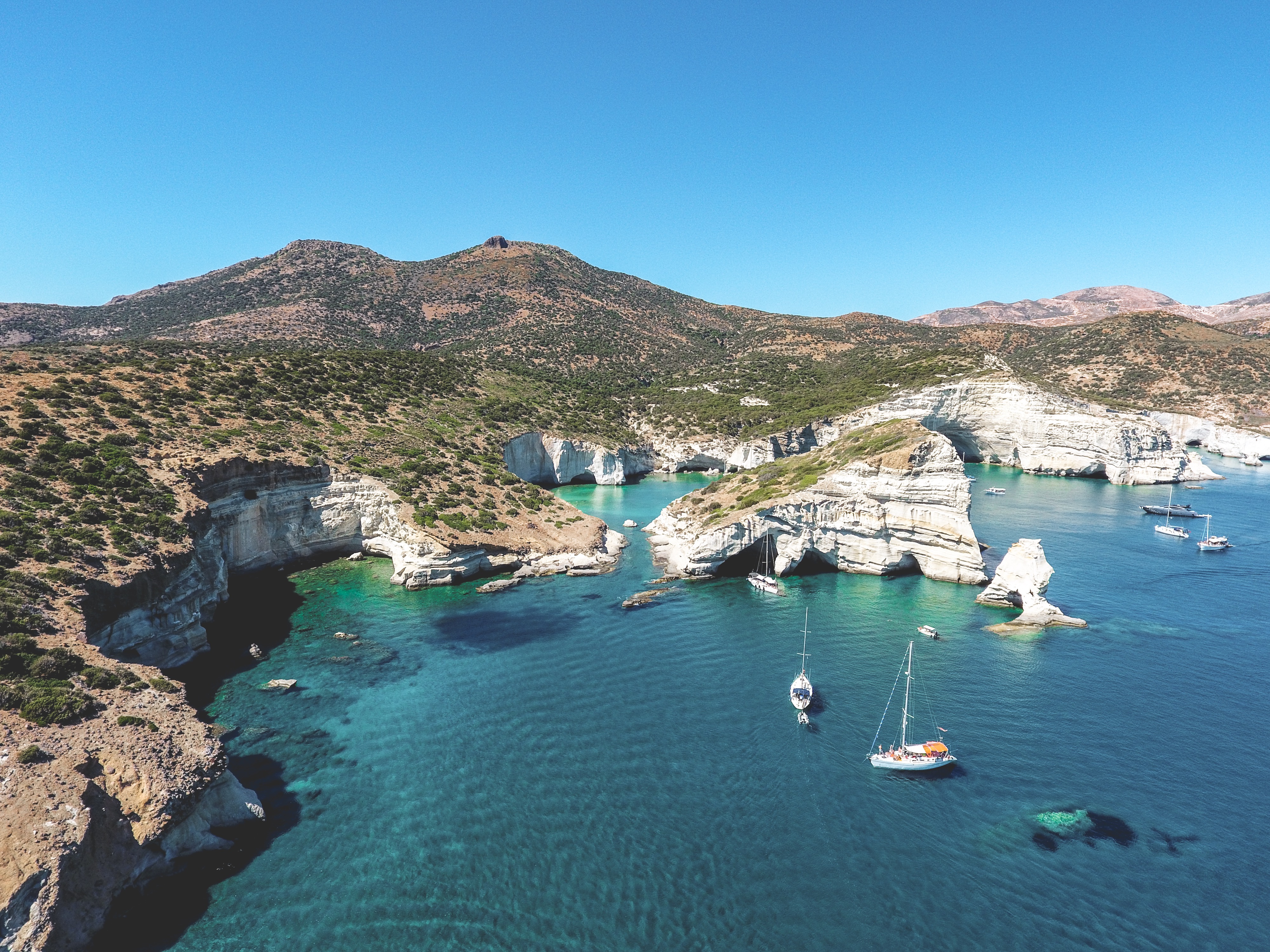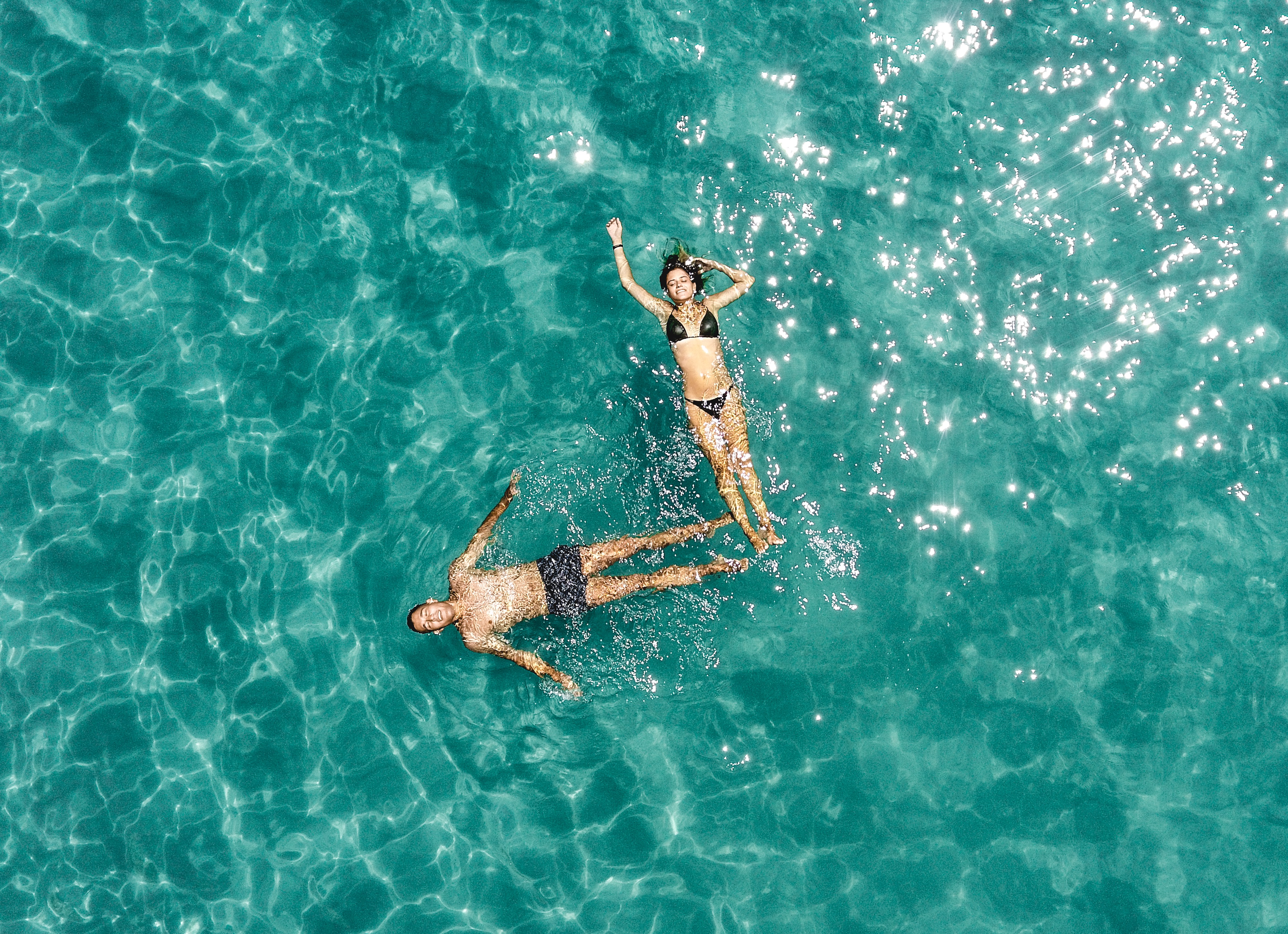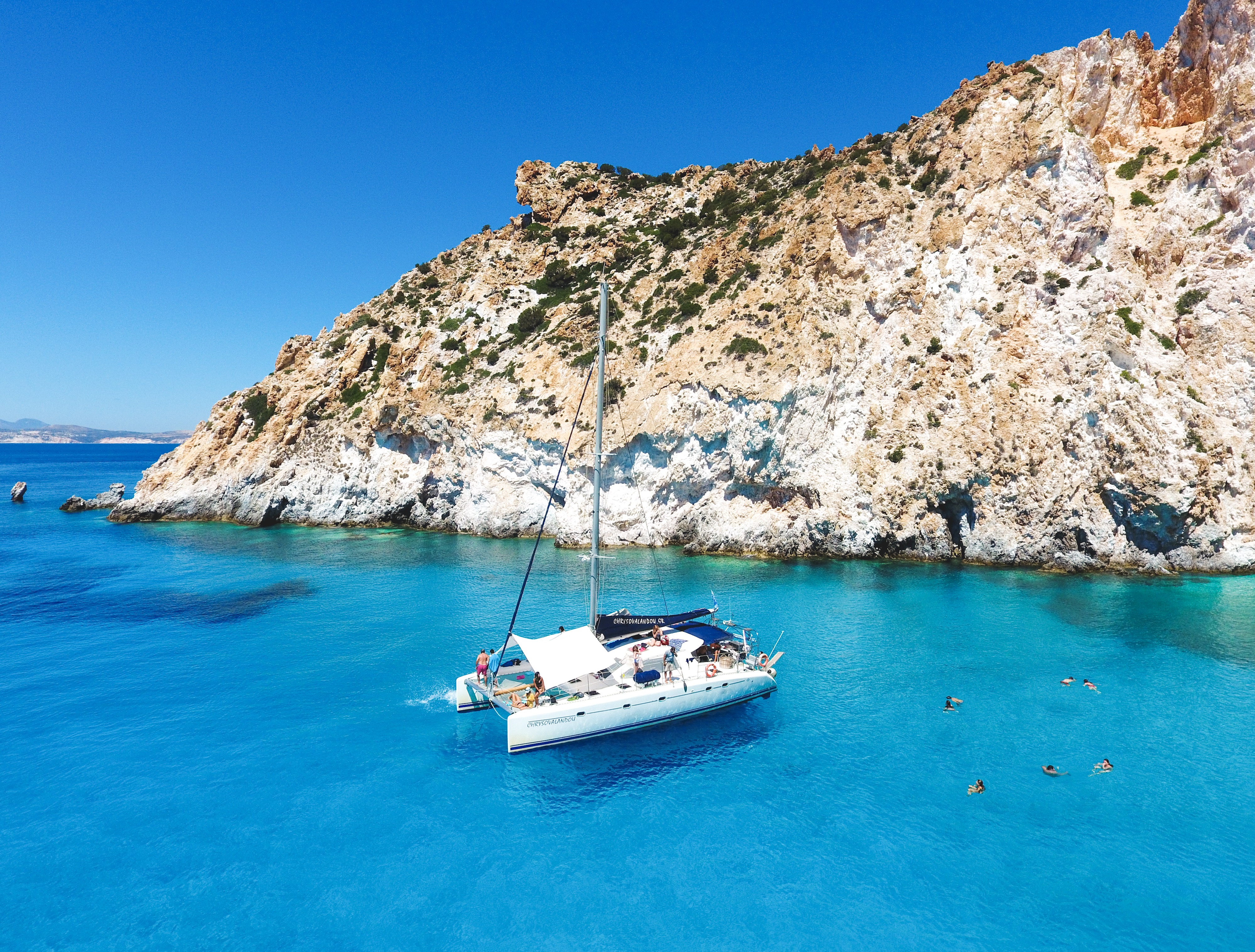 Our last stop was beautiful Kelftiko, a boat-only accessible location, before heading back to Adamas port as the sun began setting. The only thing that made it even better were the ice-creams!
Thanks to Milos Adventures for a wonderful day out at sea. We were lucky with the weather and lack of swells as the next few days were so rough and windy! It was also awesome making some new friends, Anne-Marie, Chris, Semi, Carissa and Mickey, best of luck to you all, may we meet again and I hope you enjoy the photos 🙂
Where to stay and eat
Adamas town is a great base being only a 10-15 minute drive to any beach/village on the island. We stayed at Hotel Ippocampos Studios and Panos was super helpful in restaurant and beach recommendations, as well as organising transport. On our last morning, we headed to the old town of Plaka to wander the pretty streets, shop at some local boutiques and eat at Palaios Coffee and Pastry which served tasty desserts. Other notable food mentions in Adamas include O! Hamos, Mikros Apopulos (we were given a free cheesecake dessert), and Navagio.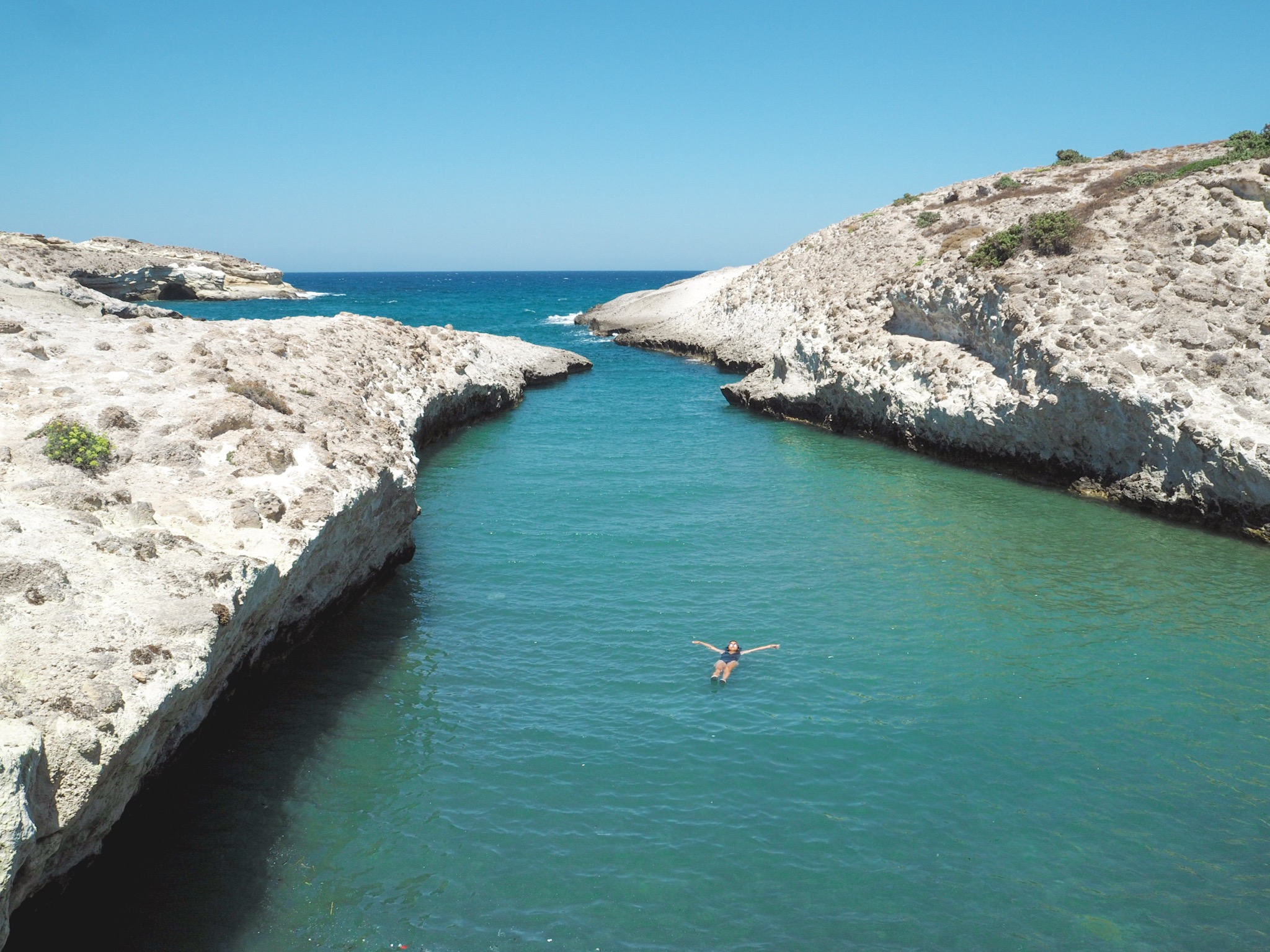 Getting around
We hired a quad for 45 euros/day (much steeper than Santorini) for the days we went beach hopping, and took public busses to Plaka and Sarakiniko on the others. The bus system is great in the peak season, with trips costing between 1.80 to 2.20 euros, but the frequency can vary between half hourly to 2 hourly (route dependent).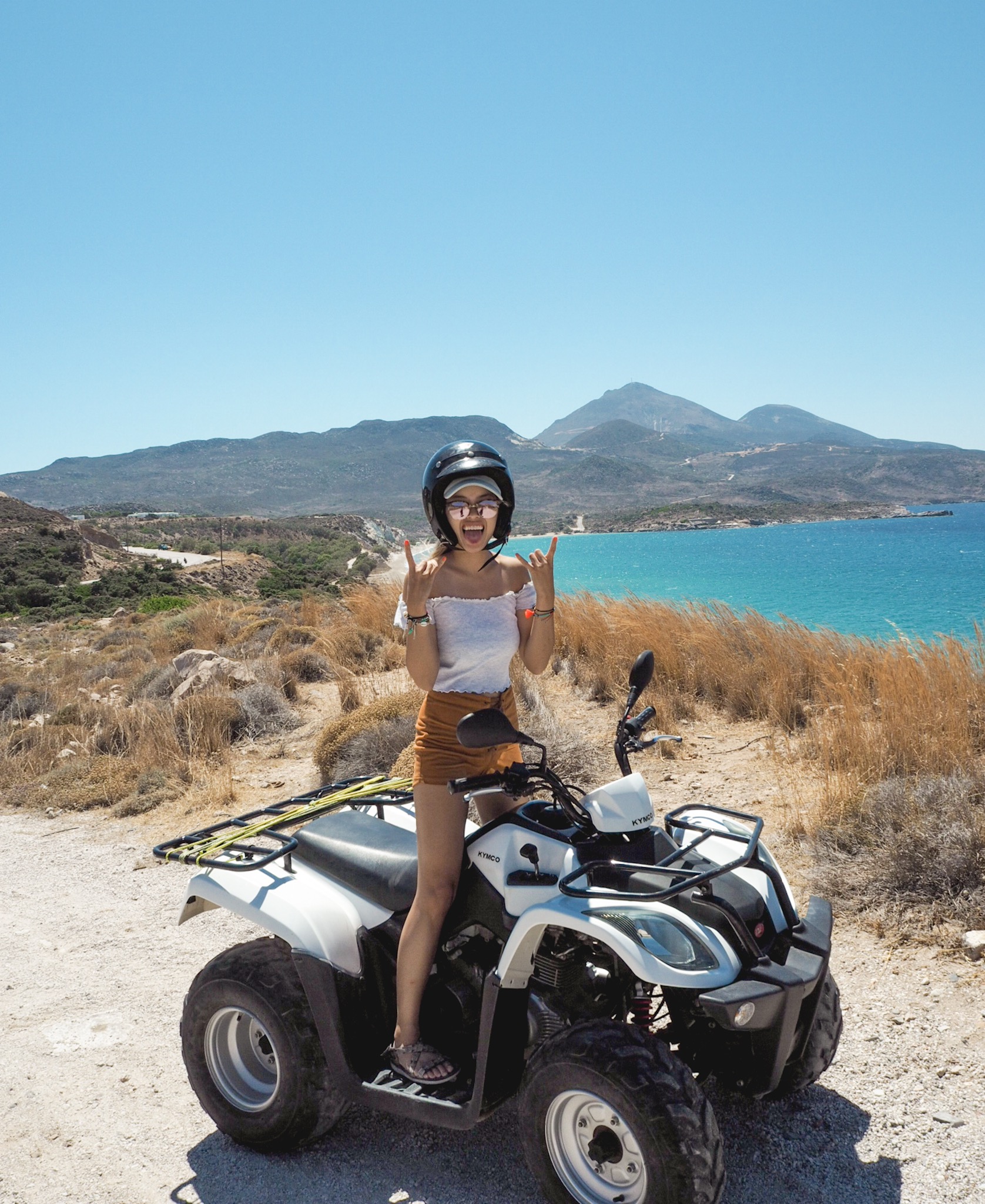 Note: if you're looking for some pumping nightlife, this is not the island for you. More of a 'late night drinks with a view' kind of place, Milos has a slower paced, quiet town feel, perfect to recooperate between livelier islands. If you are planning a trip to Greece, particularly the Cyclades Islands, definitely give Milos a go, you won't regret it!