After last year's shenanigans and good times, we couldn't wait to hit the Med for another week of laughs, morning swims, countless sunsets and delectable cuisine. Setting sail in the Saronic Gulf this time, let me take you down memory lane as we explore the Greece sail route and all the awesome things you can do along the way 🙂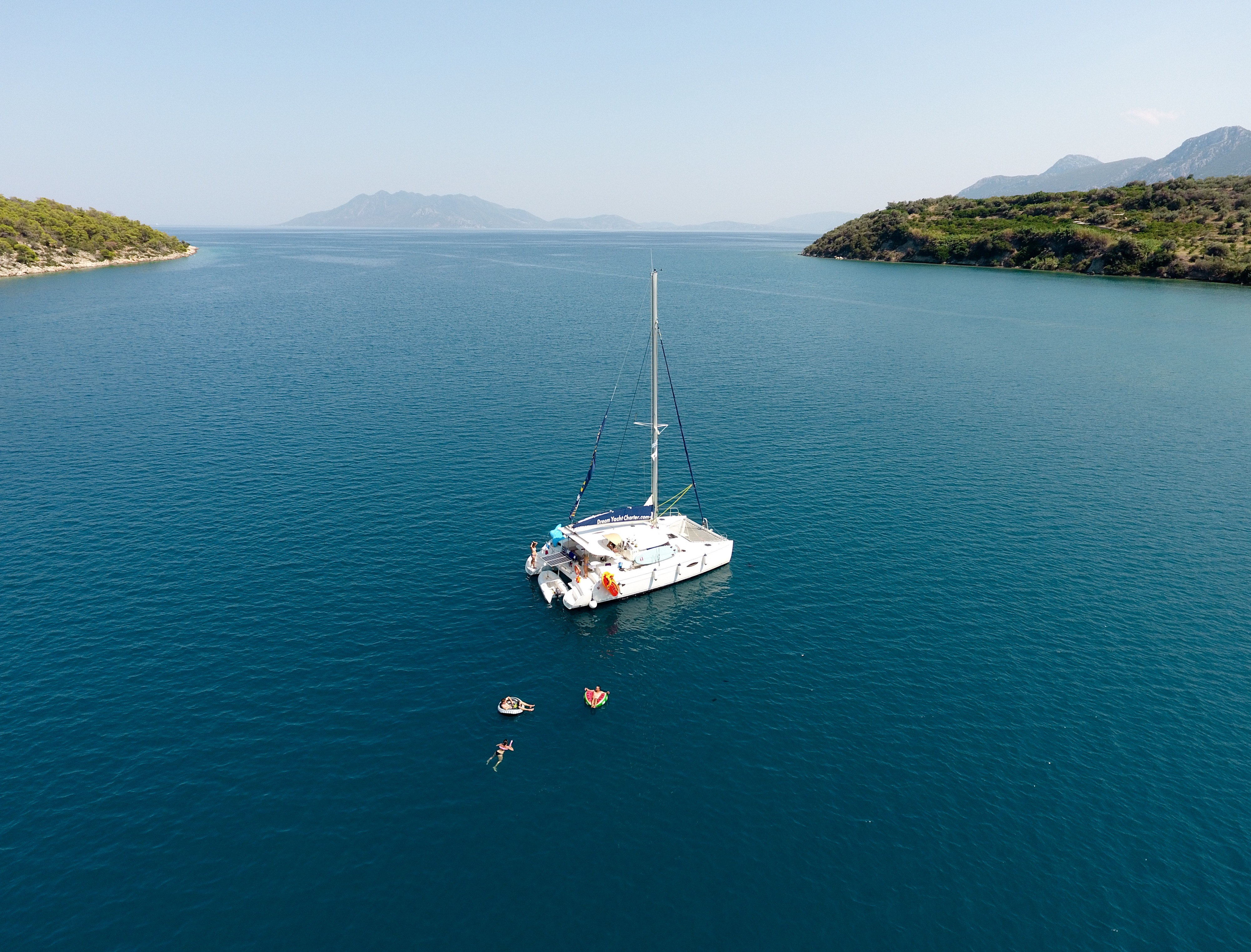 Perdika
Before leaving Alimos Marina, you can stock up on snacks, drinks, ice and floaties at the nearby supermarket and beach stand, before departing around 3pm. It gets pretty hectic there with 10 boats worth of people doing the same thing, so the earlier the better!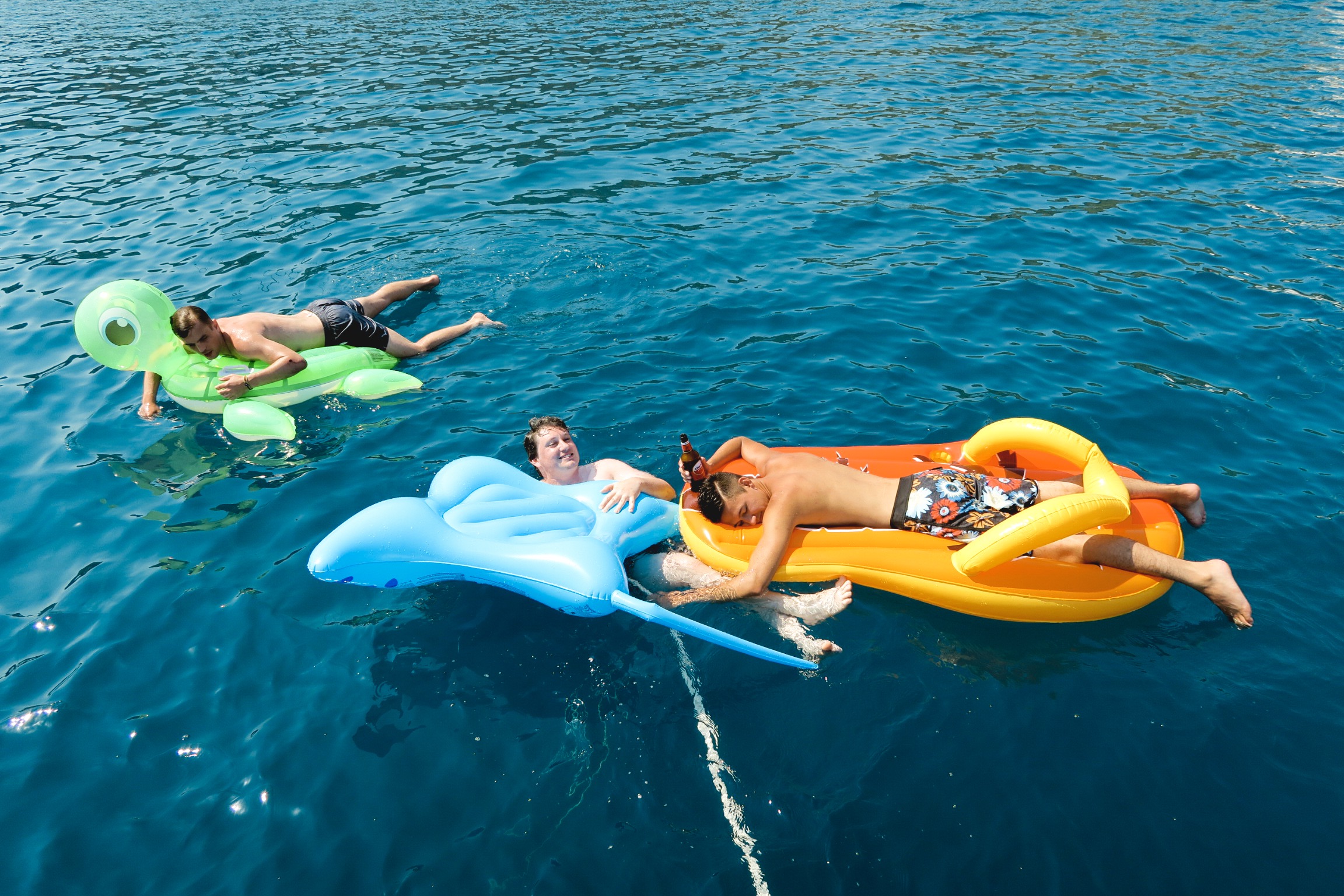 We opted for the catamaran option this year which is very spacious. The main differences between the cats and the premier boats are: the two inside showers are in separate rooms to the two toilets, the cabins are slightly wider, there is a small fan in the corner of the cabins, there is wardrobe space to hang your clothes up, there is a much larger, fully covered outside table/eating area, and there is ample space to lie out on the nets/deck at the front of the cat (could easily fit more than 8 sunbathing people). Whilst I tended to shower off the back of the boat anyway, one major difference between the Greece and Croatia sail routes is that there are no showering facilities on land in Greece like there were on ~3 of the Croatian islands we docked up at.
Above: Sometimes it takes three tries (and one drone operator, one videographer and one photographer) to capture the perfect jump shot!
We sailed for about 3 hours the first afternoon before docking at Perdika, enjoying a sunset swim, and having our first meal together. There were a few of these organised dinners throughout the week (meze style) for 15 euros pp which were well worth it!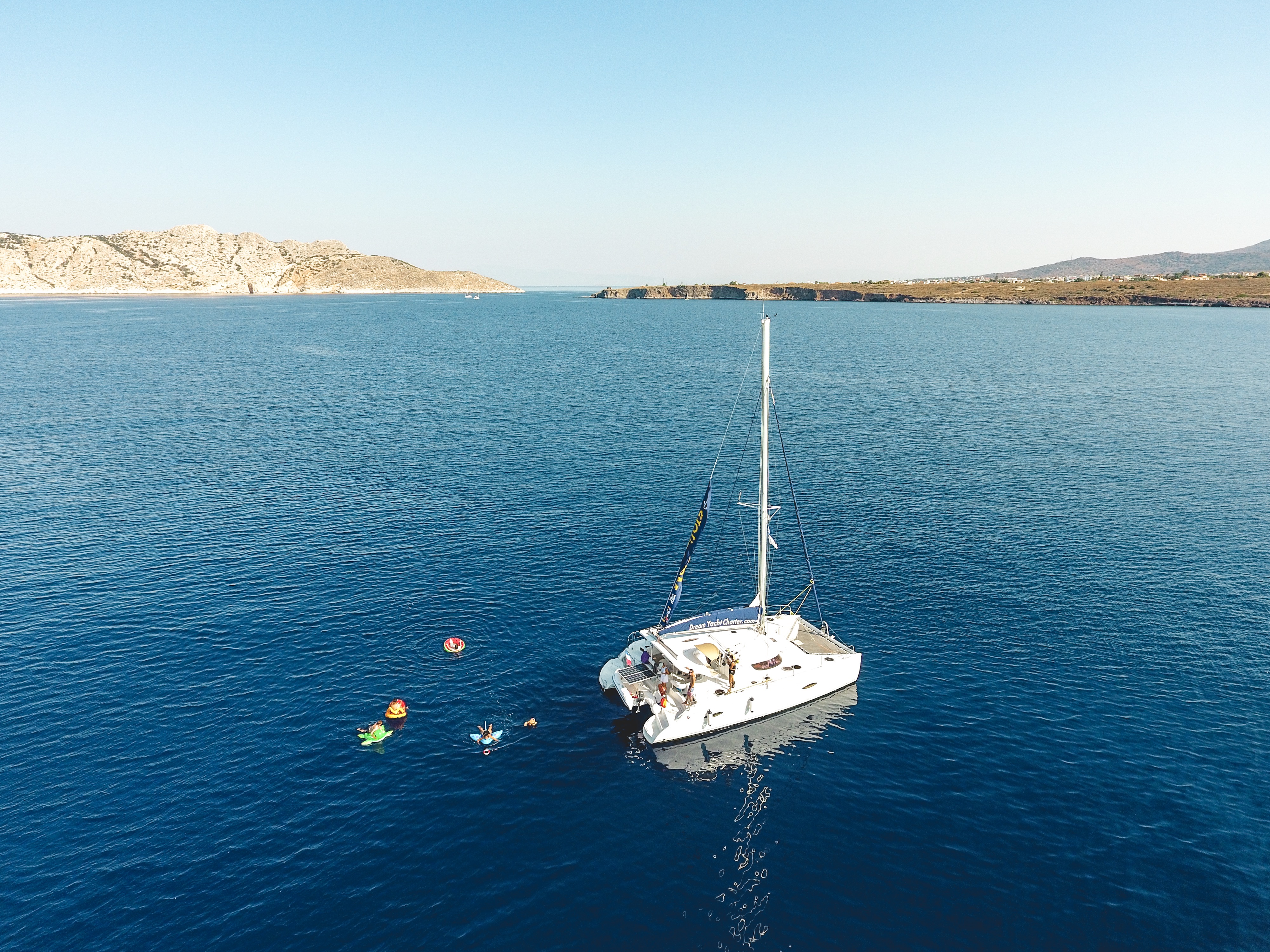 Above: Morning swims in Perdika
Ermioni
Breakfast and lunch is included in the trip and lucky for us, we had an amazing skipper Emily who cooked awesome food 🙂 Even though I would be happy gorging on Greek yoghurt for breakfast lunch and dinner, Emily cooked us french toast, scrambled eggs and pastas, and prepared some tasty salads with top notch Greek produce.
After stopping for a couple swims in the middle of the ocean (my favourite part of sailing), we docked at Ermioni, grabbed a gelato and explored the township as well as the coastal walk. There are a lot of rocky bays dotted along the coast, perfect for an afternoon swim to dodge the heat. This was followed by sunset punch and dinner at Kobos.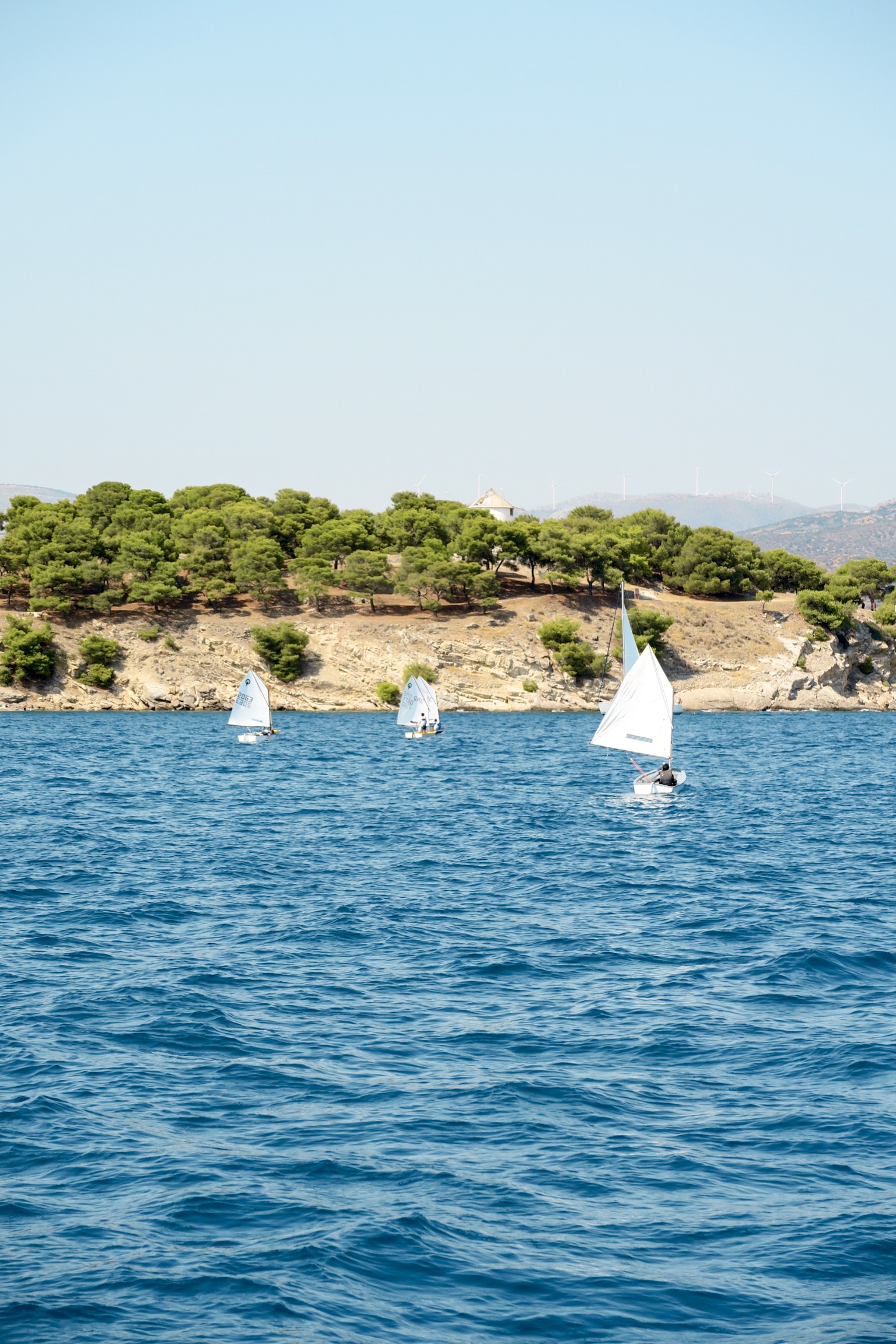 Spetses
After breakfast and a morning swim stop, we headed into to the old port of Spetses and docked a few metres off shore, using a dingy and pulley system to step onto land. After scrounging around to find scooters for hire (30 euros per scooter until 7pm as all the roads on Spetses close at 7.30pm), we took off up the east coast, making a couple of stops at Ligoneri Beach and Vrelos Beach. Vrelos has a beach bar/restaurant as well as hammocks and a charging station, making it a prime spot to have a drink and chill at. We then continued up the north and down the west side of the island, catching glimpses of many secluded bays, that had we had the time, would have been perfect to take a dip in.
Back in the main town area, there are many shops and boutiques to peruse as well restaurants to choose from. We opted for dinner closer to the old port at Orloff and finished the evening off with some mastika shots (a local liqueur made from the mastic tree).
Poros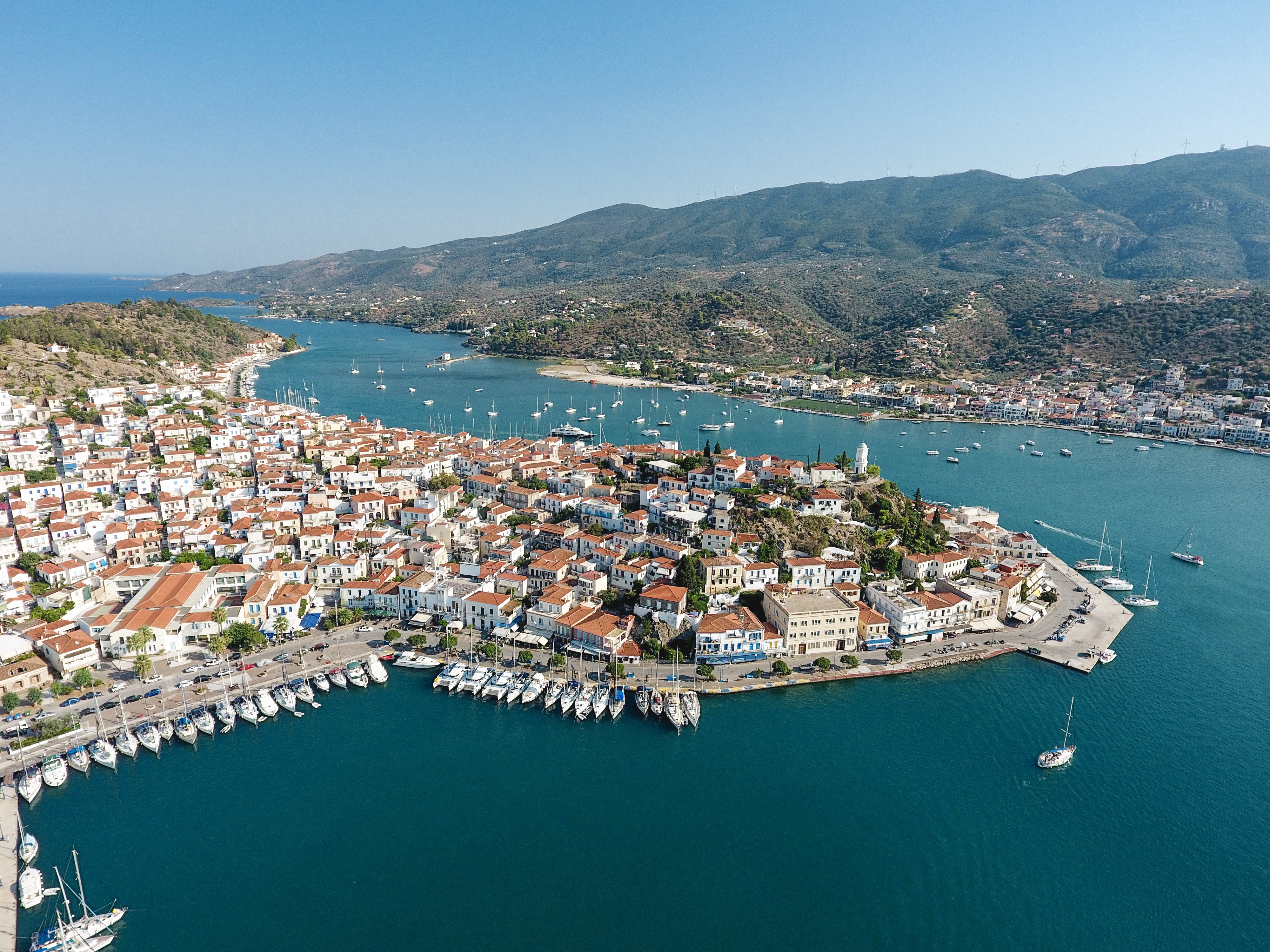 Due to high swells, we headed to Poros (skipping Hydra) and enjoyed an afternoon of watersports. You can also hire scooters/quads here for 20/30 euros per 24 hours.
Above: you can climb up the hill on the left (through all the orange-roofed houses) to reach an elevated viewpoint, not too dissimilar from this aerial shot
Dinner (à la carte) was at Poseidon which did not disappoint! We thoroughly enjoyed the lamb kleftiko and vegetable risotto, and were given lemon sorbet for free at the end (a twist on a shot of limoncello). Further along the port there are some shops to check out as well as Unique Bar for some dancing later in the evening.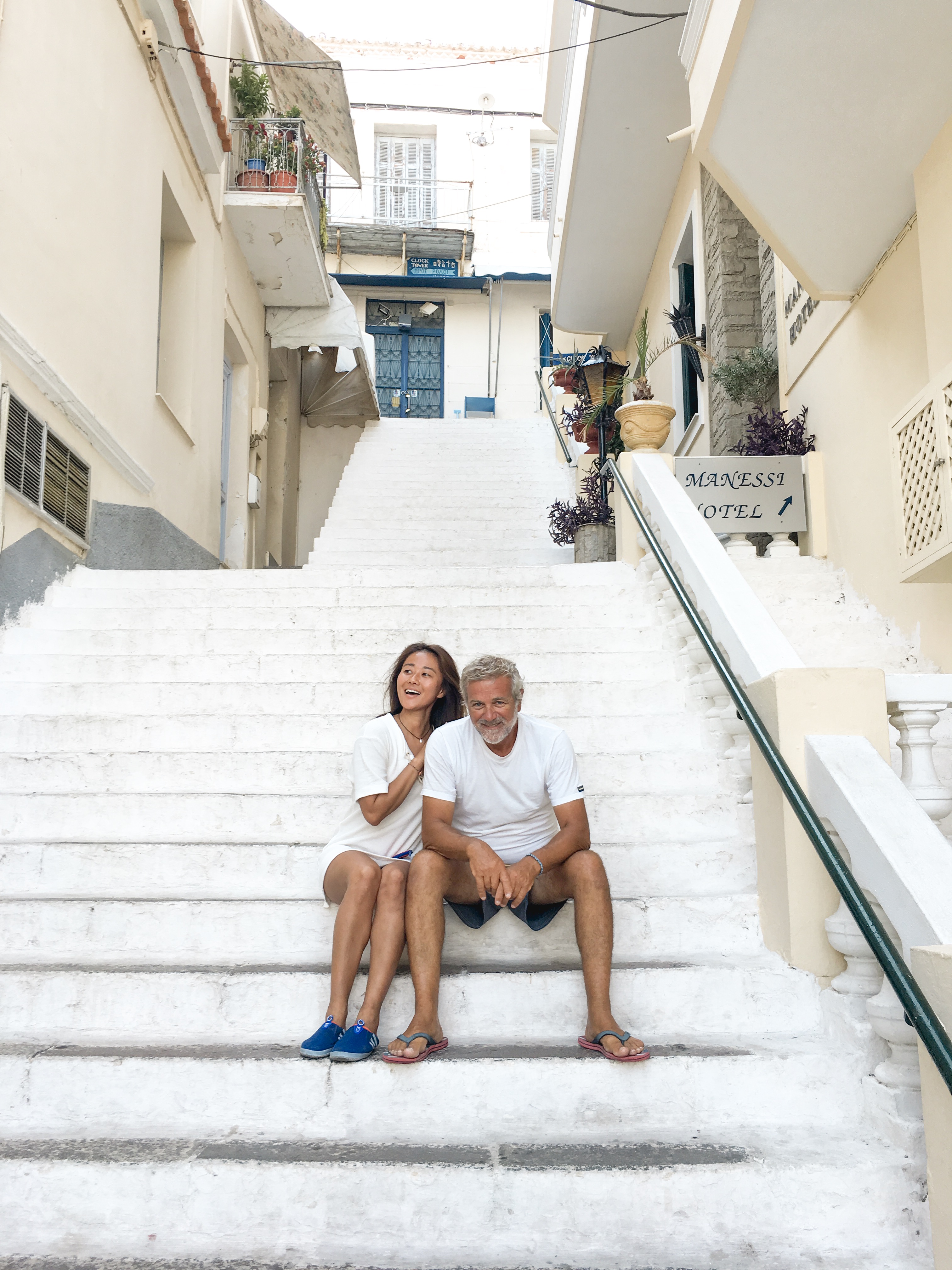 After saying good morning to some locals, we headed over to Russian Bay for breakfast and a morning swim with all the MedSailors boats. The beach at Russian Bay is unique in that some ruins sit on the sand, and you can get there by scooter/quad on the day you dock at Poros.
Epidavros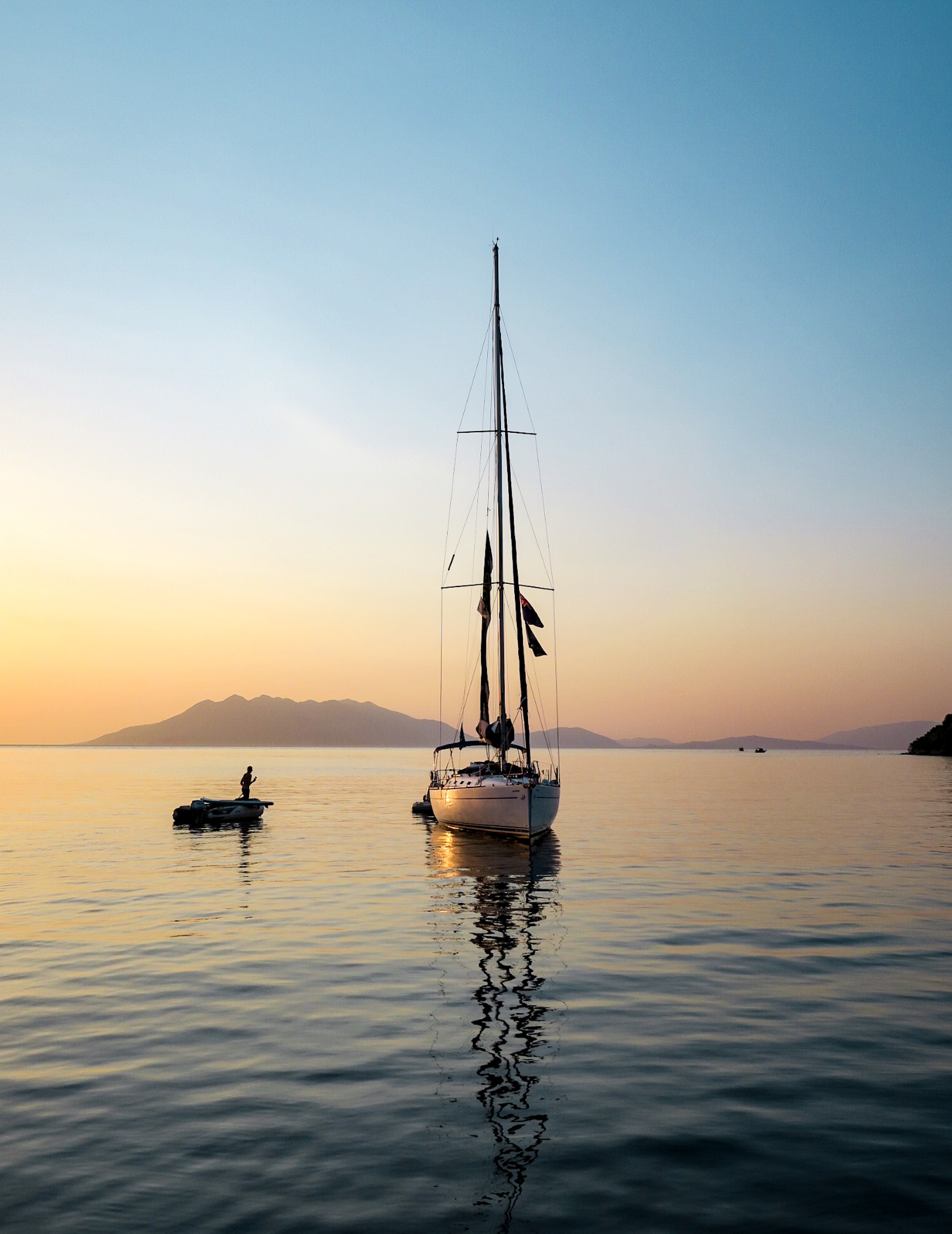 This was the bonus island we got to visit as a result of the detour from Hydra, and I have to say, the sunset hike and the sunrise the following morning were some of the best during this trip 🙂 Since we anchored in a bay rather than docking on land, sunrise was particularly peaceful with other early risers going for a morning paddle as the sky changed from pink to orange to blue. It was also funny/cute watching the dingy with the crew delivering bread to each of the boats in our fleet.
Above: Our two boats minus Maia (where were you?…lol)
There was a really good restaurant/cafe in the township called Gyros Kebab selling cheap and tasty souvlaki and gyros, as well as a neat little boutique selling good quality and original jewellery next door that I would recommend checking out. Some of the convenience stores/supermarkets also sell handmade tiny ice-creams/blocks which are a perfect sized treat on-the-go (a few of the islands have these).
Agistri
As we set sail towards Agistri, we requested a snorkel stop at Island Dorousa where lies a sunken shipwreck as well as larger fish and some climbable cliffs to jump off.
The water here is exceptionally clear, and if you bring some bread into the ocean, the fishies will swim over for a feed 🙂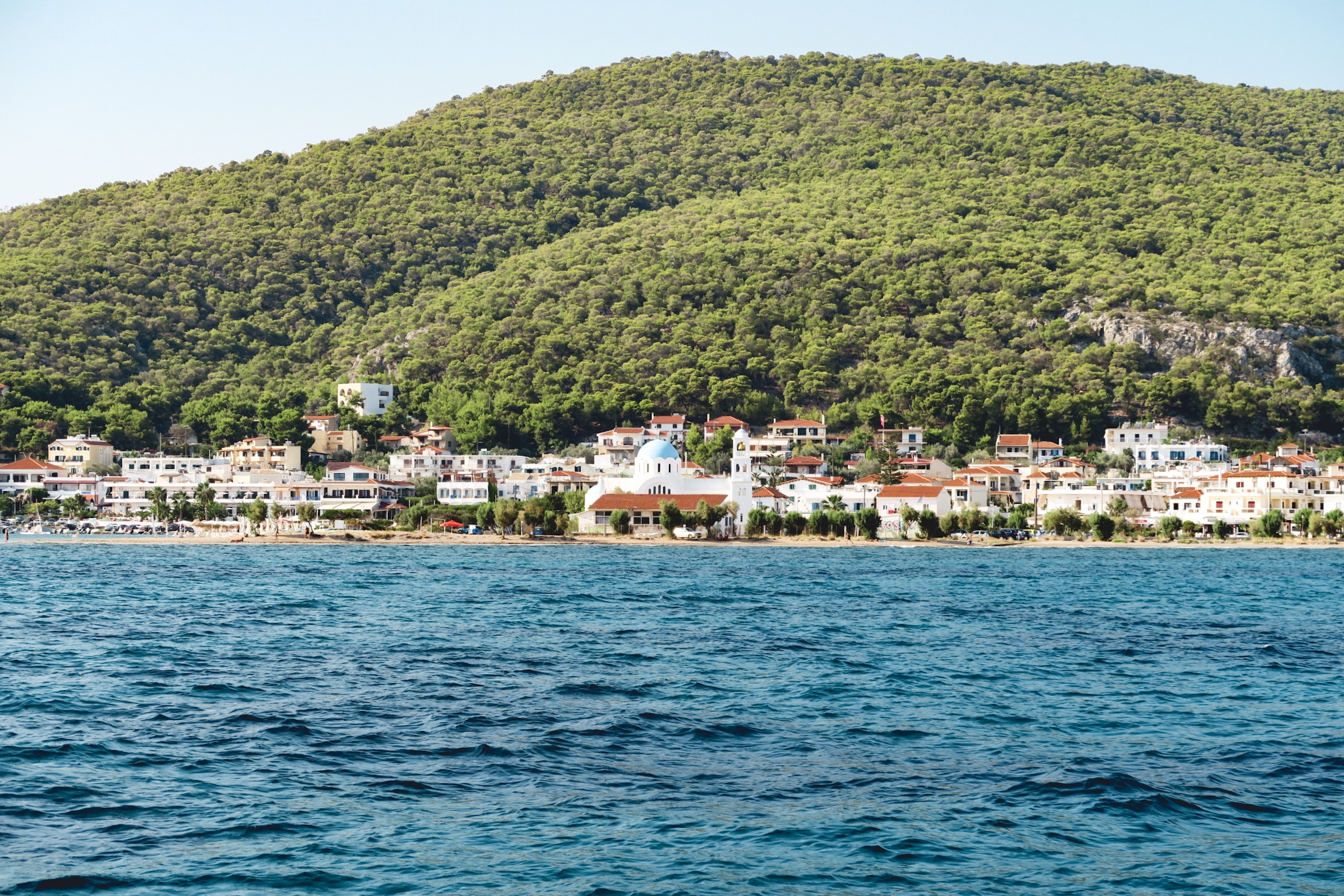 After docking at Agistri, we chilled at the Jamaica pool & bar (Milos Hotel Yacht Club) before getting ready for the toga party/dinner at the same place. They served some super strong cocktail specials, a delicious meze dinner and plenty of entertainment and Greek dancing well into the evening.
The dancing/clubbing at Kouros was definitely a highlight of the trip, and I couldn't think of a better way to end a spectacular week at sea 🙂 (Seriously though, the DJ was AWESOME, music and remixes flowed, coupled with our amazing dance moves, = winning combo :p)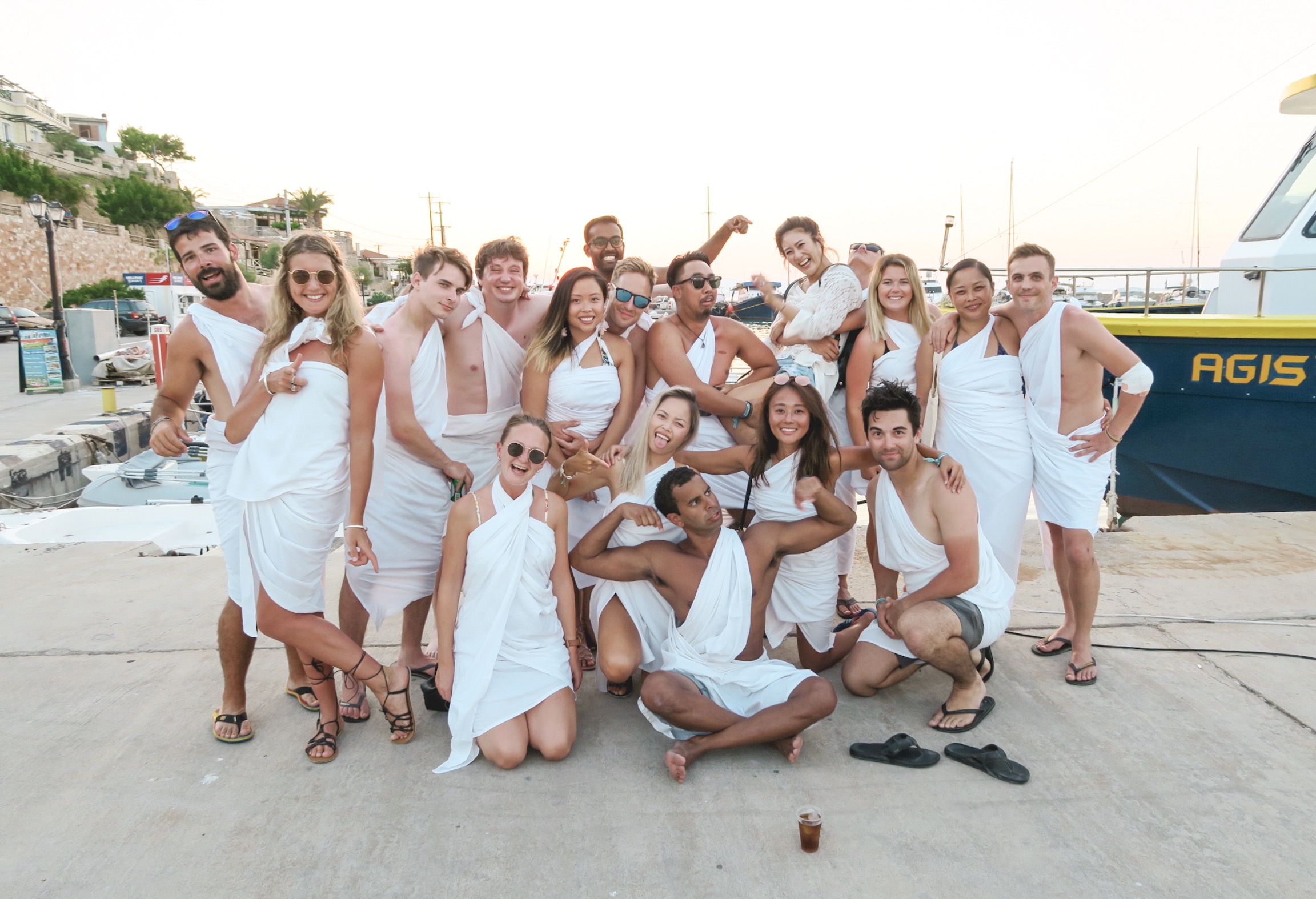 Some tips
Pack lightly – there is not a lot of storage space in the cabins so a carry-on sized duffle or suitcase is the best way to go! You'll be living in togs all day anyway 🙂
It gets HOT. Like you're never not sweaty during the week hot. There are small fans in the cabins but if you need to cool off even more, either jump in the ocean, sleep outside, or BYO portable fan.
Mozzies are a thing. You wouldn't expect it in a dry heat environment, but my fellow sailing companions suffered dearly for the first few nights before we bought some mosquito coils. Although I used to get bitten like crazy, cutting bananas and a lot of sweet food out of my diet has helped, as well as eating like a local.
Buy a lot of ice, and then buy some more, to constantly stock the sink or chilly bin up to keep drinks cool.
Floaties are fun, but they WILL blow away if you don't stay on them in the ocean, or tie them securely to the boat.
If your boat does not have an inverter, the only way to charge your electronics is through one USB port on the boat (cigarette lighter plug). The other option is to ask a restaurant if you can use their wall plugs, e.g. Kobos on Ermioni, Vrelos Beach on Spetses, and Milos Hotel Jamaica pool bar on Agistri.
Don't stand on/contact a sea urchin, like James did on the first day. The spines are crumbly and extremely difficult to tweezer out (best soak the embedded spines in vinegar). And while we're on the topic of James, check out his website, he is an incredibly talented photo/videographer 🙂
For more packing tips, head over here to view my minimalist packing guide. To relive this sail week in video form, check out my vid below!