As we all know, packing lightly is no easy feat. Throw in an arsenal of camera gear and kiss your carry-on dreams goodbye! In this blog post, I show you how I pack for one month of travel to a warm destination, sticking to one backpack of tech gear and one carry-on sized suitcase for everything else.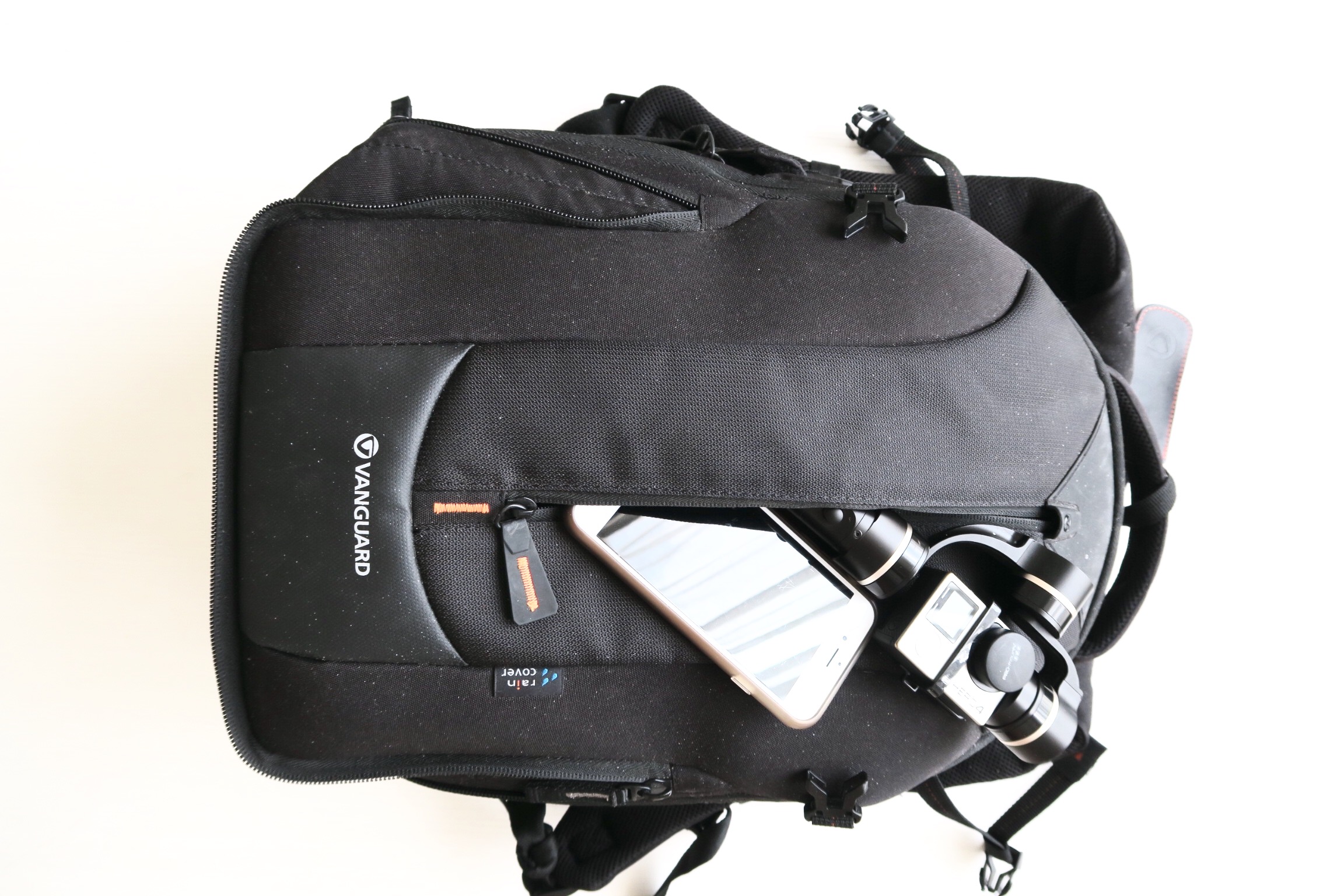 For this trip, we will be spending a couple of weeks island hopping in Greece (Santorini, Milos and Zakynthos), one week on a live aboard with Medsailors, and the last few days in Mykonos before heading home. As such, packing lightly is a must since boat cabins are small, but I have included everything I need for a hiking/swimming/exploring/partying type holiday, without skimping on outfits and film gear. I plan to do some washing once or twice during the trip.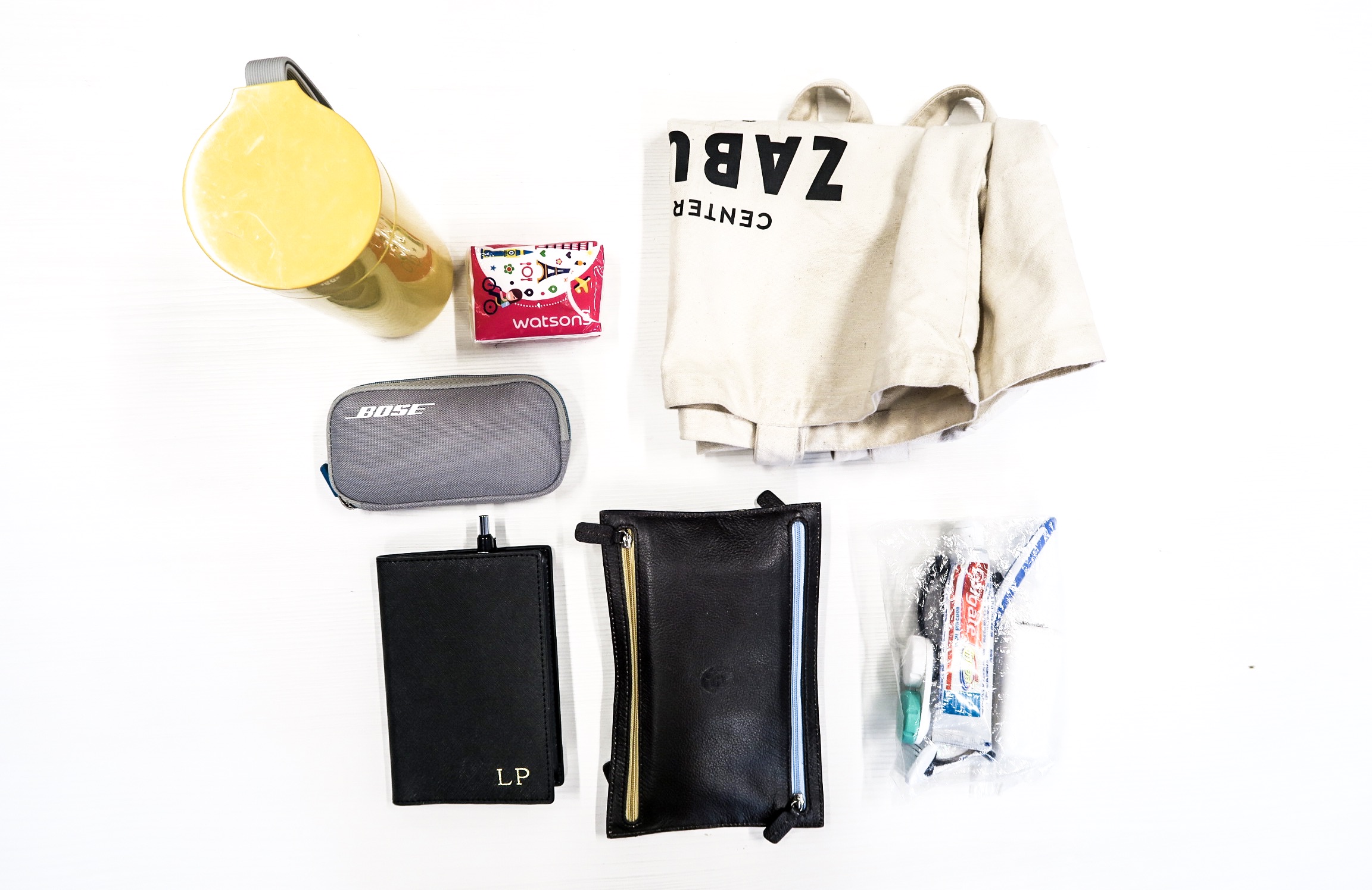 What I'm bringing on the plane (my 'carry-on'):
Tote bag – wallet, passport, pen, tissues, drink bottle, phone, noise-cancelling ear phones, socks, tooth brush/paste/floss. This tote bag doubles as a beach/shopping bag and is what sits under the seat in front of me in the flight cabin. Having a thermos drink bottle is great for keeping hot drinks hot and cool drinks cool 🙂
Vanguard Up-Rise II 45 camera packpack with Cabeau Neck Pillow – this foam pillow is great at reducing neck cramp on long haul flights and is compressible into a drawstring bag. Alternatively, you can clip it onto the outside of your backpack. Camera gear: Phantom 4 plus spare battery – I opted for the Phantom over the Mavic this trip as I find it safer to fly from and land on a boat. I can also shoot at high frame rates with no posterized image problems like you get with the Mavic; GoPro Hero 4 Silver with Feiyu Tech G4S Gimbal, Canon G7X, Knekt Dome, floating handle and waterproof case for the GoPro, portable tripod, hard drive, portable chargers, conversion plugs, all camera chargers and spare batteries, Korjo 4 USB port charger, waterproof backpack cover and medicine bag. All my 32/64GB SD cards are dispersed throughout the cameras.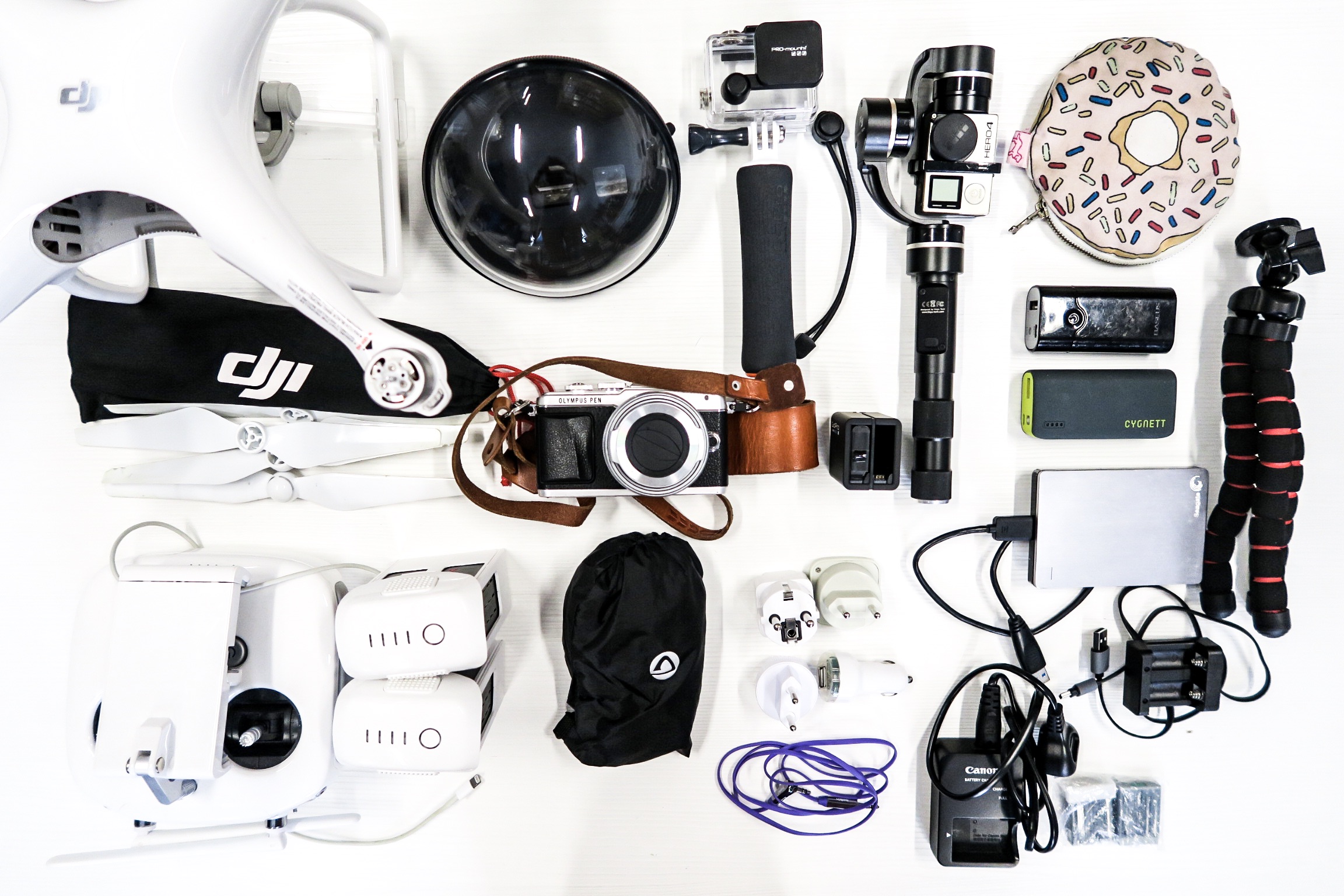 If need be (e.g. moving countries), I have managed to fit all of this plus a Mavic Pro with batteries into the backpack if I take out and check in the drone chargers. I will not be editing on-the-go this trip, hence no laptop, but I will be bringing a Seagate 2TB hard drive just in case I run out of memory as my friend will be taking her laptop. If you don't have a whole bunch of tech gear to take with you, bring your other suitcase/bag as your carry-on to save time and money.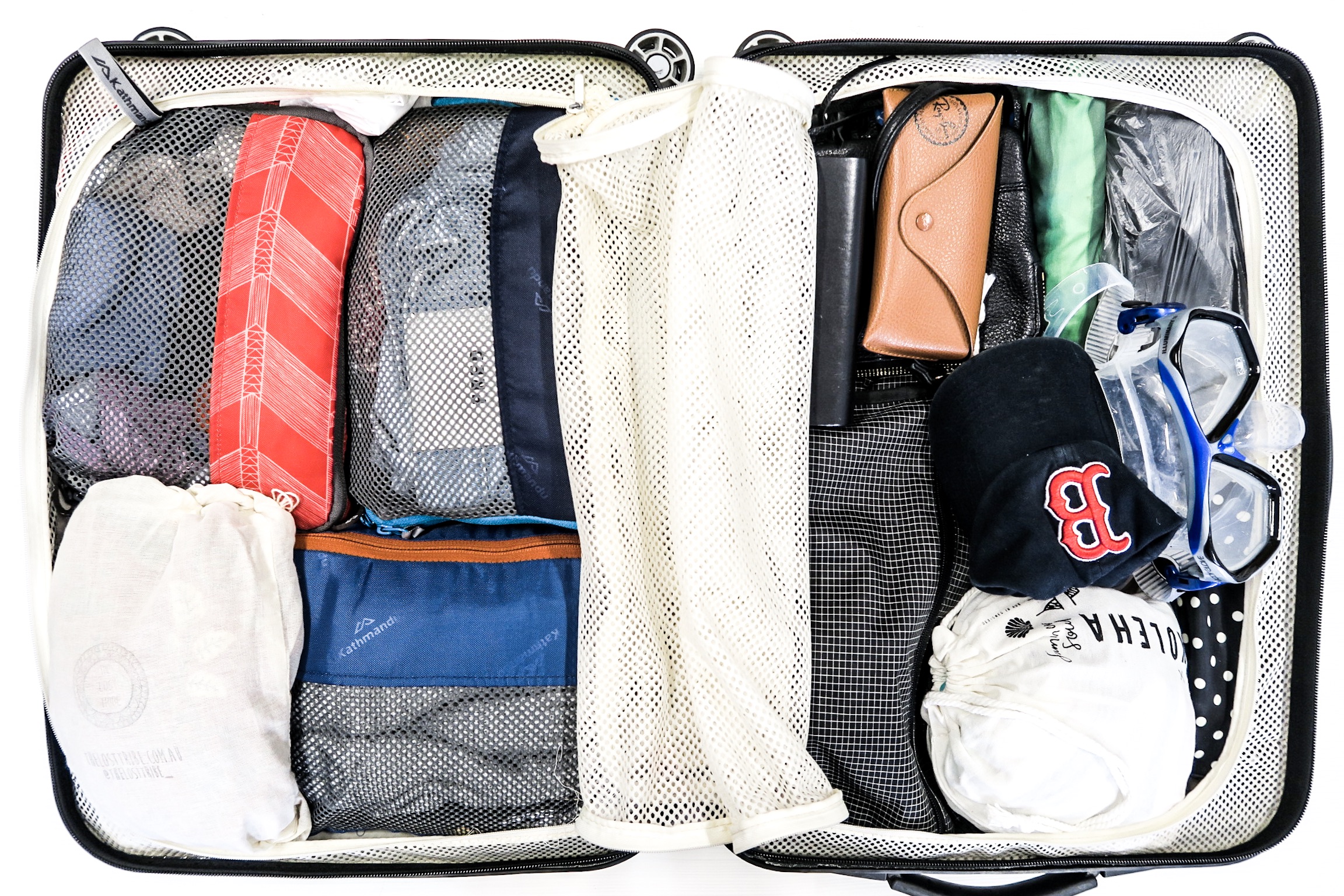 Check-in bag (carry-on size): including airport outfit*
I have organised everything else into packing cubes as follows:
Tops: 4 t-shirts*, 2 muscle tanks, 3 nice tops
Bottoms: 3 shorts, 3 thin long pants*
2 dresses/playsuits
PJ top and bottom
Outerwear: 1 microfleece*, 1 kimono
Undies x 10, bras/bralettes x 4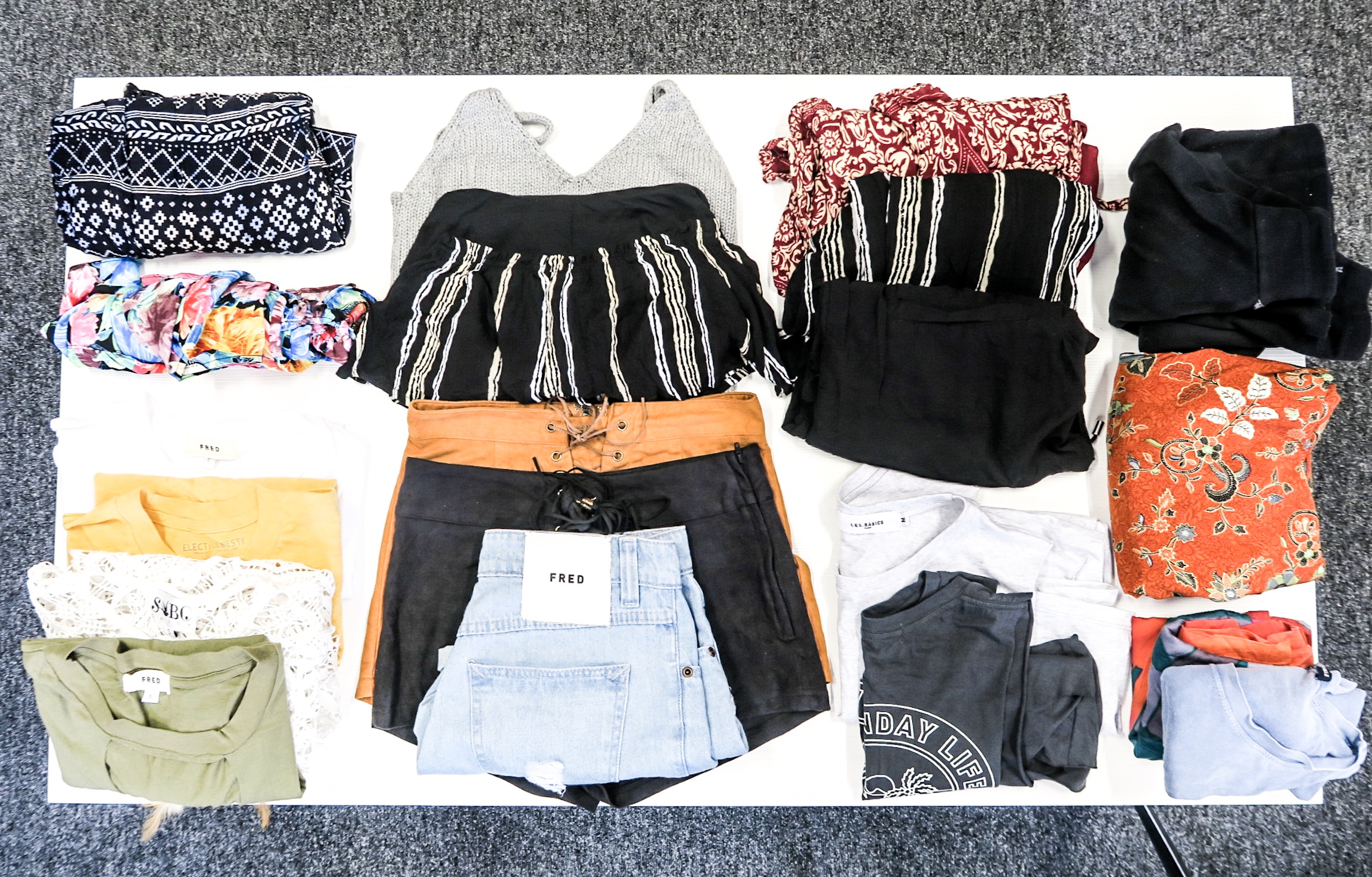 Swimsuits x 4
Quick dry sports towel for the beach/swimming
2 sandals*: one is waterproof (great for rocky beaches/cliff jumping) and hiking friendly
Lightweight umbrella (or poncho)
Accessories: 2 bandanas/head bands, 2 necklaces and wearing bracelets
1 cross body bag for going out
2 x sunglasses (I will be wearing regular glasses on the plane)
Cap
Snorkel mask
Plastic bags for dirty laundry and shoes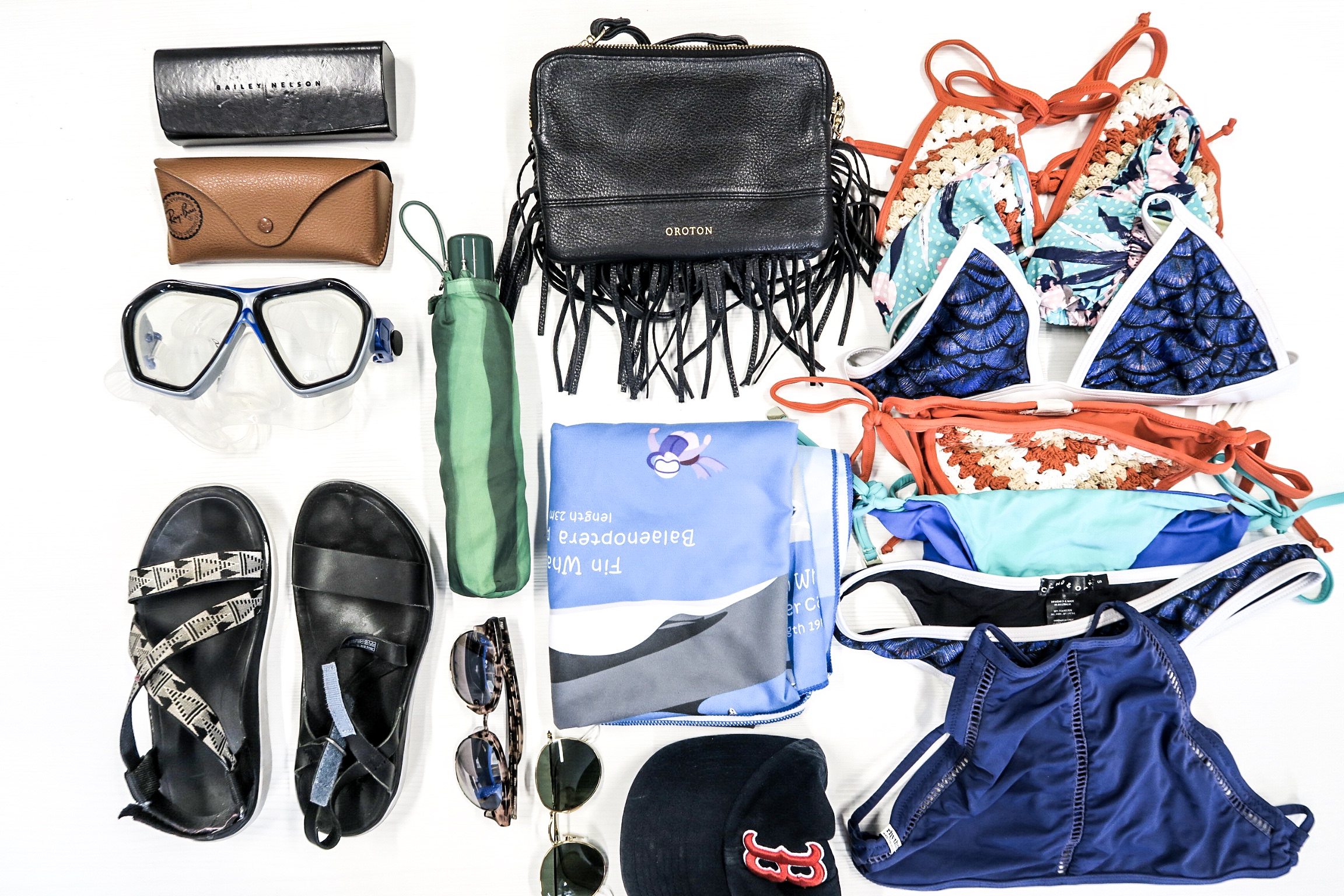 Makeup: foundation, powder, blush, eyebrow pencil, eyeliner, brushes
Toiletries: body and face sunscreen, Proactiv 3 step travel size, Olay night & day cream, purple shampoo and conditioner, It's A 10 Keratin Plus hair serum, razor, face wipes, contact solution with contact lenses, nail clippers/file/scissors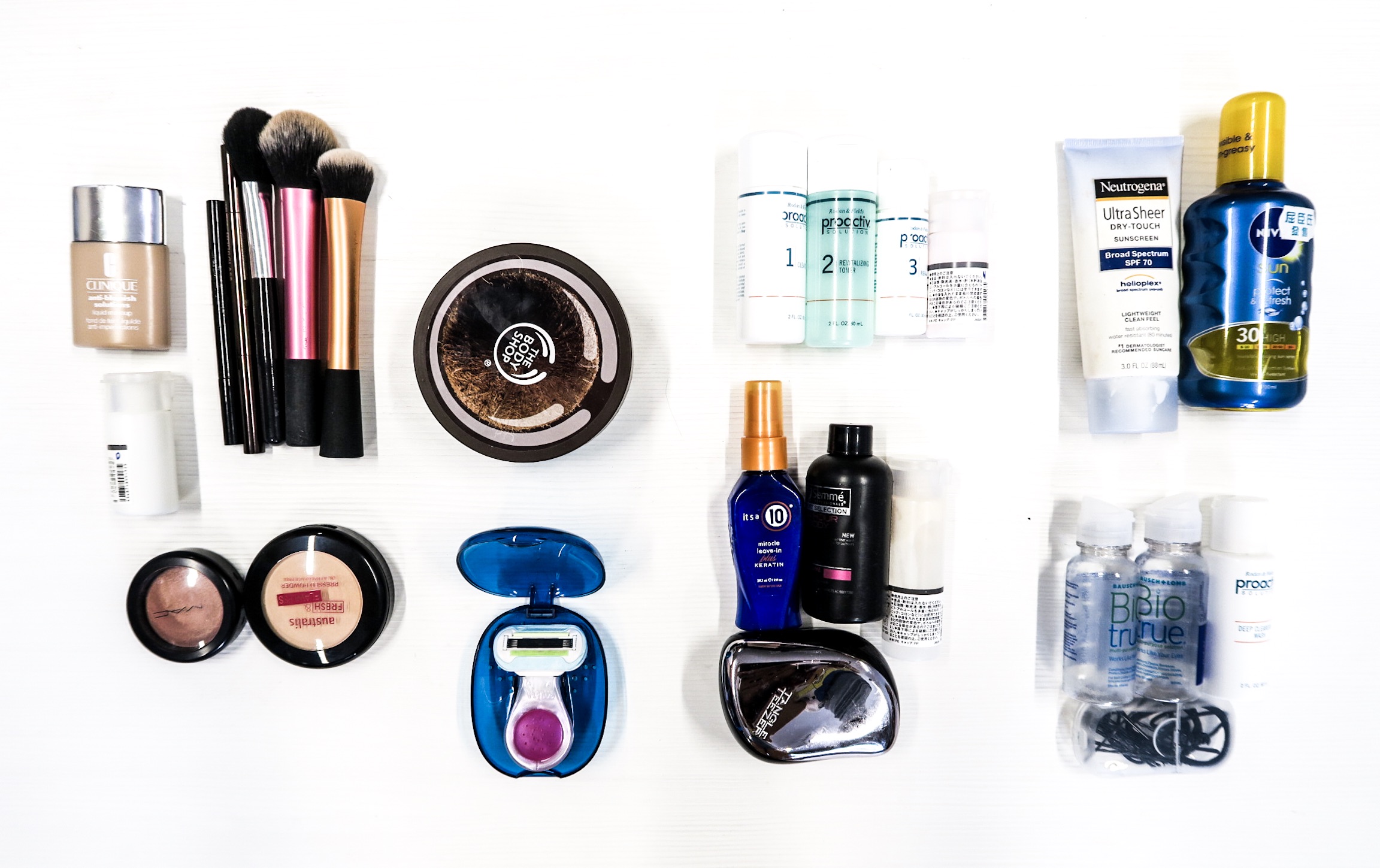 (For a one week trip to a tropical/snorkel/diving place, I would take out half the clothes and add in insect repellant, a rash top and a full face Tribord snorkel mask).
As you can see, everything fits into the carry-on sized suitcase with extra space. I have also done a packing video if you would like to pack with me, hope it's helpful! Keep an eye out for the Greece and Palau travel posts coming soon 🙂