So you're thinking about visiting Palau but can't decide where to stay? In this post, I will be writing an in-depth review of Palau Royal Resort who kindly hosted us for 3 nights during our week exploring Palau.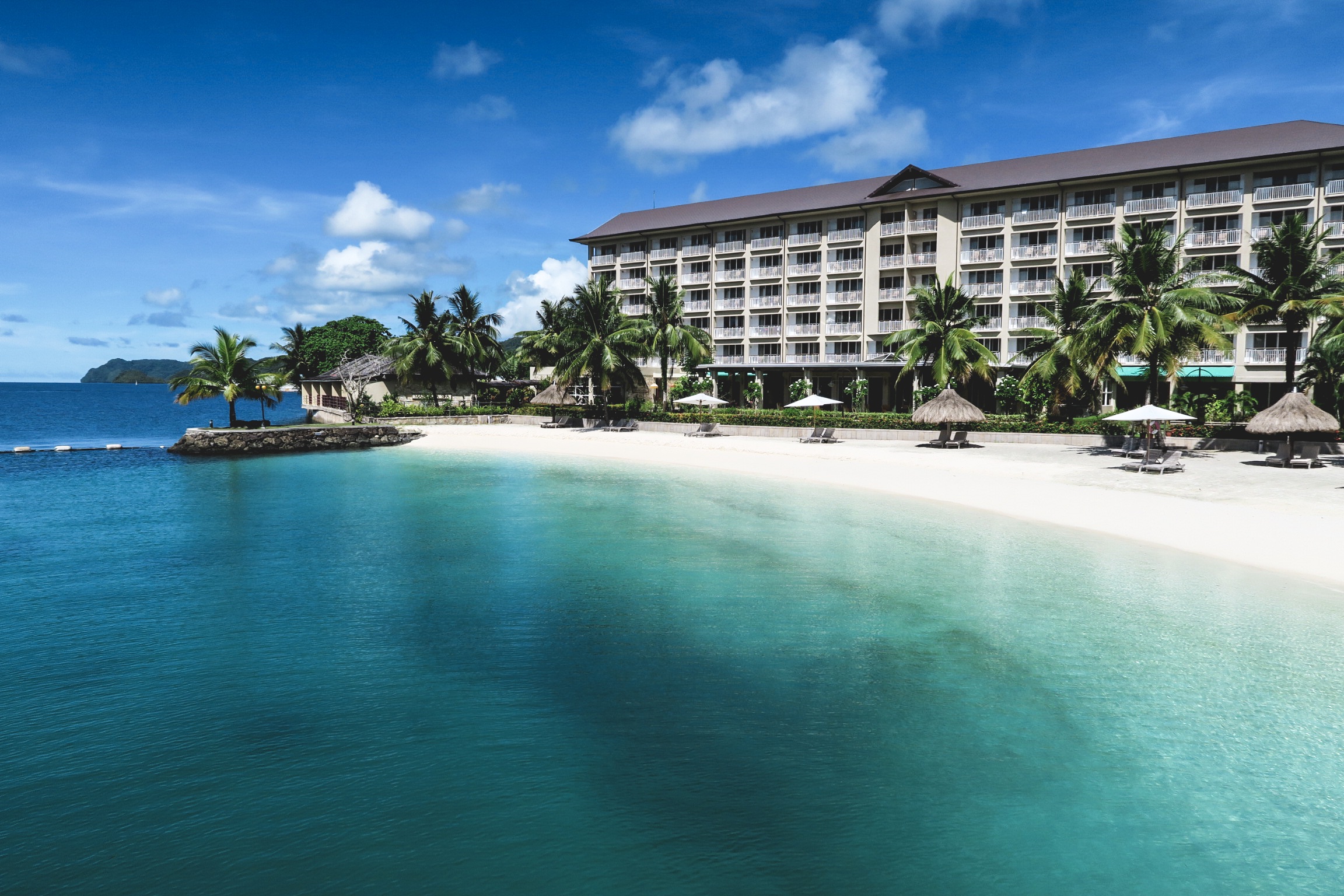 LOCATION
A few things to note when picking accommodation in Palau is that almost 100% of restaurants, cafes and dive shops are located in Koror and the south-west islands attached to Koror by bridge e.g. Malakal Island and Arakabesang Island. Palau Royal Resort was a great base for the days we went diving and snorkelling with Neco Marine, a 5 minute walk from the hotel, and also the days we hired a kayak from Sam's Tours, a 10 minute walk from the hotel. We thoroughly enjoyed our meals at the Drop Off Bar and Grill (by Neco Marine) and only ended up venturing to restaurants on Koror/Arakabesang Island on the days we hired a car. There are a couple convenience stores within a 10 minute walk that sell takeaway lunch food e.g. bento boxes, and general supplies/supermarket food.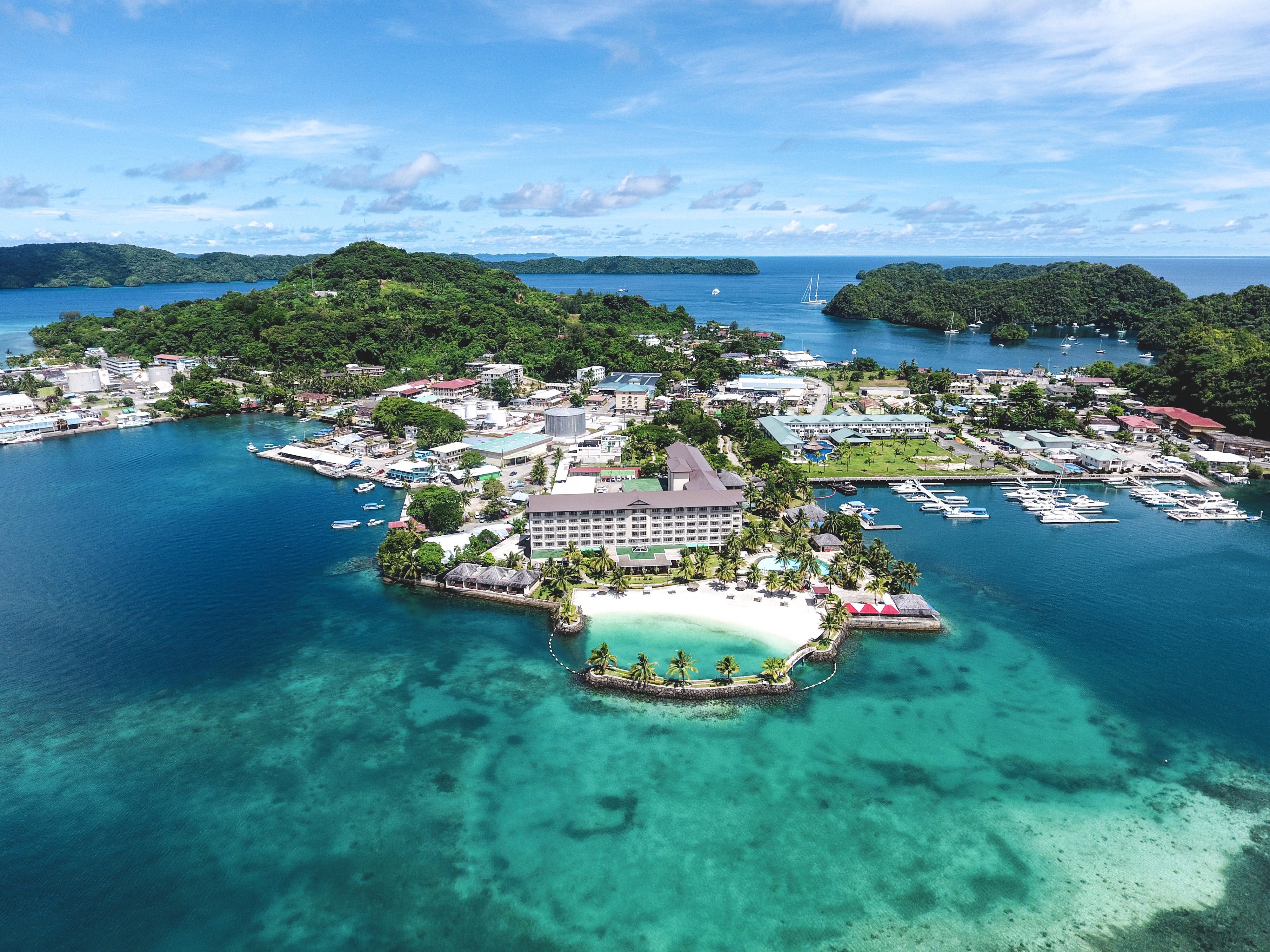 BEACHES
For those looking for relaxation by the beach, Palau Royal Resort has it's own beautiful private beach as well as a swimming pool. There are surprisingly few pristine white sand beaches available to the public for free in Palau (many belong to private resorts and their guests or the state government will charge $5-$10USD), so we made the most of this one which was top notch. There is a wonderful hammock and beach chairs/umbrellas for shade, and you can order drinks and food from the Breeze Bar.
Surrounding the beach is a serene walkway great for boat/people watching and enjoying the ocean breeze. We found that morning/midday is the least busy time to visit the beach as the divers/snorkelers have yet to return from their day out at sea. However, since we went during the low season, we had the beach entirely to ourselves most of the time!
We also went for a stroll to the Ngaremeduu Bay Conservation Area and Long Island Park during our stay at Palau Royal Resort, and although no stretch of sand is present, there are grassy areas and some snorkelling possible at high tide.
FACILITIES
The buffet breakfast included in our stay was excellent, featuring western style continental and hot food, as well as Japanese and Asian flavours. There is a picturesque pond surrounding the property filled with fish, clams and even turtles. A spa is located adjacent to the beach, and the concierge/waiting area has comfortable couches and water features. WIFI is available in all areas if you ask for a piece of paper with the code at breakfast. The connection is mediocre (usually 2 bars) so the alternative option is to purchase a WIFI card from the store for 10USD (for 10 hours of use).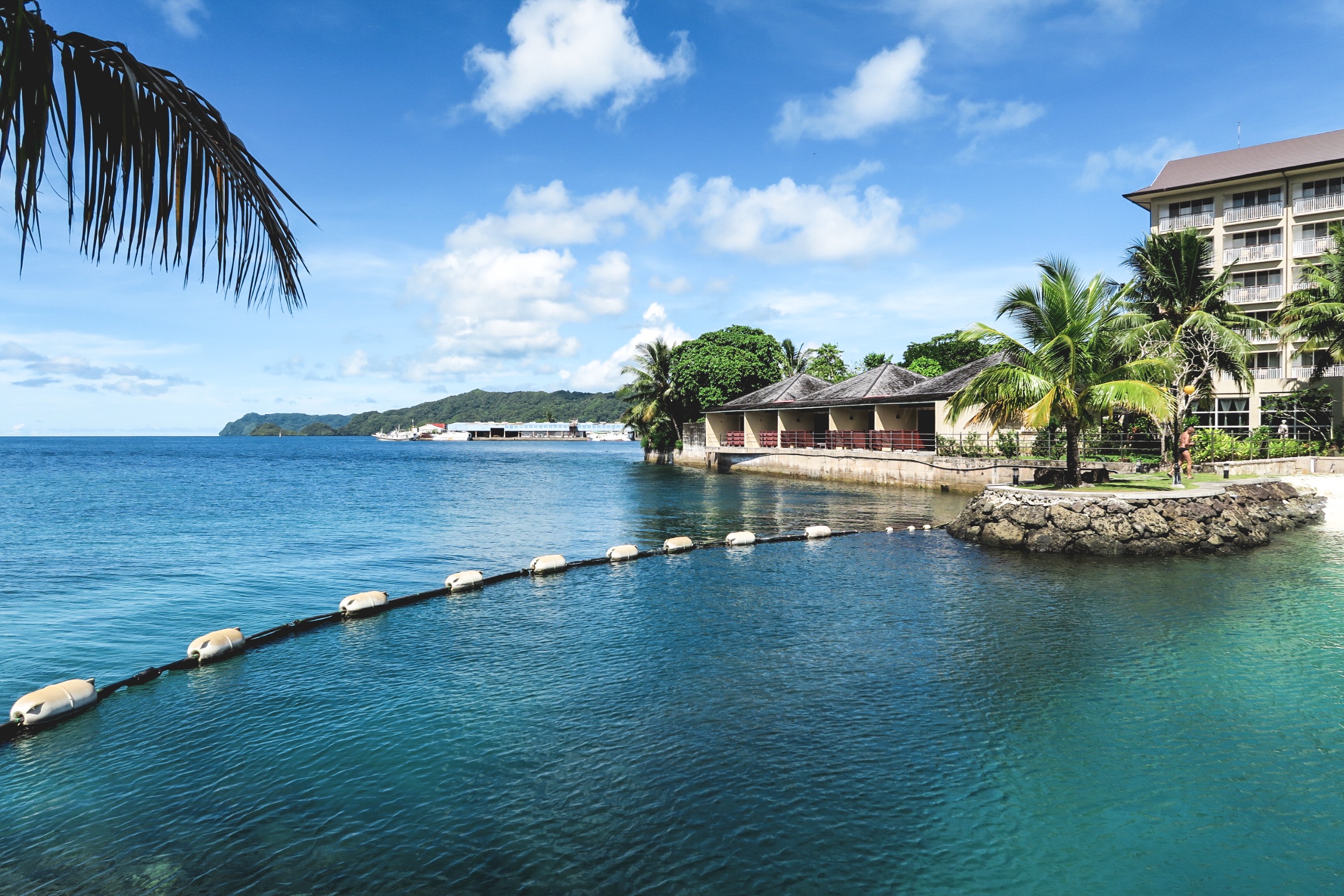 IN-ROOM AMENITIES 
The bedroom we stayed in was spacious with two queen sized beds (for two people), a large bath and shower, robes and jandals (slippers), mini bar, hair dryer, and a well stocked toiletries basket including shampoo, conditioner, body wash, body lotion, shower cap, tooth brushes (nice small head), floss handles, Colgate tooth paste, sewing kit and laundry detergent. 2 bottles of water were supplied to the room per day at no extra charge. We had a spectacular balcony view of the beach and ocean, and never once saw a mosquito throughout the property (which is extremely rare for me as I usually get bitten like crazy!). The plug sockets were also universal/international so you did not need to use any plug adapters.
I'd like to thank Lorna for helping organise this visit, and all the hospitable staff during our stay. You all were so friendly and we felt at home bring greeted by name and warm smiles. I have more Palau content coming up including places to eat, things to do (both on and off land), accommodation for the budget traveller and general tips, so keep an eye out over the next couple of weeks if you want to know more about this remote slice of diver's heaven 🙂
For bookings and more information about Palau Royal Resort, click here.