Southern Thailand is a beautiful place riddled with powdery white sand beaches and stunningly clear, turquoise waters. With an abundance of fish and dramatic limestone cliffs, Krabi was a perfection destination for this water bug/drone nerd ???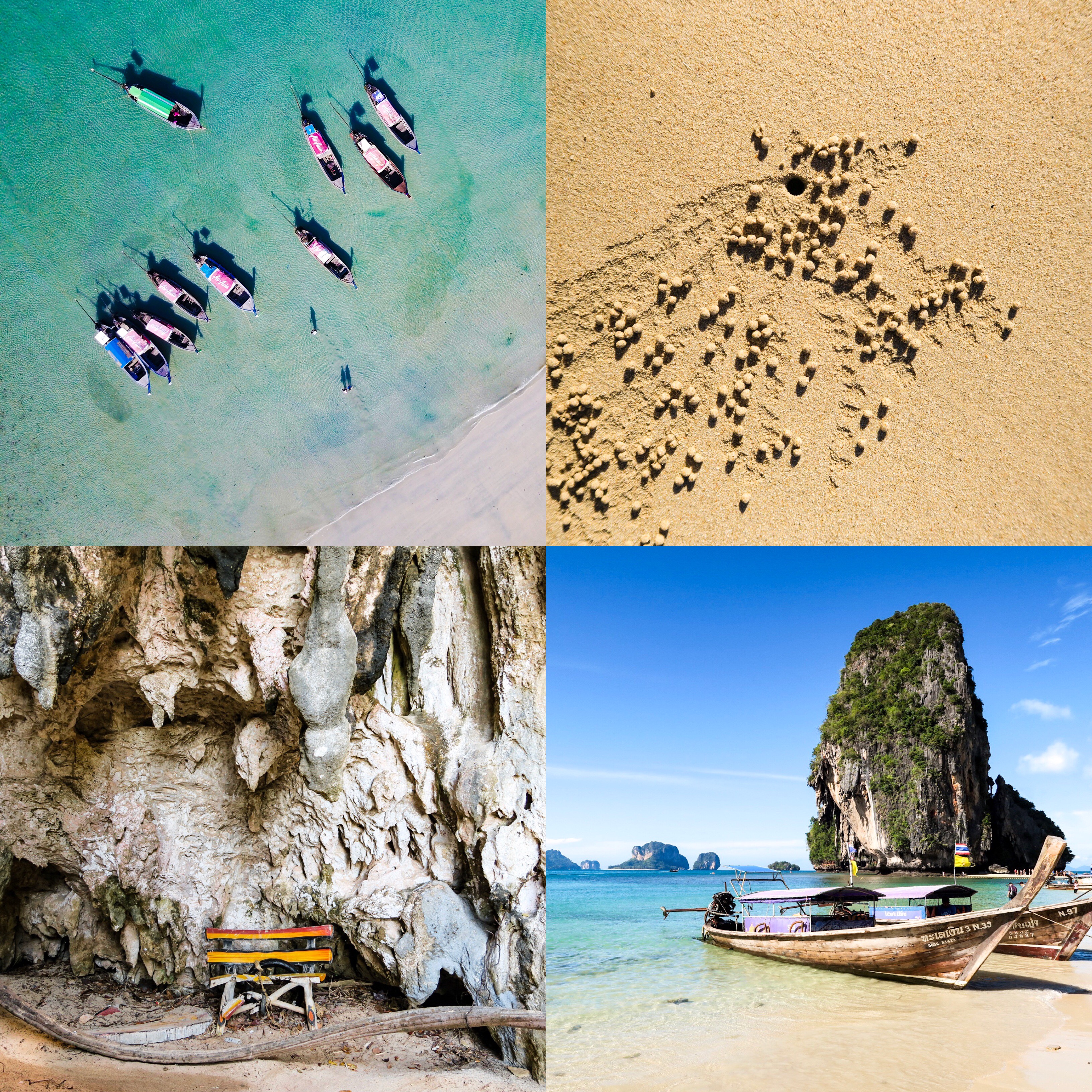 Clockwise from top left: sunrise drone sesh over long tail boats on West Railay Beach; crab holes in the sand; limestone cliffs off the shore of Phra Nang Beach; caves and stalagmites near Phra Nang
Aside from a 30 minute downpour on my first afternoon in Ao Nang, we were lucky to have clear blue skies during the week we spent in Thailand. We stayed at the Bluesotel Krabi in Ao Nang for the first 3 nights, a great base to catch long tail boats out to West Railay/Phra Nang or Koh Poda for 200 and 300 baht return per person. This gave us the freedom to explore and relax at our own pace, and despite it being high season, we were always able to find a bit of beach or sea to ourselves (you just gotta walk around a bit more!). The long tail boats operate between 8am and 4pm and usually only go if there are at least 6-8 people per boat.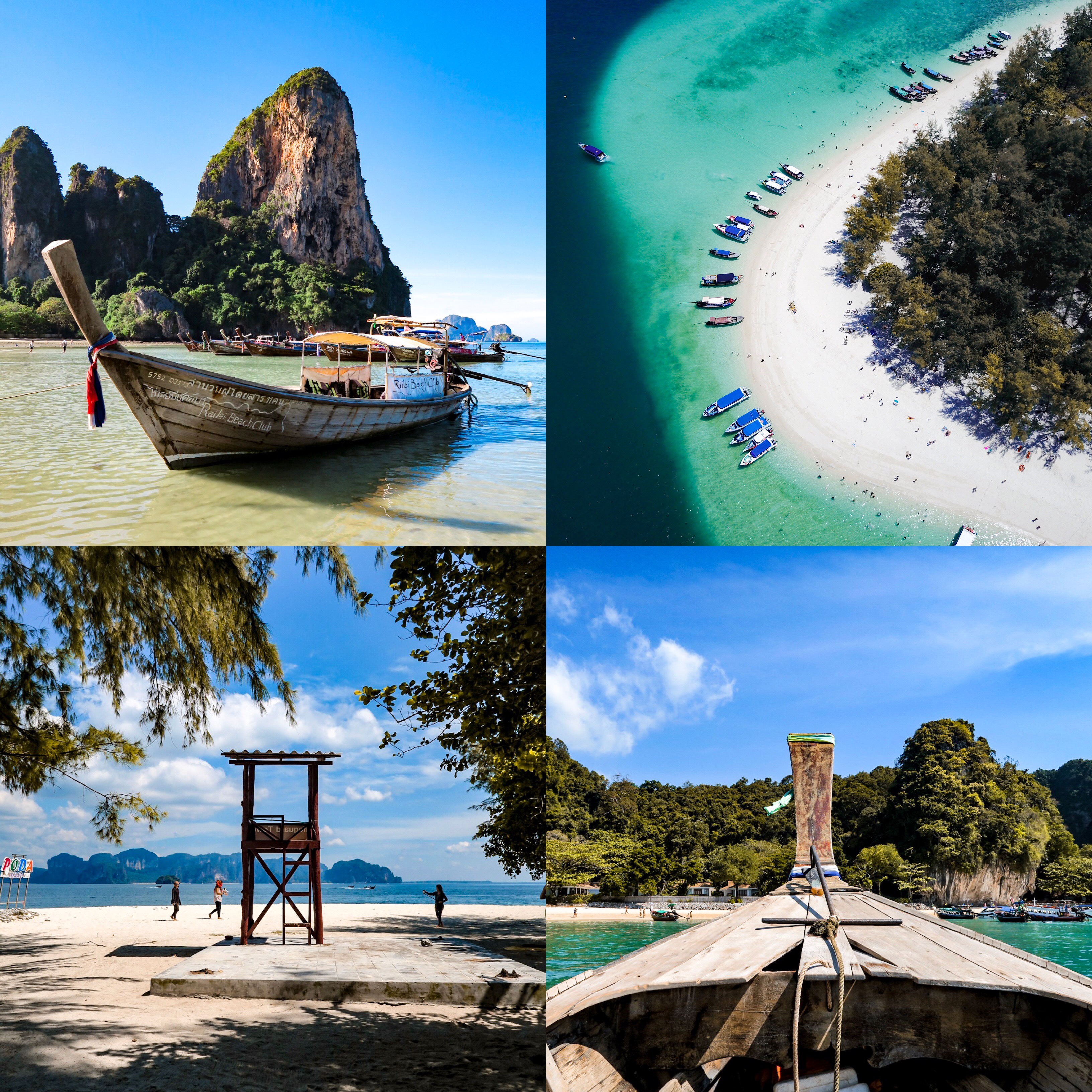 Clockwise from top left: docking at West Railay Beach; aerial shot of Koh Poda; arriving at Phra Nang Beach; taking a break from the sun on Koh Poda with Railay and Phra Nang in the distance
Koh Poda had the warmest and calmest waters that made up a beautiful natural outdoor swimming pool. It was crazy to us that most of the tourists just hung around where the long tail boats drop you off when you could walk around the corner and experience a quiet piece of paradise. In these less touched areas there were some anemone bursting with clownfish in only ankle deep water!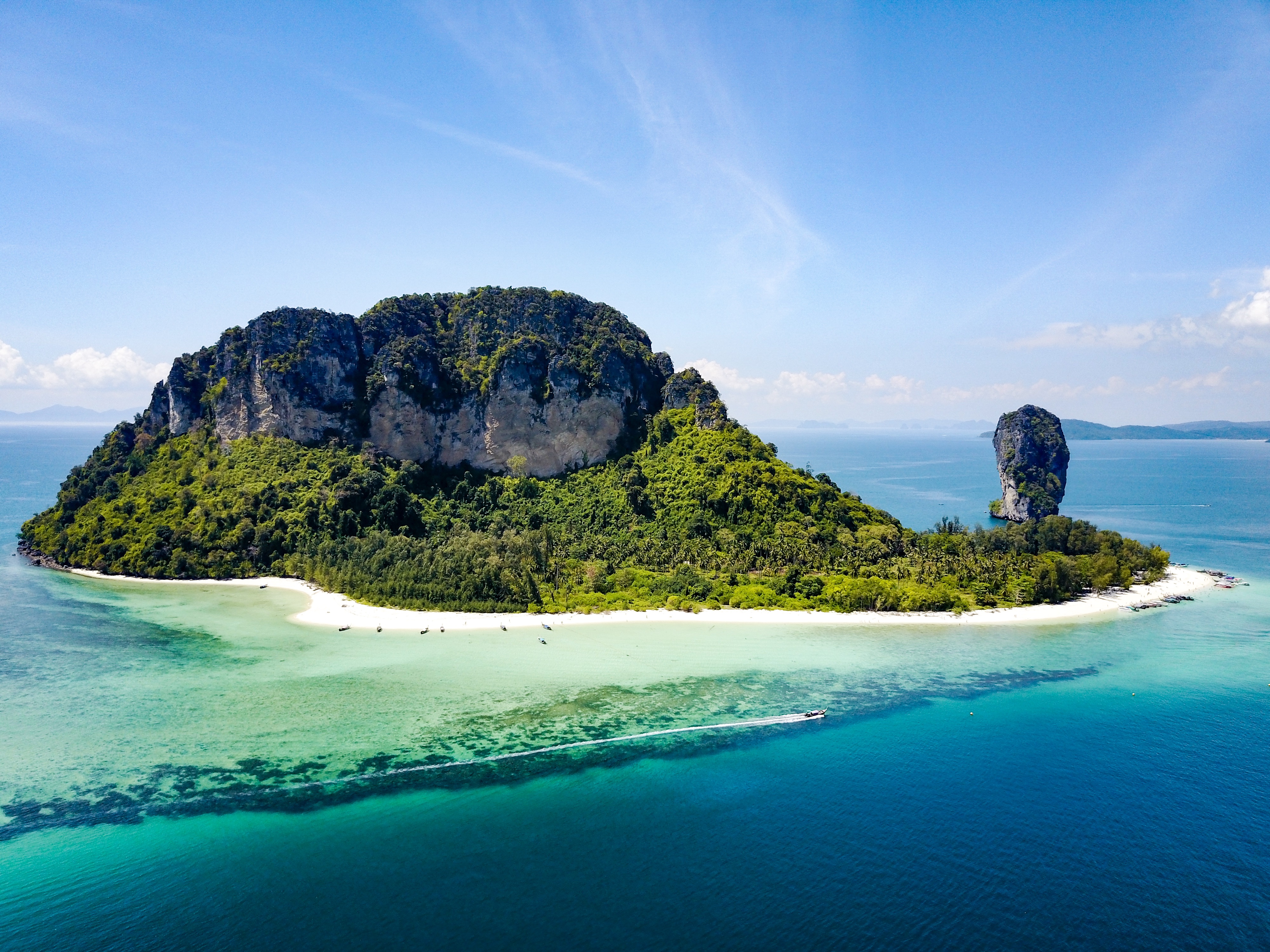 Koh Poda
There are some (but not many) snacks sold on Koh Poda (e.g. grilled corn and young coconuts mm mmm), and a 400 baht national park fee per person when you arrive onto the island.
Clockwise from top left: long tail docking point on Koh Poda; making green curry paste from scratch at Thai Charm Cooking School; aerial view of Koh Gai (top) and Koh Tup and Koh Mor separated by sandbars, just a wee ways off (but not swimmable) from Koh Poda; tropical beach house at Railay West
After our visit to Koh Poda, we attended a cooking class at Thai Charm Cooking School in the evening for 1200 baht (incl. transfers to/from hotel). Heng was a charismatic teacher, making jokes throughout the evening, and taught us how to make 5 dishes: a salad, a fried dish, a soup, curry paste and a curry, followed by a bonus round of 2 desserts. You get to choose what dishes you want to make, and at the end of the evening you are given a recipe book and certificate 🙂 We learnt a lot about the ingredients – where they are derived from and how to prepare them for each dish – and Heng gave us some tips for when trying to find and buy these ingredients in our home countries. Beware the mosquitos as the kitchen is in a sheltered outdoor area.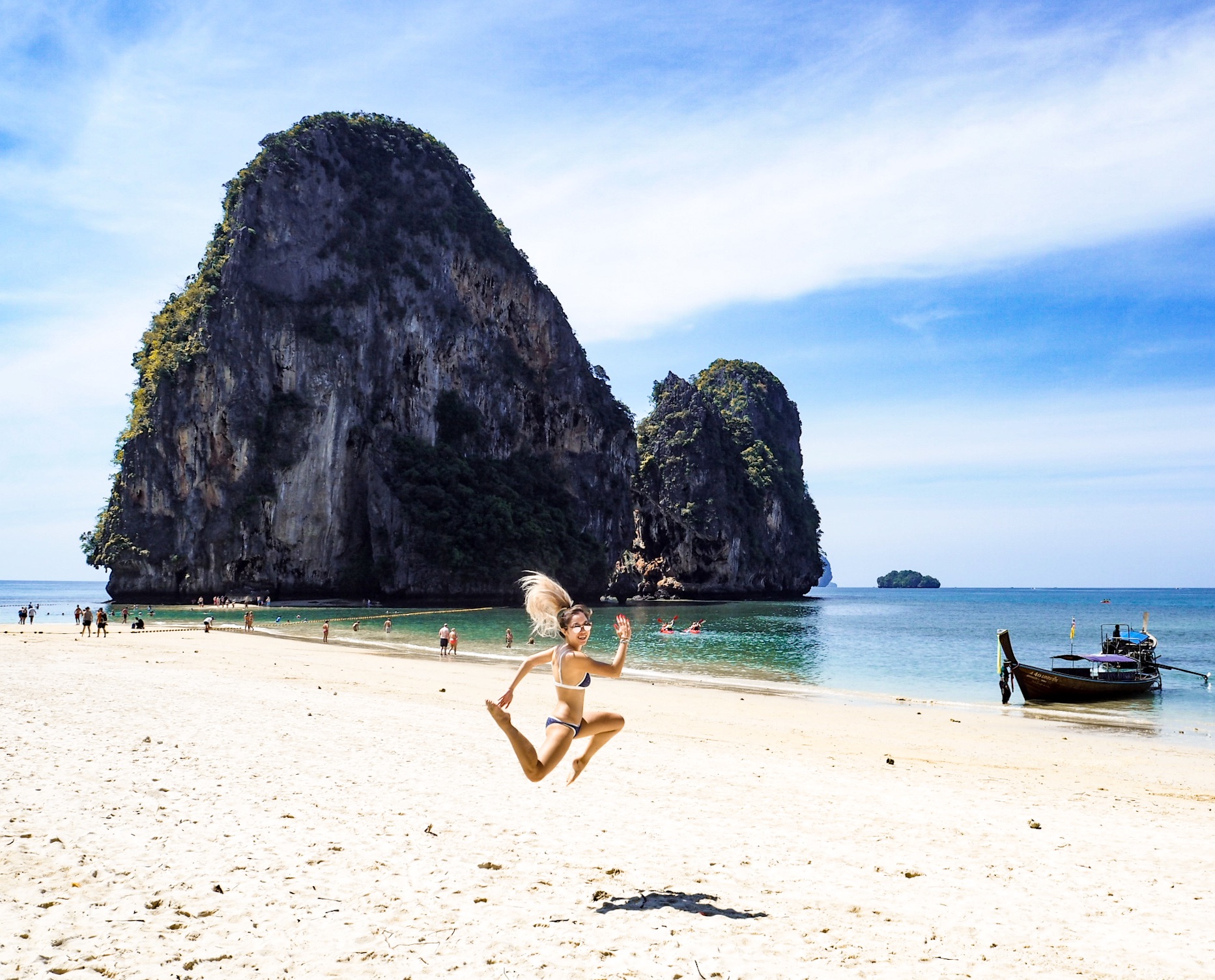 Road Runner meets Phra Nang; swim suit – Ocho & Oak
We headed to Phra Nang Beach the next day where the sand is super soft and powdery. Although busier than Poda, this also meant there were more food options and we both got some tasty kebabs from the boat vendors before wading/swimming out into the water around the limestone cliffs. I would recommend wearing some reef shoes/teva sandals if you do this to protect your feet. We them ambled back over to Railay, past some rock climbers and the walking street for some shopping, then hopped back onto a long tail to Ao Nang and enjoyed our hotel pool before sunset, a massage, and dinner. Note: there is a slightly shady trail up to a lookout point off the cave walkway between East Railay and Phra Nang. There are ropes to assist you but overall it is pretty muddy. Although I would have loved to attempt it, I didn't have proper shoes, so drone footage will suffice for now!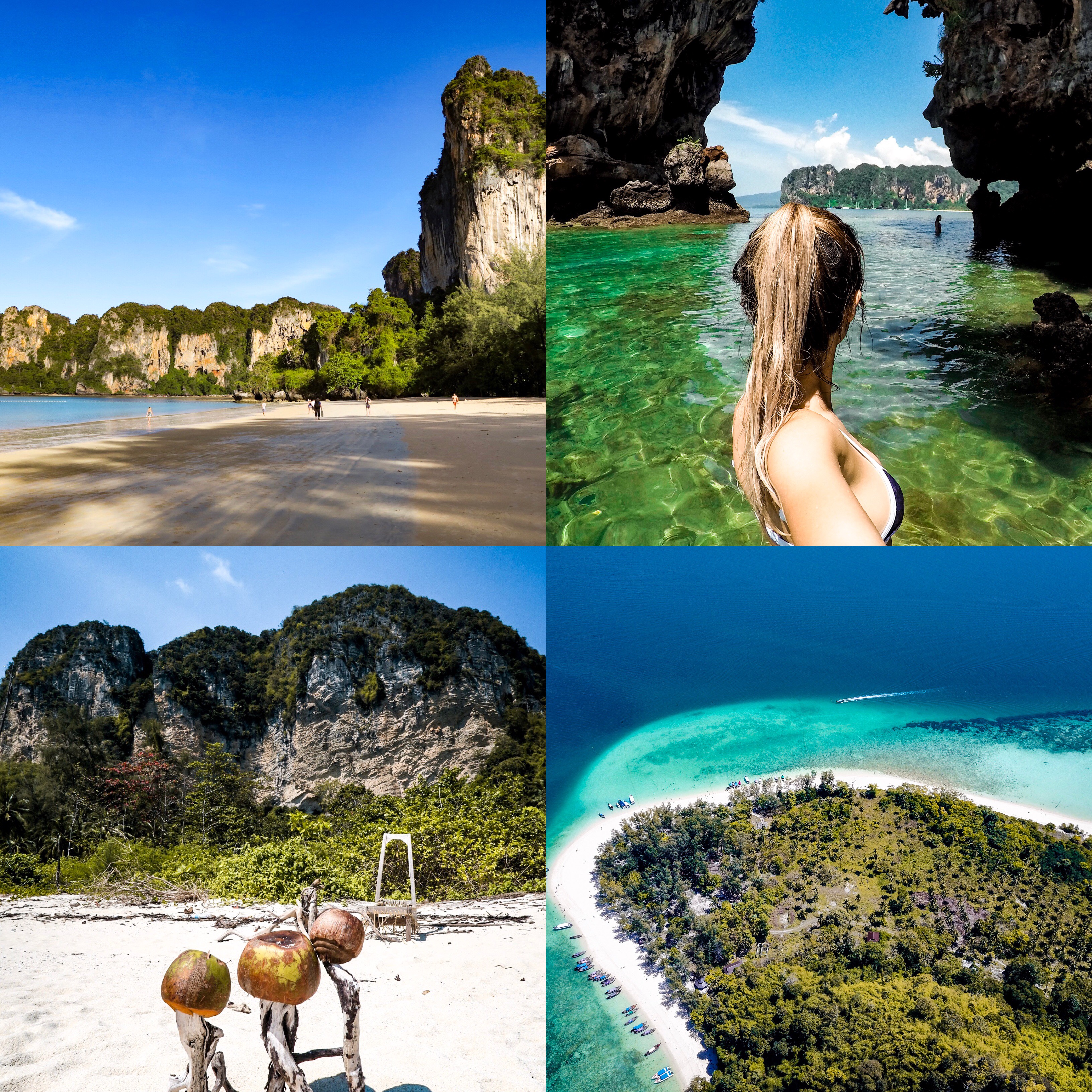 Clockwise from top left: West Railay at sunrise; wading around limestone cliffs off Phra Nang Beach; Koh Poda from above; coconuts in the sand
Food/massage places worth mentioning: Boat Noodle Ao Nang – for 60 baht you can get a tasty bowl of beef or pork noodle soup that is DELICIOUS! The Signature Dining, Bakery, and Cafe had yummy acai bowls for 285 baht (pricey for Thailand but otherwise fairly standard around the world) and a good breakfast set spread for 195 baht. I liked the vibe and chilled music/covers they played, and they also have TV's for when, say, the Superbowl final happens to be on hehe. Aonang Haven Massage – a quiet and relaxing spa, my 1 hour foot reflexology massage was top notch and included a thai shoulder massage and stretches at the end, followed by some tea (320 baht). Of the 4 massages I got in Thailand, this was my favourite 🙂
Other things to mention: despite being proactive about wearing long flowy pants and using insect repellant 24/7, we still got bitten a fair bit, majority of which happened inside our hotel rooms (in all of our hotels), so it pays to cover up! A video with mouth-watering drone footage is coming you way soon, as well as part 2 of our Thailand trip in photo/blog form, stay tuned 🙂