With rugged cliffs rising above a sunken caldera, Santorini boasts one of the most epic and photographed coastlines of the Cyclades islands. From strolling through the picturesque towns to zipping around in search of a good swimming spot, here are my favourite things to see and do on the island.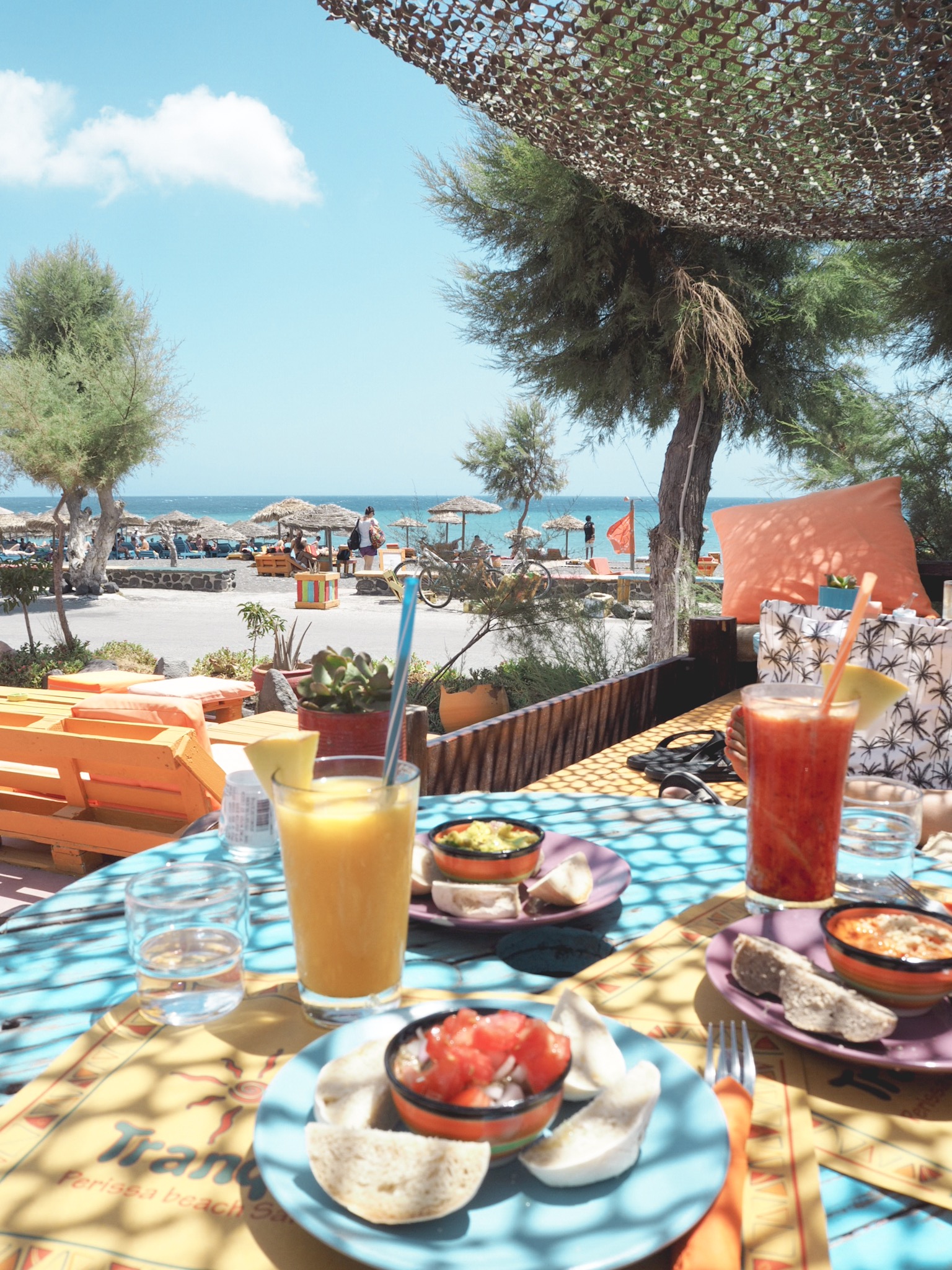 Tranquilo, Perissa Beach
Greek food is something else and the drink and meze options at Tranquilo do not disappoint! A favourite of mine 4 years ago, the quality is just as amazing coupled with the relaxed and chill vibe of Perissa. There are lounge pillows and bean bags a plenty, and their own Tranquilo dip is a must try (a tomato and red pepper based mouthful of goodness).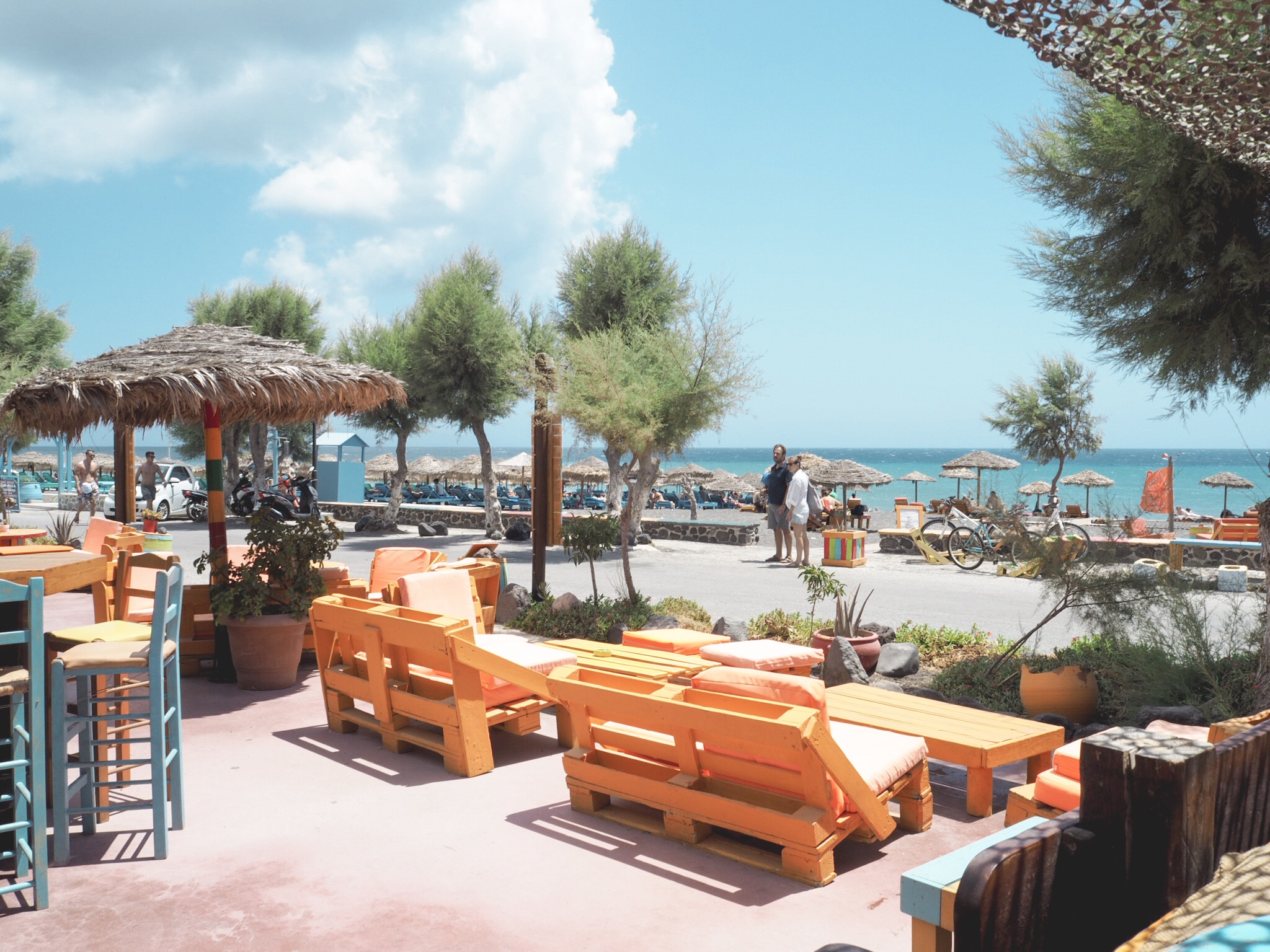 Perissa beach is long stretch of soft (but hot!) black sand beach, a rare find in Santorini as towns teeter above volcanic cliffs and the coast is lined with rock. If you're after a sandy beach holiday or like to beach hop a lot, Ios, Milos or Mykonos may be better suited for you (blog posts to come).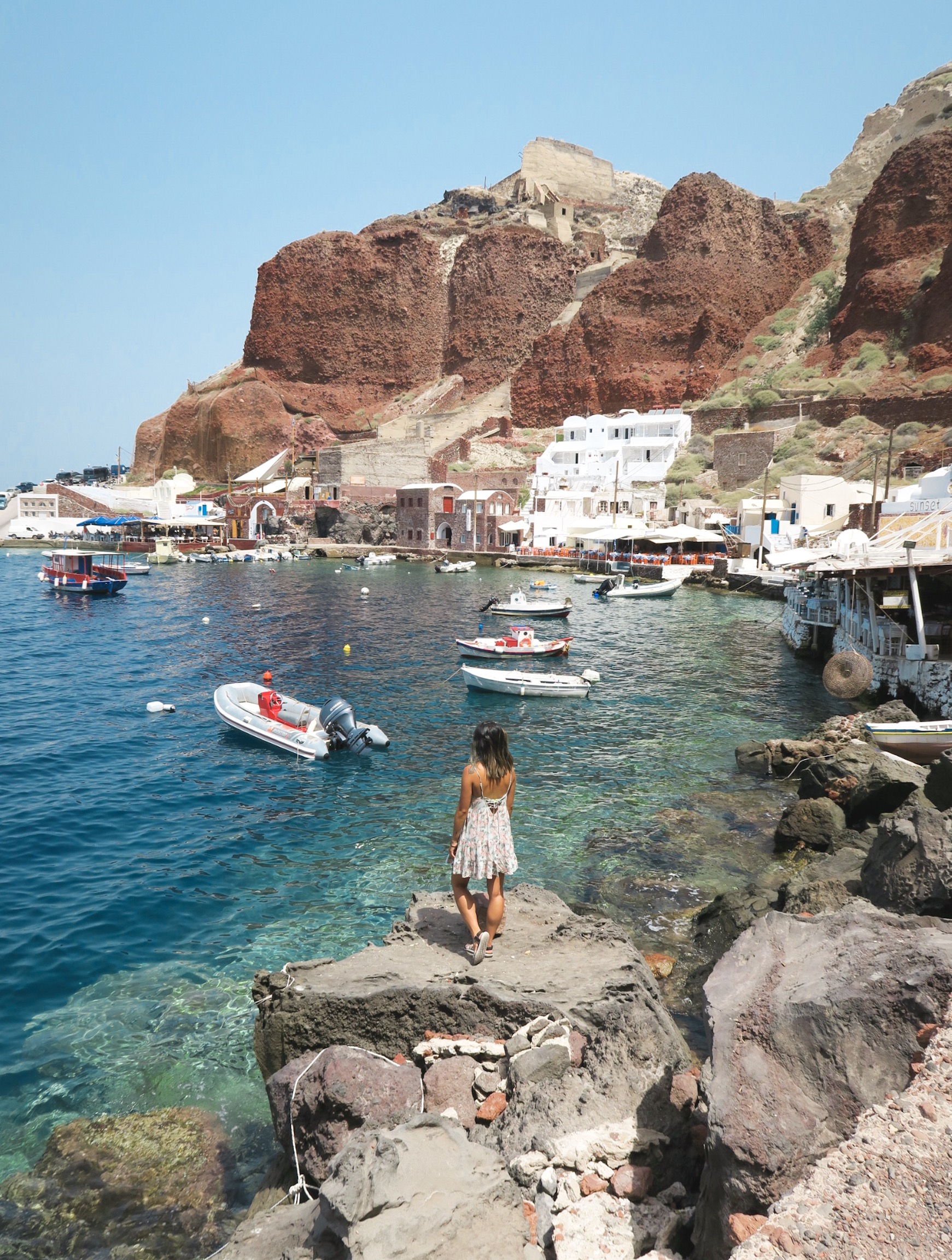 Dimitris Amoudi Taverna and Cliff Jumping in Amoudi Bay
If you're a keen hiker and based in Oia or Fira, the caldera trail from Fira, through Imerovigli, to Oia and then down to Amoudi Bay is filled with stunning views and beautiful Greek architecture. The 2.5+ hour hike from Fira (depending on how many stops you want to make) will take you down to Amoudi Bay, a fisherman's village with a few restaurants and a short trail around the bend to a rocky swimming area. You can either hike down and up from Oia (or ride a donkey), or take the road via quad/scooter/car.
Note: As some of the busy and inner island areas have narrow streets, I would recommend a quad/scooter. Take care around hair pin turns and the confusing one way roads around Oia. In the height of the peak season, we rented a quad for 30 euros/day through our hotel, Aghios Artemios.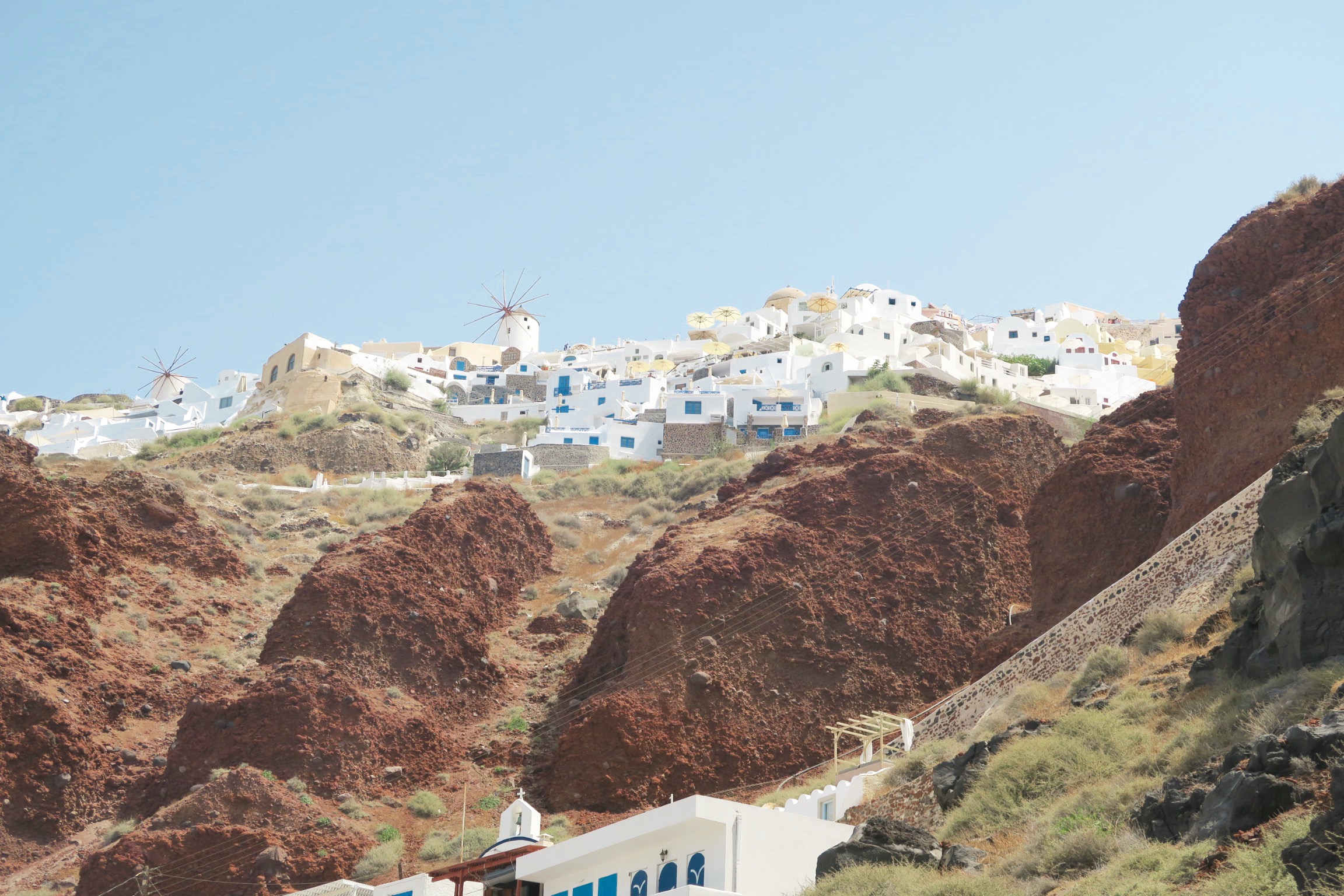 Above: Oia, perched high above Amoudi Bay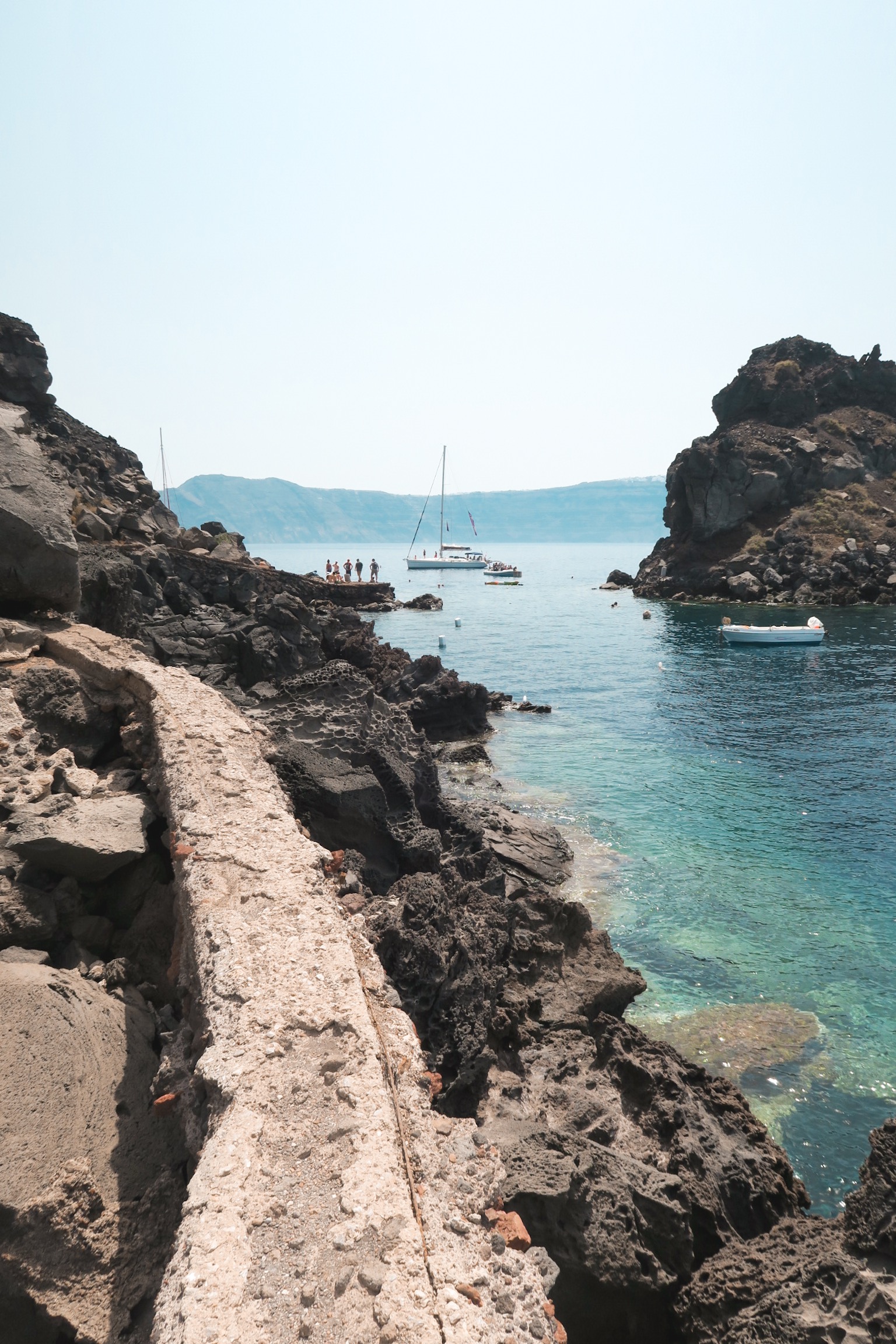 You can swim out to the island on the right (Agios Nikolaos), and climb up to a small church and the ~6m jumping platform (there are some steps carved out).
After working up an appetite, we stopped by Dimitris Amoudi Taverna for a snack and enjoyed some traditional Greek Fava and Melitzanosalata.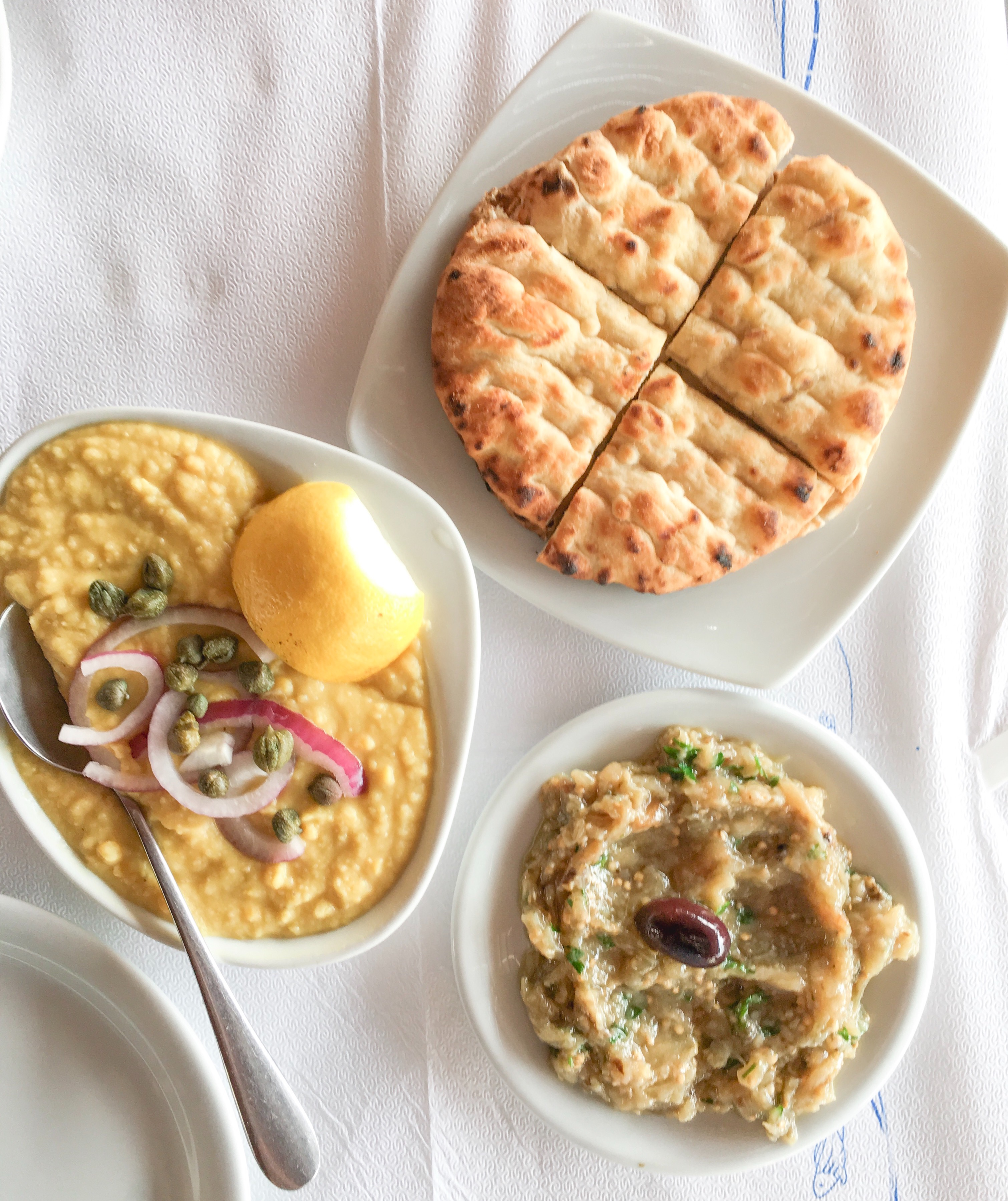 Melitini, Oia
A tasty tapas restaurant serving fresh local ingredients at a reasonable price. It was booked out for an entire week for dinner, so go before 6pm if you're out of luck!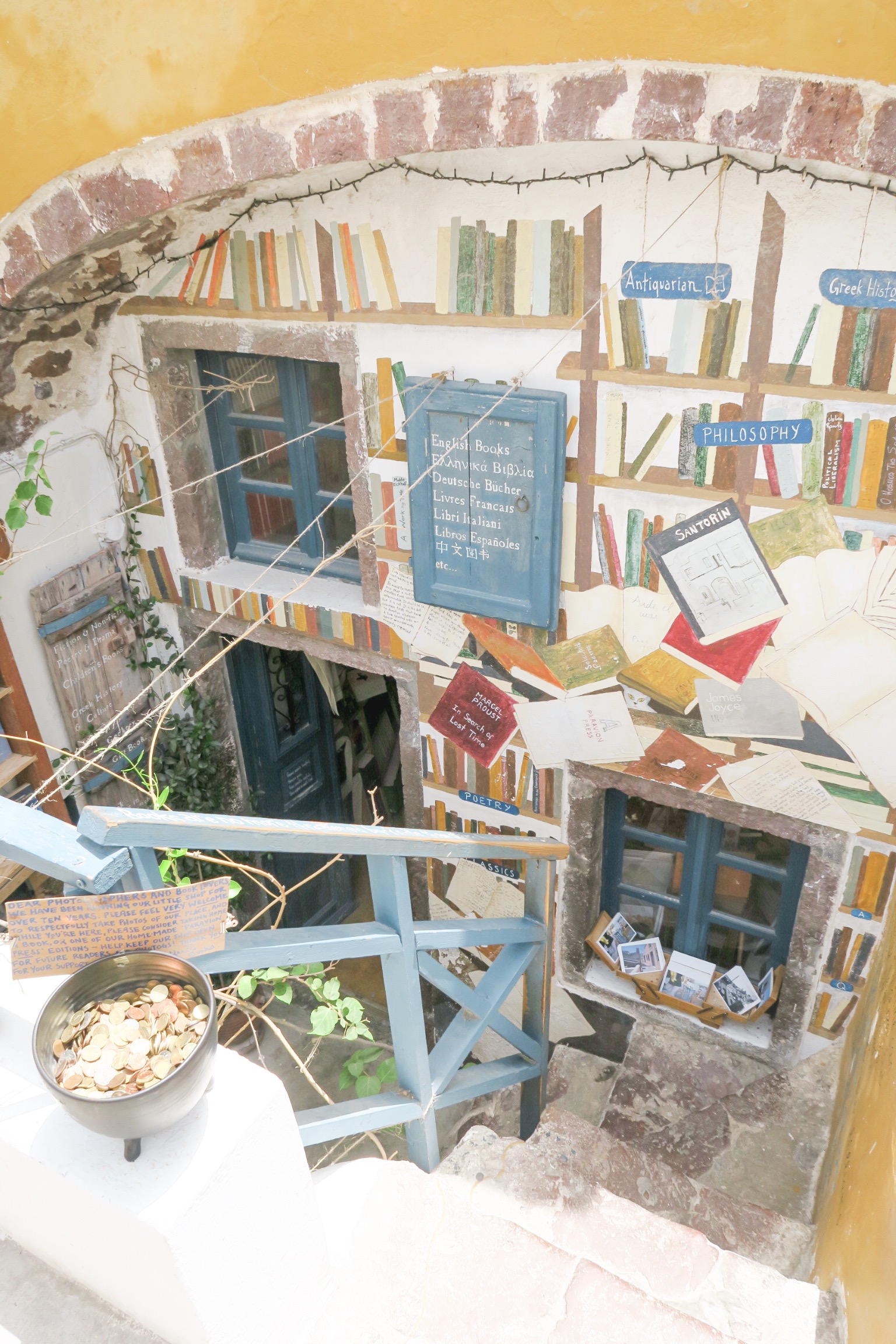 Atlantis Books, Oia
This book lovers gem is tucked underground away from the scorching sun, and houses a plethora of books, post cards, maps and poetry in a cozy setting. If you want to work on that tan however, the upstairs section has amazing caldera views with a couple of bookshelves filled with sale stock.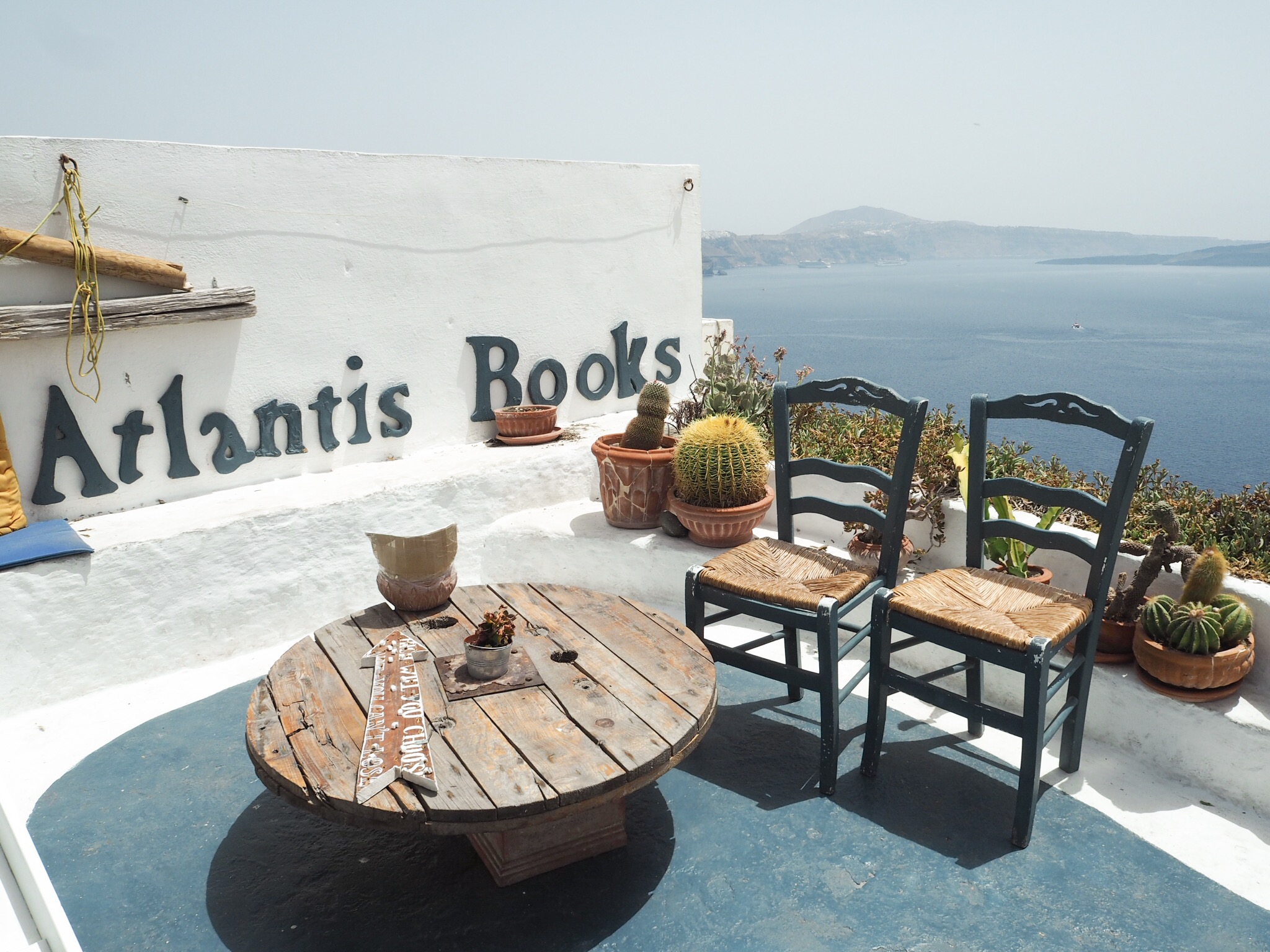 Zotos and LukuMum, Fira
If you're after some sweet treats, Zotos in Fira has some delicious and flavourful gelato. Whilst in the area, why not try some loukoumades, aka mini doughnut balls topped with bueno and strawberries (or whatever floats your boat!).
I also picked up a local SIM card from a Germanos store in Fira, 35 euros for 15GBs/1 month (mobile company is Cosmote, has the best coverage over Greece). They also sell a 15 euros for 5GBs/1 week option.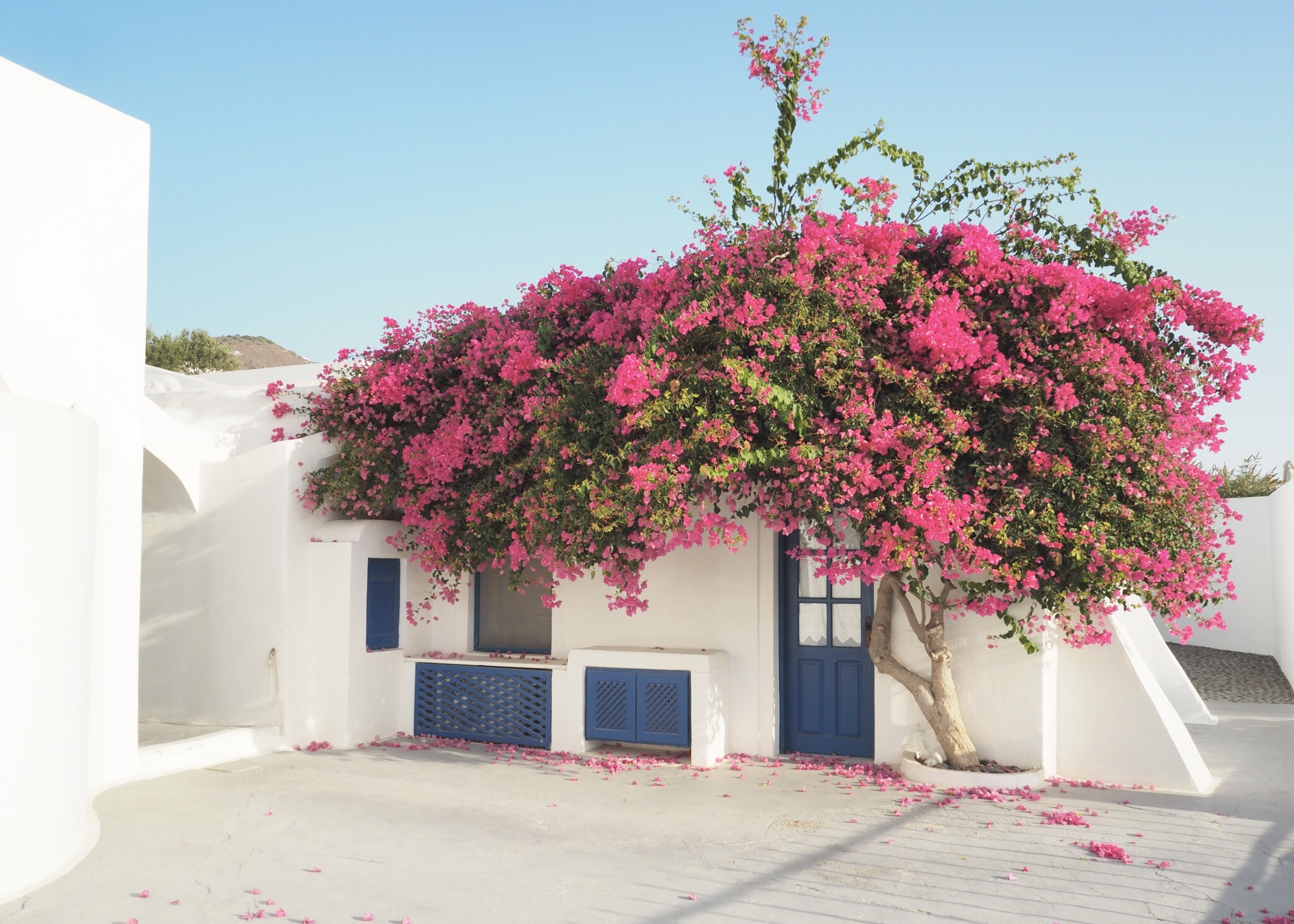 Aghios Artemios Traditional Houses, Imerovigli
Out of any hotel I have ever stayed in, Aghios Artemios hands down beats the rest (great choice Debs!). The owner Artemios is so accommodating, offering restaurant suggestions, drawing maps to show us how to get places, recommending the best sunset location away from crowds (see below) and getting us a great deal for quad hire on arrival.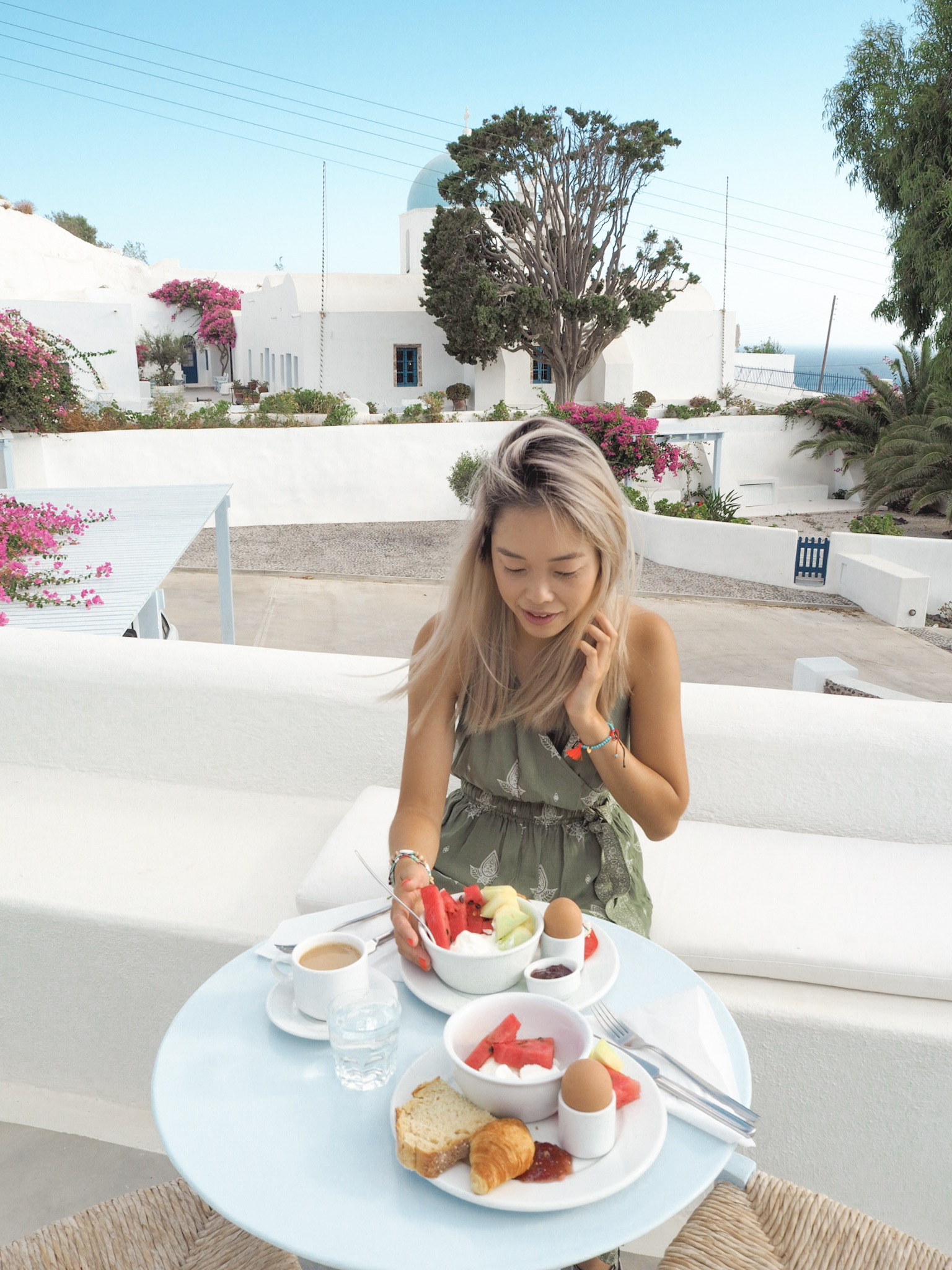 The hotel is situated in a quiet area of Imerovigli on the east side of the island (great for sunrises) and serves an incredible buffet breakfast (greek yoghurt FTW!). The grounds are beautiful and includes a swimming pool and dining area with great wifi (no problems with streaming GoT lol), and just our luck, one of the employee's dogs had given birth to 10 labrador puppies a few weeks before!
The traditional Greek cave style rooms are spacious with air conditioning and great shower pressure. The property also has its own cook (the moussaka for dinner is fire ???) and church which would be a beautiful wedding venue 🙂
Sunset location, Imerovigli
To reach the highest point in Santorini with views of Oia and Fira on the west coast as well as the east coast, take the unsealed road alongside Santorini Princess Spa and Hotel to first the white church, and then up to the parking lot by the blue and white church. You'll find no more than a handful of people, if that, enjoying this beautiful location, and maybe spot a bride or two 🙂